Today and tomorrow, I am going to share a retrospective of my world in 2018. During this year, I have managed to take nearly 10,000 photographs! The images that I captured represent a mix of current events, nature, art, and various other things. In total, they are a reflection of life. Here is a selection from January through June of 2018.





January
Buckhorn Island State Park in January is stark and beautiful and very quiet.
Nate McMurray, Grand Island's town supervisor, announced his intention to run for the House of Representatives in the 27th district on January 14th.
Thousands of people participated in the women's march in Buffalo on January 21st.

News media at the women's march.
Buffalo's architecture is gorgeous.
At Virginia Kelley's painting class in Stella Niagara, we painted large flowers with a black background.
I went to a meet the candidates night in Warsaw, New York. Here is Nate McMurray with Joan Elizabeth Seamans, who later became a candidate for New York State Senate.






February


Early in February, River Lea existed in a state of stasis. It was stuck in Christmas, while the rest of the world had moved on.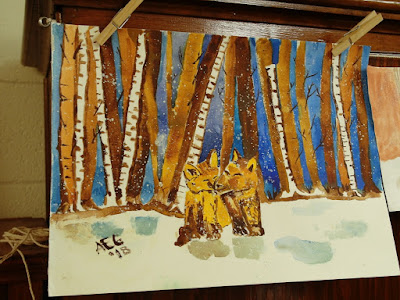 We painted a forest at Stella Niagara!
Light fixtures can be beautiful.
Exploring Grand Island on a winter's day.
Trinity United Methodist Church has a shop where they sell fair-trade crafts from around the world. I was there for a Lenten luncheon.




March
Back to Stella Niagara to paint!!!
Early in March, I went to Charlotte, North Carolina, to attend the funeral of Ramona Brant. She had survived 20+ years in federal prison for a drug crime that an abusive boyfriend forced her to commit. While in prison, she made many friends, who were inspired by her strong faith. She directed the prison choir and she inspired many women to sing and not to give up, despite their circumstances. Above are some of the women who loved Ramona.
In January 2016, Ramona was released from federal prison after President Obama gave her clemency. She went home and began speaking about the human costs of mass incarceration. The City of Charlotte later hired her to help people recently released from prison obtain employment. She also expressed her desire to establish a house so that newly released people could have a safe and affordable home until they could get jobs and could afford to find a new place to live. After Ramona passed away, a building was dedicated to that purpose and it was called "Ramona's House."
Because of Tray's generosity, I was able to travel to Charlotte. I am so grateful to her. Here she is with her wife Foxxy and Tray's son. (Tray is wearing the hat and purple tie.)
Ramona was well loved. As one person at the funeral said, "Once you entered Ramona's world, you never left."
Momma De's Mixing Bowl isn't just a bakery. It's a place to go for fun. That includes classes in cookie decorating!
On March 16th, I went to the Power Vista between Niagara Falls and Lewiston to hear a presentation by Doug Tallamy about invasive plant species. It was very informative. Here is the view from the Power Vista of the Niagara River.
Checkers came to the Grand Island Memorial Library to entertain children with all sorts of magic tricks.






April


At last!!! The first signs of spring!
My mom gave me a plain necklace with an elephant pendant. I decided to use the pendant to make a different necklace. Here is a display of elephants.
Despite the early signs of spring, there was still plenty of ice in the Niagara River.
The Grand Island Farmers Market has become a great community builder. It is held weekly from July through early October and weekly during the rest of the year. Here is Amanda Thompson showing the spirit of the market.
Jams and jellies, locally produced, are a big attraction at the farmers market.
On April 24th, I traveled to San Diego, California, to visit family. I spent two weeks with them! They are pure delight and it was fun to be with the kids. Oh, and seeing oranges and lemons growing on trees wasn't so bad, either!
Cactus flowers! This is an arid region and cactuses grow everywhere! It truly was quite a sight for someone who comes from the northeast.
Palm trees!!! Yippee!!!!
My great nieces and great nephew are fascinated by coins in the water.
How cool is this life-sized chess set?
We went to the Lakeside Western Days parade. There were plenty of horses and cowboys and cowgirls. I guess that's what you call them. Somehow, cowhumans sounds too silly, even for me (and it takes a lot of silly to be too silly for me!!!).
Interesting character at the parade.
On the next day, we went to the rodeo, where there was lots of lassoing and amazing horseback riding. Some folks also took very brief rides on bulls, and, somehow, I managed to photograph this man's ten-second bull ride. I'm still not sure of how I did it.






May


One of the highlights of my trip was a visit to the San Diego Zoo. I went with a big group, which included my niece Chrisha and my two great nieces and one great nephew, and my friend Diane and her grandson. The Zoo is also a botanical garden.
There are some really beautiful plants at the zoo.
There were a great variety of birds at the zoo.
We enjoyed a gondola ride, and this was the view.
The elephants were a big attraction.
When I returned to Buffalo, I was very happy to discover that winter had ended. I went to the Japanese Gardens behind the Buffalo History Museum on May 11th to see the cherry blossoms.
There are several varieties of cherry trees in the gardens. Some have white blossoms…
… and some have pink…
It is a beautiful space for a garden.
The Japanese Gardens are a gift from Kanazawa, Japan, a sister city to Buffalo.
People enjoy the gardens and some weddings are held there.
Life is awakening in spring. It is my favorite season.
This is a bridge at Delaware Park that was built by the Works Progress Administration in 1936.
A visitor to Delaware Park.
Back in Grand Island, I saw this critter.
There was a wood painting class at Momma De's Mixing Bowl. I painted Lady Liberty! She is so lovely and an inspiration. I later gave her to Nate McMurray, during one of his campaign house parties.





June


Master Naturalist volunteer weekend began with tree re-planting at a park in Niagara Falls.
This is a really relaxing place in Niagara Falls.
Later, we went to Devil's Hole State Park, where we descended millions of stairs (well, probably not actually millions)… and we got this view of the rapids in the Niagara River, not far from the falls.
Sunset at Joseph Davis State Park in Lewiston.
The Western New York Land Conservancy purchased a large piece of land on the river from the Franciscan sisters at Stella Niagara. The land is being restored, with the invasive species being removed and native species being planted. On the property is a beautiful little chapel. Here is a view inside the chapel.
This is the little chapel.
Here is the river in Lewiston. We took a morning kayak tour of the river, guided by folks from Buffalo-Niagara Waterkeeper, who taught us how to steer our kayaks, while telling us about the river, the birds, and the vegetation in the river and on the shore.
Grotto at the Niagara River preserve. One of the projects that the Land Conservancy is working on is to add a walking trail so that people can see the beauty of this preserve.
Joseph Davis State Park was the site of a birdwatching hike.
This is Stella Niagara. It is the home of the Sisters of Saint Francis of Penance and Christian Charity. They run a school at the site, called the Stella Niagara Educational Park. They also organize retreats for people who want to explore their faith more deeply at the Center for Renewal, on the grounds of Stella Niagara.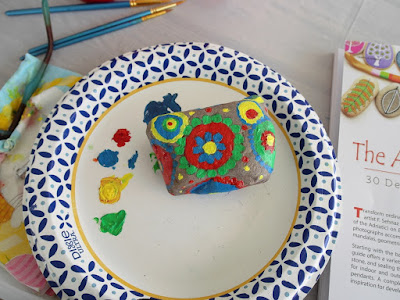 When I returned to Grand Island, I went straight to a rock painting activity in Veterans Park. The rocks were hidden in various places in Grand Island.
Here is a visitor to my back yard.
Here I am with a bird feeder that I painted at Momma De's Mixing Bowl!
My friend Joanna and I went to see King Lear, the first of two plays in the annual Shakespeare in Delaware Park. It was a beautiful and very moving production.
At the end of this tragedy, I was weeping copiously and felt grateful that it was dark so that no one could see that I was weeping copiously. But now, you know that I was weeping copiously!

Happy New Year! I will conclude the retrospective tomorrow, with photographs from July through December. Please come back to see the rest of the pictures!