This is the second part of a retrospective of my world in 2018. During this year, I have managed to take nearly 10,000 photographs! The images that I captured represent a mix of current events, nature, art, and various other things. In total, they are a reflection of life. Here is a selection from July through December of 2018.


July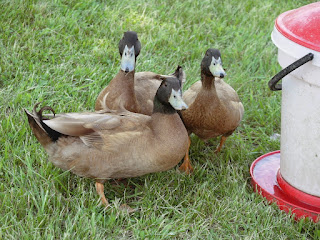 Birds and animals were a fun addition to the Grand Island farmers market, held weekly behind the Knights of Columbus.
There was a giant chicken at the Independence Day parade!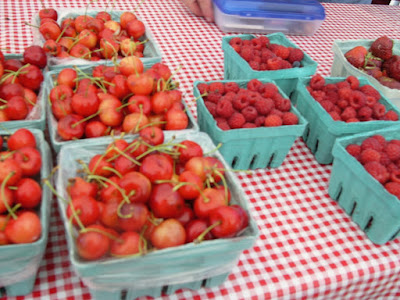 Mmmm, summer produces tasty goodies.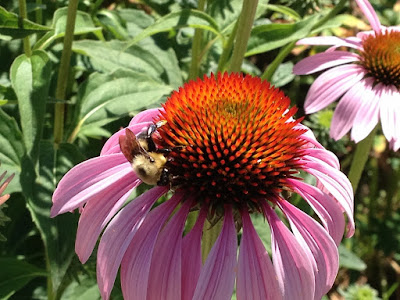 A busy bee at the Grand Island garden walk.
The garden walk was quite an adventure.
There are so many colors.
The river is a great background for a garden.
Crochet project.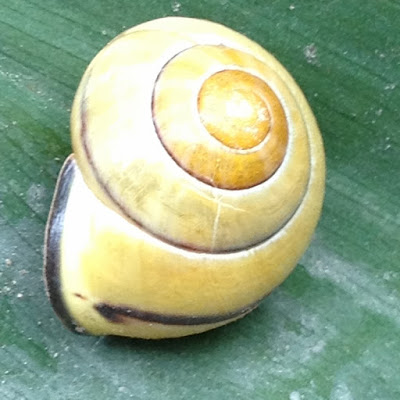 Snail hiding in its shell.
I took a great kayak tour in the Niagara River and saw Strawberry and Motor islands.
Selling tickets at St. Martin's chicken barbecue and basket raffle is pure delight.
Here is a happy monarch butterfly at a coneflower.
Should I fly away?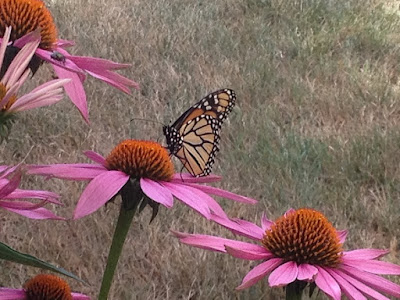 Maybe not yet…
Bumblebee makes a beeline for the leaves.
Political campaigns are made more fun with Jude Keys' creative button designs.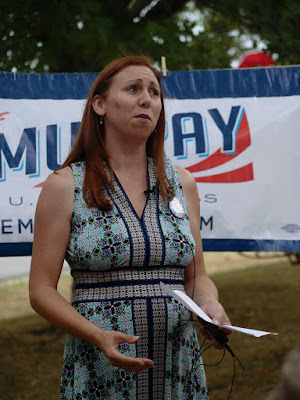 Samantha Buccini makes Postcards for Nate a fun and colorful series of events. I attended several, and I had fun writing very colorful postcards.
Nate is surprised with a cake, celebrating him and New York's 27th congressional district.
Traveling west. The sun departs in a glorious sky.
Nate talks to his Grand Island supporters.
Nate, Vienna, and I enjoy a happy moment.
Rose garden at Delaware Park in Buffalo.
Shakespeare in the Park. Much Ado About Nothing!
I went there with my friend, Ellen Evans. It was loads of fun, and parts of it were absolutely hilarious.
Delaware Park at sunset.
Buffalo's Garden Walk is one of the biggest in the United States.
There are so many gardens to see. It's impossible to see them all in one day.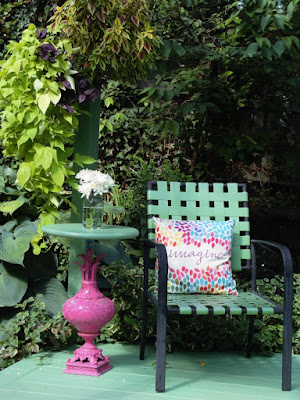 Some of the gardens are very small, but the gardeners still manage to create tiny gems.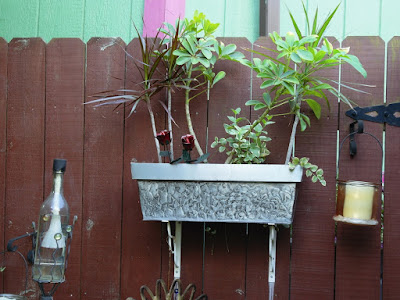 They even make use of fences and brick walls to create visual appeal in their gardens.
Gardens are incomplete without gnomes.
There are some interesting buildings in Buffalo, but very few really old structures. Buffalo was burned down during the War of 1812, and almost no buildings survived that fire.
Summer's colors are pure delight.
This is a visitor to the Buffalo Garden Walk.
A church service at St. Luke's Mission of Mercy is always quite spectacular.
Busy butterfly.
August
Jammin' it up at Grand Island's farmers market.
Oooh, melon! Yummy!!!
Grand Island's farmers are recognized with a town proclamation early in August.
Bowling Pins for Safety. Grand Island celebrates National Night Out.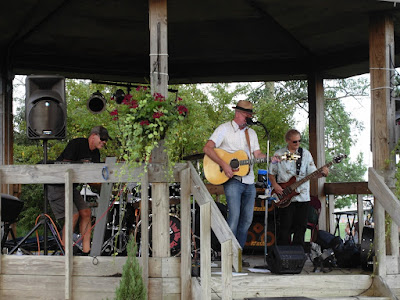 The event is made more fun with musical entertainment.
Federal officers enjoy the company of a rather large bird!
The large bird befriends Mary Stewart, an enthusiastic photographer.
Birdseed! Yummy!
Here are some of the beautiful crafts on display at Indigenous People's Day at the Buffalo History Museum.
This became a luminaria to be displayed with others in Mirror Lake. Cartoonie People for a Nuclear-Free Future!!!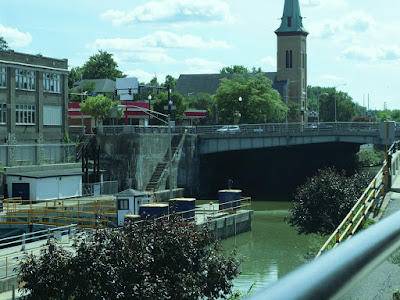 The Erie Canal in Lockport, New York.
Matt Dearing introduces Nate McMurray at a press conference in Lockport.
It had just been announced that Rep. Chris Collins (R-NY-27) was indicted on federal charges. Nate held a press conference to discuss the situation.
He called on his opponent to resign.
This is Jayne Keyel Drumheller Brown. She is a private investigator and a writer. She was one of the many wonderful people who held house parties for Nate. Check back within the week for an interview with Jayne.
I went to the Lewiston Art Festival with my dear friend, Leonora Tetkowski!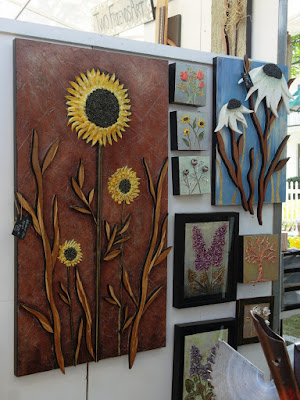 Leonora is a retired art teacher, and she always encourages me to grow as an artist.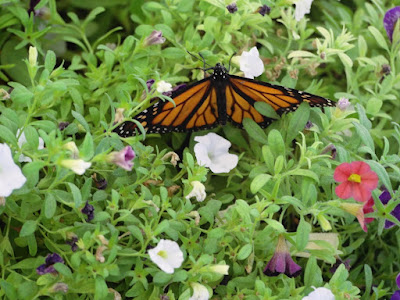 Erie County Fair time. The butterfly house is a lot of fun.
Polish dolls.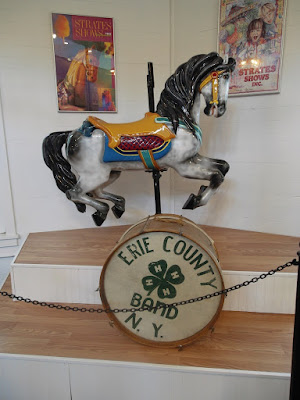 History of the fair.
Dances at the fair.
After the dances in the Indian Village.
I went to the sunflower field in Sanborn, New York. It was massive.
Former Representative John LaFalce spoke at a house party for Nate.
John LaFalce and Nate McMurray.
John LaFalce, Nate McMurray, and the delightful couple who hosted the party.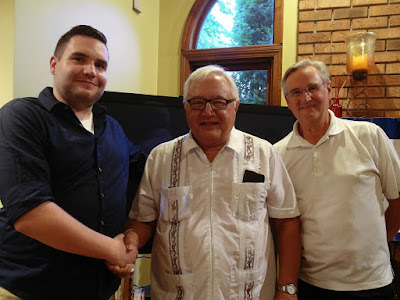 John LaFalce, Jim Sharpe, and Eric Sharpe enjoy a moment at the party.
I went back to the sunflower field with Kathy Shafano, a professional artist, whose specialty is plein air painting.
It was a windy day, but bright and sunny.
I brought a drawing pad and a set of colored pencils and a chair. I found a seat and began drawing.
It was a peaceful and relaxing experience. People came up to me and asked me questions about my drawing. A few people wanted to watch me, and that was fine with me. I hope that watching me inspired them to want to create their own art.
Here is a colored pencil picture of a few plants.
September
On the third of September, I traveled south to participate in a walk for nuclear disarmament. We walked from Savannah, Georgia, to King's Bay, Georgia. Walking in the deep south was a new experience for me. I didn't know what to expect.
What I found in coastal Georgia was great beauty. There were so many butterflies! These butterflies are called gulf fritillary or passion butterflies. They are found in the southern parts of the United States, as well as Mexico and Central America. Some have been seen in South America. Here are two of these bright orange butterflies, near a lantana plant, which provides food for them.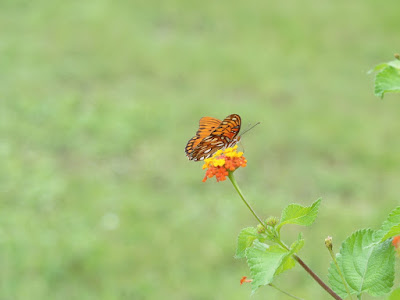 I saw passion butterflies everywhere.
Around the corner from where the group was staying was a place called the Puppet Place. Here is Steve Dear having a disagreement with a puppet.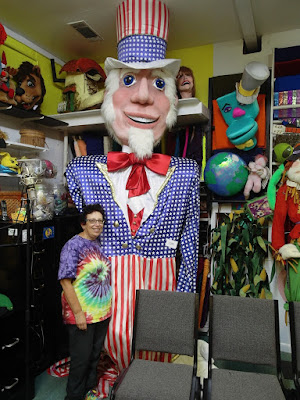 I am a very tiny creature next to this gigantic Uncle Sam!
There was a lot to see on the adventure, including this well-decorated building.
The wetlands are spectacular.
There were some big and beautiful trees in coastal Georgia. Exploring the different plants and trees was a great adventure for me.
We carried this banner when we walked, as well as a variety of hand-lettered signs.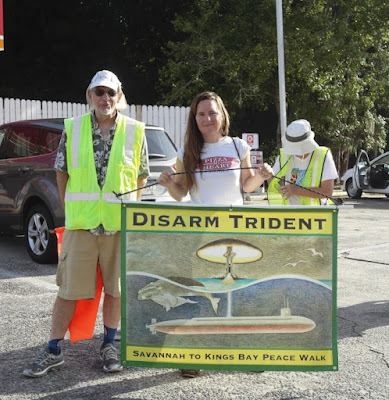 Don Cunning and Sarah Ball were companions who made the journey fun.
Coastal Georgia was very warm early in September, and, sometimes, we needed to pour water over our heads so that we could keep going.
In Midway, Georgia, we met the pastor of the First Presbyterian Church there, the Rev. Dr. Jamil El-Shair. He said that we were welcome to visit that church if we were to get tired and need a break from walking.
We took our lunch break at the Geechee Kunda museum. Dandelion let us know that we were welcome to stay there and explore the museum.
The Geechee Kunda museum is a work in progress. I learned a lot and would definitely recommend visiting, if you ever find yourself in Riceboro, Georgia.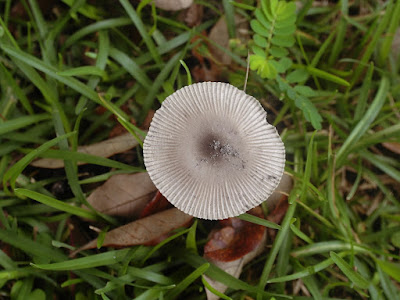 Well… I never thought about a career in mycology… but there are a lot of interesting mushrooms to be found and photographed (not tasted!!!).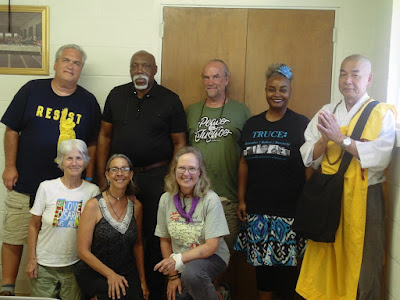 One of the highlights of the walk was meeting Hermina Glass, an historian who is working on a book about Susie King Taylor, the first black woman to serve as a nurse in a Union regiment during the Civil War.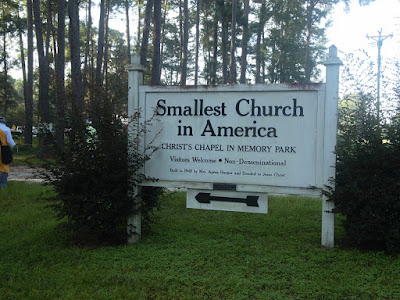 One of the more unusual sights during our walk was this miniature church that claimed the title of "Smallest Church in America." It was definitely smaller than the chapel at the Stella Niagara Preserve… but, apparently, there is competition for the title of "Smallest Church in America."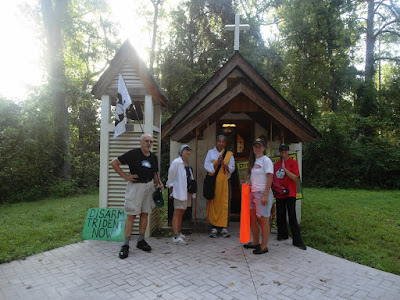 It truly is a little church!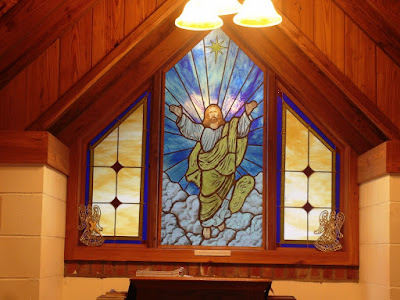 We went inside! What a beautiful space!
The itty bitty church was a great break from the walk.
After a little while, it was time to resume our walk.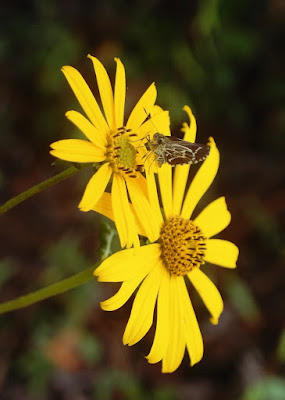 There was a lot of colorful plant life.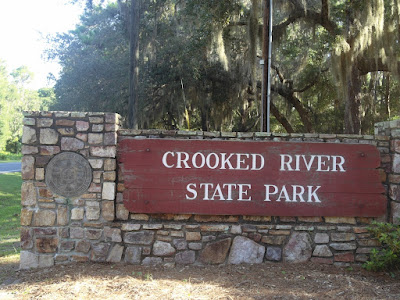 We had to cut the walk short because Hurricane Florence was traveling west over the Atlantic Ocean and there was no way to know where it would make landfall. I spent my last night in Georgia in this beautiful park.
A view of coastal Georgia.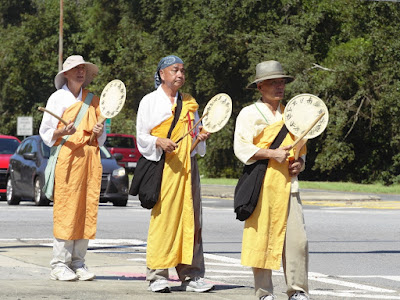 Praying for a nuclear free future.
Kathy Kelly stands witness against the nuclear weapons at King's Bay Naval Base.
Standing witness at the King's Bay Naval Base
Buddy and Sarah
When we weren't walking or standing vigil, we had time to explore the beauty of southeastern Georgia.
It was a great experience. Coastal Georgia is a place that I would like to visit again.
Back in Grand Island, the farmers market was still going strong.
The pumpkins were being harvested.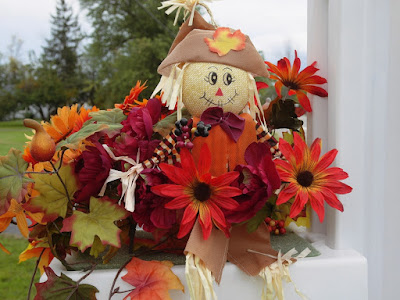 The autumn market is pure delight.
Here is a squash that looks like a painting. It is life imitating art.
Tom Thompson demonstrates some of the more interesting and unusual looking produce.
Different is good.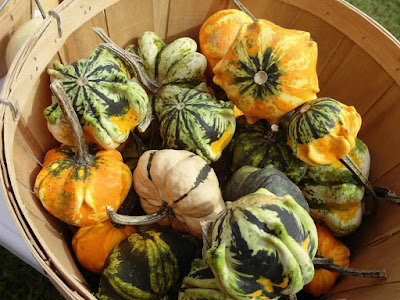 The farmers also came to the Taste of Grand Island, bringing all sorts of good things.
This is one of the dogs who came to the Taste of Grand Island.
My sister Diane has a chat with a… bowling pin????
This sweet dog was at the Taste of Grand Island. She was a rescue dog who was adopted. Later, it was discovered that she had the right temperament to be a therapy dog. She and her human visit nursing homes and other facilities as a part of the SPCA's Paws for Love program.
These handmade trivets were also on sale at the Taste of Grand Island.
Father Earle King retired on October 1st after serving as pastor of Saint Martin in the Fields Episcopal Church for 31 years. A retirement party was held on September 29th.
Bishop Bill Franklin spoke of his friendship with Father Earle.
Eric Boron served as master of ceremonies. This was one of many gifts that were given to Father Earle.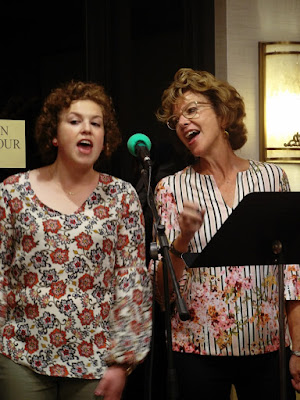 Carrie Honsberger and her mom Beth Boron enjoy singing together at Father Earle's retirement party.
Father Earle's last service at St. Martin in the Fields.
Bishop Bill and his friends Father Earle and Paula King.
October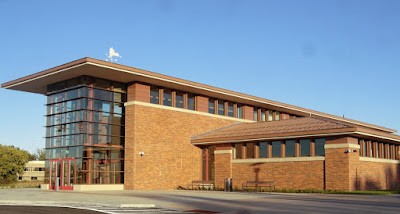 In October, I visited the newly built Visitors Center in Grand Island. It's a beautiful building, with local products, such as honey, soup, and cheese, being sold inside.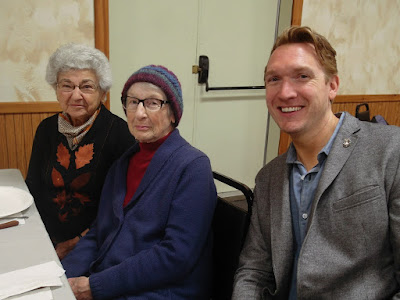 I went to the annual farm dinner. Here is Nate with Leonora Tetkowski and Jerri Page (former editor of the Island Dispatch).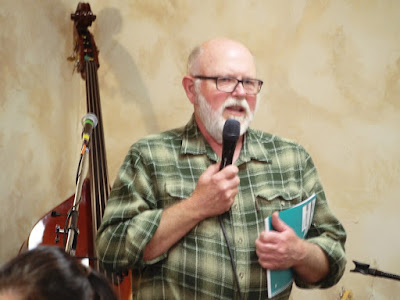 Tom Thompson talks about farming in Grand Island…
… and he announces that the award for the Friend of Grand Island agriculture goes to Town Supervisor Nate McMurray.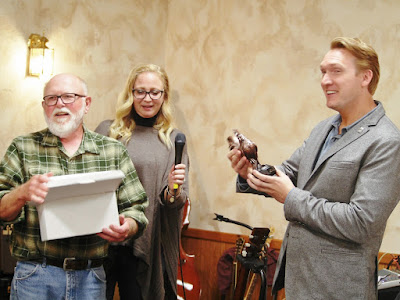 The award is a brass chicken!!!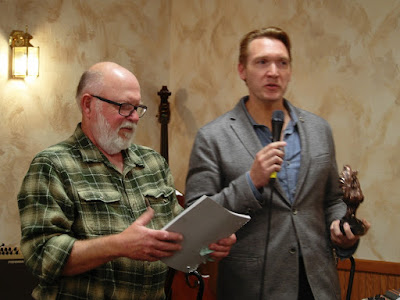 Nate states his great happiness with his brass chicken, as well as with agriculture in Grand Island.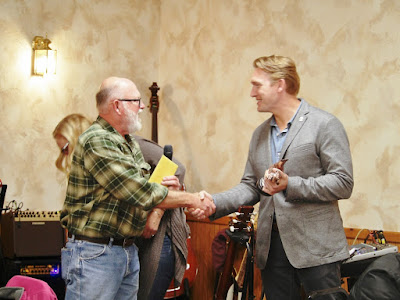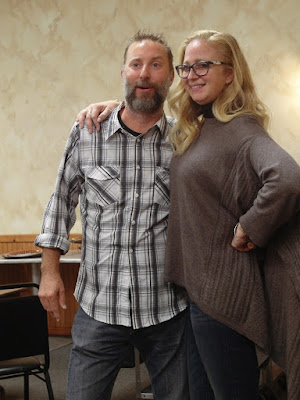 Members of Grand Island's farm group.
Introducing Father Chris O'Connor, the transition priest at St. Martin in the Fields Episcopal Church.
I joined a group that walked the grounds of land behind Assumption Cemetery on Grand Island that was purchased by the Western New York Land Conservancy. It will be preserved forever, with trails being added.
The fungus among us.
This is the forest that is being preserved.
Seen at Grand Island's Golden Age Center.
After the hike.
There was a craft sale at the Golden Age Center in October.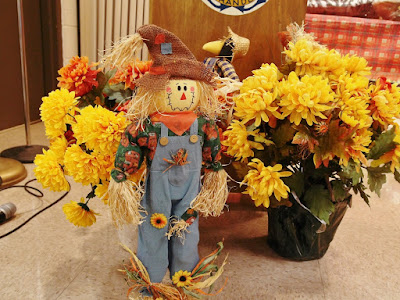 Here are some of the colorful things that were on sale at the craft sale.
Yum!!! Jam!
People could buy handmade Christmas decorations.
I painted this guy at Momma De's Mixing Bowl. It turned out to be a big project that took five hours to complete! I named him George!
Politics is fun and creative. Here is Nate with his opponent, Christopher Collins, who is declaring his love for the Buffalo Bills' arch rival, the New England Patriots!!!
Having fun at campaign headquarters.
We are strong and mighty!
November
Sophie Hodorowicz Knab talked about the book that she wrote, titled Wearing the Letter P. It was about Polish women who were forced laborers in Nazi Germany in the years 1939 to 1945. Her mother was one of those women.
Sophie's aunt was sent to the infamous death camp, Auschwitz. She was a political prisoner. At the end of the war, she was put on a death march to Bergen Belsen, which she survived. She was liberated by the British in April of 1945 and was reunited with her sister at the hospital near the Bergen Belsen concentration camp.
I spent some time campaigning for Nate in Lockport. I left my comfort zone by doing door knocking with my teammate, Celia Spacone.
Campaign materials of the more permanent variety, as well as the sweetly edible variety.
Lockport in autumn.
In October, I visited a new little restaurant called Nikki's Eats. They serve both breakfast and lunch. The service is delightfully friendly. Here are the co-owners, Nikki and Lou.
Cascades of Fire was a great event. Joanna and I went to Niagara Falls to watch the fireworks! It was an international fireworks competition.
December
Here's an elf who helped out at Santa's breakfast at the Golden Age Center.
musical entertainment!
Santa Claus is ready to hear requests.
This is one of Santa's helpers, showing off her lovely socks!
Santa is surrounded by helpers and elves.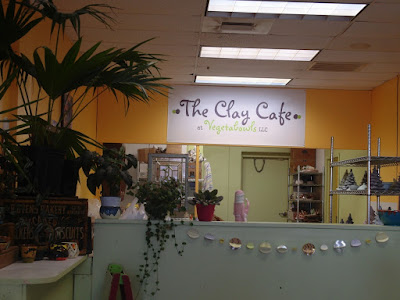 After visiting the Golden Age Center, I went to the Clay Cafe to paint ornaments and refrigerator magnets.
Clay Cafe co-owner Ashley shows off one of the ceramic Christmas trees.
The Clay Cafe is a delightful place and very colorful, too.
It took me two hours to paint two ornaments and one refrigerator magnet.
I then went to Momma De's to decorate cookies.
At Town Hall, there was a celebration of Santa Claus' arrival. It included a parade!
Wendy Thompson shows off some of the agricultural goodies available at the event.
Santa Claus has arrived in Town Hall! He is ready to take requests.
The parade occurred at night! Santa Claus arrived in a fire truck!
The Grand Island Historical Society held holiday luncheons at River Lea, which was decorated for the season.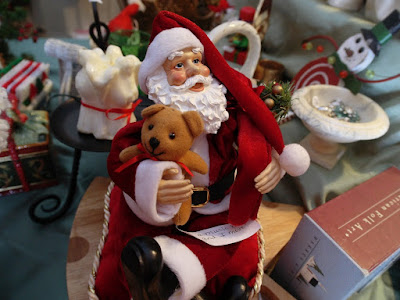 There were all sorts of Santa Clauses. They were everywhere!
The program was about white clothing over the years.
Here is one of the fashion statements on display.
Here is another lovely fashion statement.
My two ornaments and refrigerator magnets were fired! These are the finished products.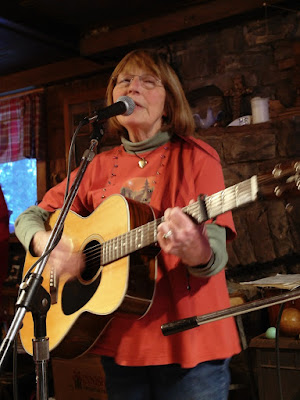 Christmas in the Woods featured a great variety of music and lots of audience participation.
Meet the Santa Puppet.
Nan and Kathy enjoy sharing a song.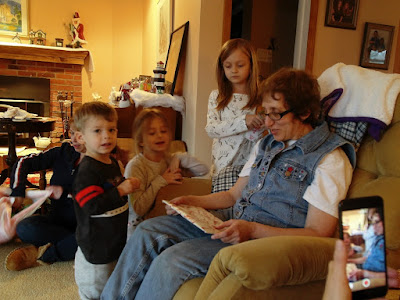 It's Chrismas time. The kids enjoy watching Diane open a gift.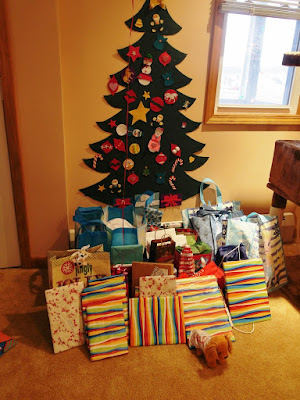 Isn't the felt tree awesome? There was some concern that the kittens would attempt to pull down a real tree.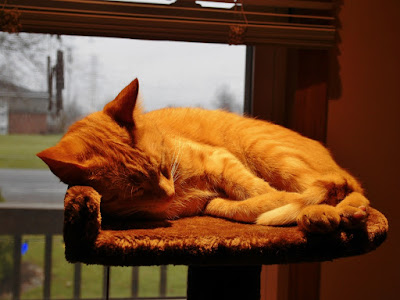 Although Chestnut doesn't look like he's about to pull down a tree, you never know.
Ho ho ho!!!
Chestnut and Coco relax together. They are brother and sister.
We went to see the ballet, the Nutcracker, at Shea's Buffalo!
Christmas at St. Martin in the Fields.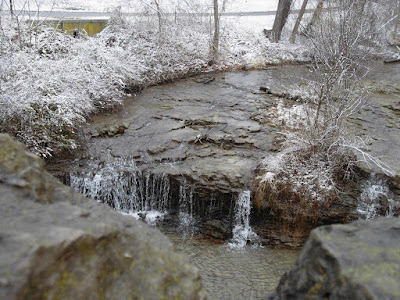 Three Sisters Island in Niagara Falls.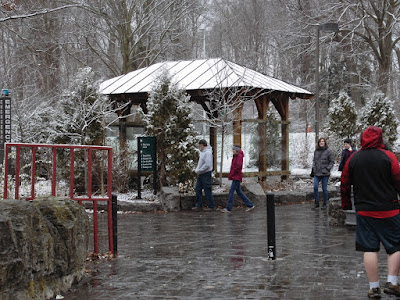 This is Goat Island.
These are the rapids just before the falls.
Diane tells Tom about some of the birds in the area.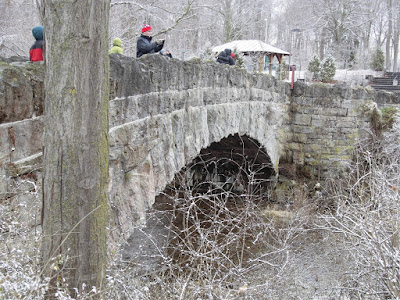 This is the bridge between Goat Island and Three Sisters Island.
Another view at Three Sisters Island.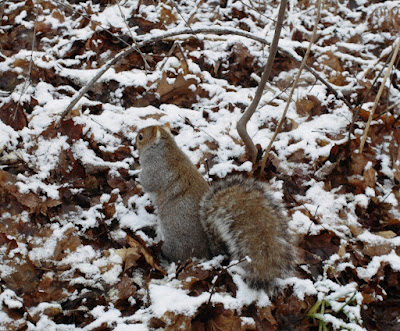 This squirrel is well-fed and seems unafraid of humans.