Today is the the start of a new year and a new Ultimate Blogging Challenge. I will be posting every day for the month. Please follow my journey through the month of January and beyond.


The year has begun in a deep freeze. My world is very white and very frozen. Normally, I would bring my camera with me and go outside for a very long walk. Right now, however, it is too cold for the walks. The weather advisories have suggested that, after just 30 minutes of exposed skin being in the elements, there is a serious risk of frostbite. It will be about a week before the weather warms up. So I've stayed close to home in documenting the cold world outside.


Here are the images of my frozen, white world.


A few days before Christmas, before the deep freeze came, it began snowing. It snowed and snowed and snowed. My world was enveloped by a blanket of whiteness and silence.
The freshly fallen snow covered the tree branches and only a few needles from the blue spruce stuck out.
pine needles bond with the snow
dormant apple tree, covered with a layer of whiteness.
Quiet street before the snowplows come to clear off the layer of snow from the street.
Winter is a season of hope and expectation. Everything is dormant, awaiting a new beginning.
Into that quiet world comes a small snowplow, which clears a driveway across the street.
view of the back yard
On Christmas day, I was able to walk to church. It was a quiet, peaceful walk. This is Woods Creek after a good snowfall.
Another view of Woods Creek. I think that I'd like to make a painting of Woods Creek in winter.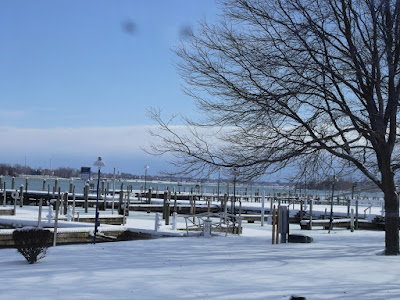 And then, the day after Christmas, the deep freeze descended… and stayed. Today, I went to the Buffalo Launch Club for the inauguration of the newly elected town officials. The river and the sky were a cold blue. I took pictures from inside.
The boats are out of the river. Everything is silent.
It's the silence of a new year. Underneath the snow and the frozen land, there are seeds and bulbs and the promise of light and color.

Question: What are some of your hopes for the new year?