Christmas time has come. It's time to take a break from the usual routine and celebrate. It's time to celebrate the change of seasons. It's time to celebrate the winter solstice. This picture was taken on December 22nd, which was the shortest day of the year (winter solstice). The days will slowly start getting longer, which means more sunlight. If you're a Christian, it's also time to celebrate the coming of Jesus into the world to save us from ourselves.
Here are some Christmas greetings from a well-dressed bear and cat.
On Wednesday, December 23rd, I baked chocolate chip cookies. The snow humans stand guard.
On Christmas Eve, my friend Amy and I went to have dinner at the house of Kris and her family. We are so grateful that Kris invited us. It was a true delight. The house was beautifully decorated. We were warmly welcomed and treated like members of the family.
You can create worlds with decorations.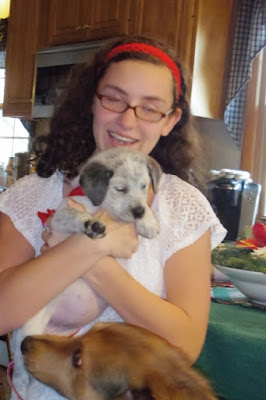 Kris' daughter Sarah enjoys the visiting dog.
That is quite the fashion statement for the little dog, who has discovered a partially chewed bone. Little dog is determined the conquer this bone.
This is the resident dog.
Kris and her family are from New England so this is a reminder of home for them.
Dinner was delicious. The conversation was entertaining. It was fun. After dinner, it was time for tea and dessert.
This is the cake that Sarah baked. Every year, she chooses a different design for her cake. Two years ago, it was Santa Claus. Last year, it was an ornament, and this year, it is a Christmas stocking.
Christmas is not complete without poinsettias everywhere. Go ahead and bring them into your house, even if you are the Crazy Cat Lady. Even if the cat polishes off all of the poinsettia leaves, it's no problem. The plant is not poisonous for cats.
At church, the bears pose with some of the winter decorations.
The church is full of poinsettias, some with red and other with white flowers.
After the Christmas Eve service, there are opportunities for family portraits.
Olivia, who lives in Florida, introduces us to her new gentleman friend Lupe! She wanted to introduce Lupe to snow but the weather didn't cooperate so it looks as if they will have to come and visit again!
Saint Martin in the Fields Church celebrated its 60th anniversary on Grand Island. Bishop William Franklin (aka "Bishop Bill") came to help Father Earle King and the rest of the congregation celebrate the momentous event. Bishop Bill gave the homily, which he said was "Bishop Bill pretending to be Father Earle pretending to be Bishop Bill." Wow. That was a bit mind bending. Here are Bishop Bill and Father Earle with Janet Austen, who was one of the original members of Saint Martin in the Fields Church back in 1955.
Christmas Day was family time. We got together to exchange gifts, have a delicious meal, and enjoy one another's company. Here is my great-niece Claire Elisabeth, just one month before her fourth birthday.
This is my sister Diane with our great niece Adelise Noel, who had her second birthday in October.
Here is my mom Roz, my niece by marriage Chrisha, and Adelise with her favorite blankie.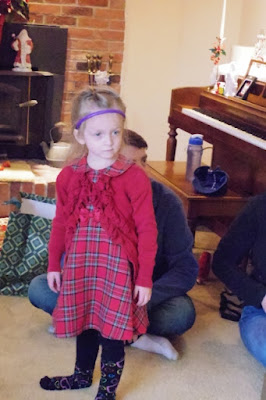 It is Claire's job to distribute the gifts.
Here is my nephew James, who likes to make the stairs into his chair.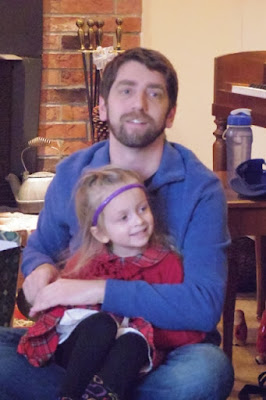 Devin and Claire.
More fun daddy-daughter time.
This princess dress is one of Claire's favorite gifts.
Adelise is also fashionably attired in her princess gown.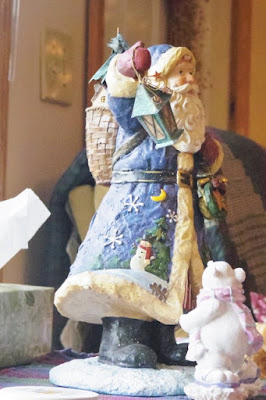 The bear and Father Christmas travel at night.
Here is a pretty and delicious gingerbread cookie.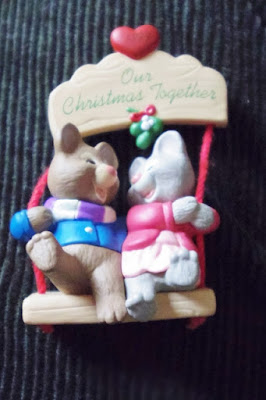 Super cute decoration!
These are ornaments from the Holy Land. They are made from the wood of olive trees.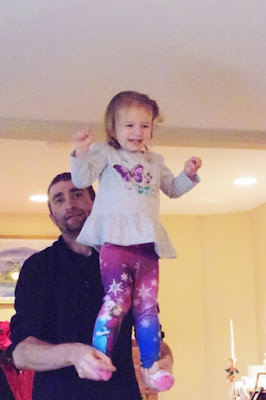 Adelise explores the world from a different perspective with the help of her uncle James.
This picture and the three below it depict a bit of holiday magic.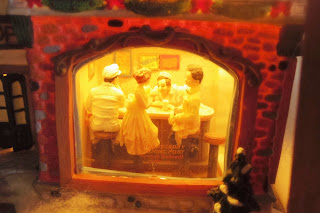 I also had some sketchbook time on Christmas. I made a line drawing on Christmas and added the colors the following day.
Back to church yesterday. It was still pretty with the decorations. Here is a closeup view.
At home, later, I had the task of slicing fruit for a fruit salad. Here is a very large strawberry, almost big enough to be called a "mutant."
For several weeks, I have been enjoying this delicious holiday tea. I can't say enough about the yumminess of this tea. It is produced only during the holidays.





Next week: Welcoming the new year and beginning the new blog challenge!