Today and tomorrow, I am sharing some of the images from 2015. I started the year with a one-month painting project. Every day, I painted pictures of bears in different settings, and I wrote stories to go along with the pictures.
This project kept me busy during a very cold time. The media that I used included colored pencils, watercolors, and acrylic paints. Most of the paintings were based on photographs that I had taken.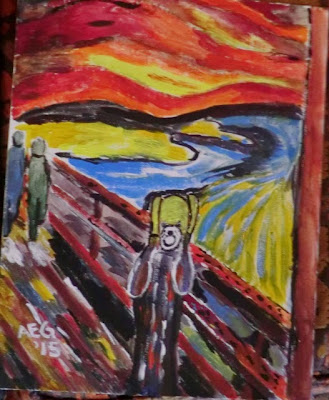 The paintings that I did for the "modern art bear" were adaptations of actual paintings, such as "The Scream," by Edvard Munch.
In January, my friend Dave Baker and I went to a fundraiser for the Buffalo and Erie County Public Library System. The fundraiser was held at the Hotel @ the Lafayette, which was an early 20th century structure that had been restored to its original condition.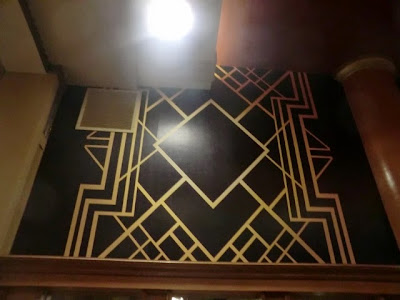 This is one of many interesting features that can be found in the Hotel @ the Lafayette.
In February, I went to visit my friends Maria and Charlie in Cleveland. Above is Maria sharing a Bible lesson with children at North Presbyterian Church, where Charlie is pastor.
Here is Maria. I met her and her husband Charlie when we lived with the same host family in Guatemala, where we were students at language school. Charlie and Maria later went to work with Witness for Peace in Nicaragua for a year. After that, they became missionaries in Brazil for a few years. They had to learn Portuguese! Their son Alexander was born in Brazil. He is now a graduate student in London, England. He also spent a year in Paris, France, as a graduate student.
After my visit to Cleveland, I went to Durham, North Carolina, to visit family: Devin, Chrisha, Claire, and Adelise.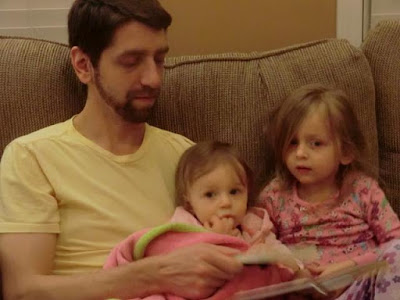 Here is my nephew Devin, sharing a story with my two great-nieces, Claire Elisabeth and her little sister Adelise Noel.
Claire Elisabeth and her friends, most of whom are dressed in tutus, enjoy a tea party.
Back in Western New York, February was indeed the cruelest month. It was so cold and Niagara Falls froze up completely. It was quite a sight. Usually Niagara Falls does not attract hordes of tourists but the frozen falls was quite a sight.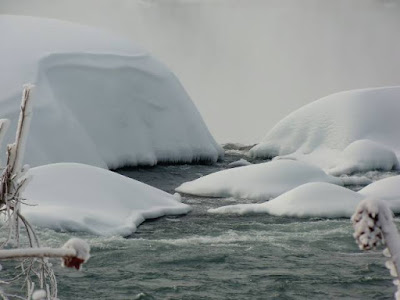 It could have been Antarctica, if only there were a few penguins.
It felt as if winter was going on and on, forever. The snow piled up and the temperature plunged. One day, I decided to dig for treasure and I found this little gem! After I found this gem and posted about it in Facebook, a friend of mine got Boy Scouts to dig up many more of these gems.
In March, I went to see Saint Joseph Collegiate Institute's production of "Damn Yankees." Thomas (third from left) played the role of Young Joe. It was an entertaining production, with lots of enthusiastic singing, dancing, and miming of baseball playing. Thomas is seen with his mom, Ellen, brother Joseph, and sister, Amelia.
In March, the World Day of Prayer was held at Saint Martin in the Fields church. Each year, the women of a selected country write the service. This time, the country was the Bahamas. The guest speaker for the event was Mary Travers Murphy of the Family Justice Center, who talked about the scourge of domestic violence in Grand Island and the rest of Western New York. She reminded victims that they are not alone and that help is available for them.
I was relieved to find out that winter would not last forever.
In April, I participated in the Western New York portion of the Walk for a Nuclear Free Future.
In one week, we walked from downtown Buffalo to Sunset Bay in Chautauqua County. Sunset Bay, which is part of Lake Erie, is the start of the Cattaraugus Creek, which has been polluted by nuclear waste from the West Valley Demonstration Project.
We had a group of people who came from Japan to walk with us. Here Mori is holding a staff that comes from the Seneca Nation of Indians, one of the sponsors of the walk.
This is a walker who joined the group in Nevada, where he lives and works in a Catholic Worker house. The entire walk was cross country and included pieces in the west and in the east.
Maria offers a blessing for all of the walkers and for the water. Every year, she organizes a water walk from the Senecas' Cattauragus territory to Sunset Bay. Everyone who was part of the Walk for a Nuclear Free Future also participated in the 2015 water walk.
Komesta-san also offers a blessing for the water.
At St. Martin in the Fields Church, the intern deacon, Patrick, organized a zumbathon to raise money for the Family Justice Center. His wife Bridgett is a Zumba instructor, who taught the zumba class. Here she is working on the smoothies that we enjoyed after doing about an hour and fifteen minutes of Zumba.
In the spring, I went with other members of Grand Island's Conservation Advisory Board to explore the natural habitat of Grand Island. Diane is posed before one of the largest trees that I've ever seen in Grand Island.
Wow! Spring finally came! It was a delight to see color come back to the world.
This is a view of the Niagara River at night.
The apple blossoms were gorgeous.
The fungus among us.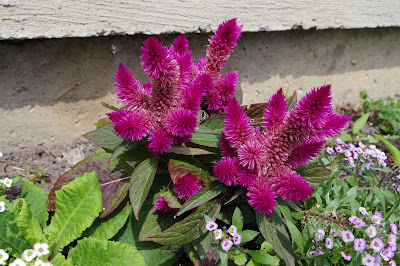 By May, I was thrilled to get back to gardening. The weather was beautiful and gardening was a delight.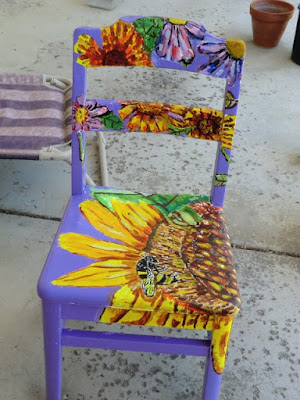 This chair was, without a doubt, one of the biggest art projects that I've ever done. It was formerly a library chair at Kaegebein Elementary School. The library was renovated, and the chairs were replaced. The decorated chairs were then sold at an auction in June to raise money for a new playground at Kaegebein Elementary School.
Here I am with my finished chair. It was later sold to someone who lives in Buffalo's Allentown neighborhood.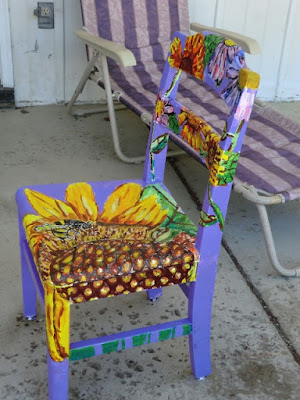 This is another view of the chair. I had a great time designing and painting the chair. It was difficult to let it go but I am happy that it has a new home and that the money went for a playground that children can enjoy.

Tomorrow: The retrospective begins with the July 4th parade in Grand Island.