Christmas is coming! I spent much of the week taking pictures of Christmas decorations. On Tuesday, December 15th, I took a picture of ornaments on the Christmas tree at the Grand Island Dance Center.
This tree has a golden tinge that glows nicely. You can see vague reflections of people getting ready to do Zumba in the golden ornament directly above the fake "poinsettia." By the way, speaking about poinsettias, I read that it is not true that they are poisonous to cats. There are other plants that are toxic for our feline friends, such as the Easter lily, amaryllis, and chrysanthemum.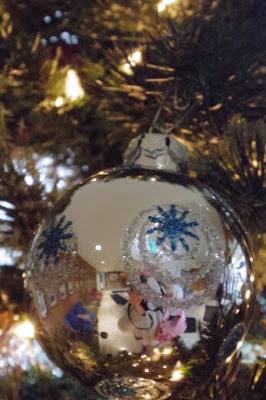 Here is an ornament that was placed on the Christmas tree at Grand Island Town Hall.
This is a picture that I drew when I was at the beauty parlor.
This is how the banister is decorated at Town Hall.
On Thursday, I went back to the Grand Island Dance Center, where I saw that the bears had hit the jackpot in the gift department!
On Thursday afternoon, I went to Stella Niagara in Lewiston for a painting class. This time, the subject was snowmen (snowhumans). I painted the snowhuman as a wanna-be guest in someone's house. Unfortunately, the snowhuman didn't realize that the house was too warm for snow to stay snow, as opposed to melting into a puddle of water! Fortunately, the snowhuman seems not to have gotten inside.
On Friday, I noticed that the parsley in the garden was still growing, even though the garden was covered by a layer of leaves. I harvested some of that parsley and added it to the salad dressing that I was making. The ingredients in the salad dressing are parsley, garlic, olive oil, garlic salt, dried chives, and parmesan cheese.
On Saturday, my friend Chuck and I went to a wedding. A friend of ours, Sandy, was getting married to a man named Bill. It is a second wedding for both of them. The couple met at a support group for widowed people about a year ago.
The theme of the wedding was Irish!
Here are the newlyweds: Sandy and Bill.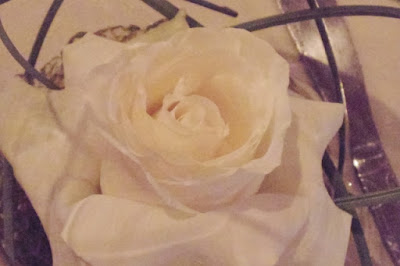 This lovely white rose was the centerpiece at our table. We sat with a group of writers. It was a most delightful and fun experience to share a meal and conversation with all of those writers.
Sandy and Bill enjoy the first dance, and everyone enjoys watching them.
I am happy that Sandy and Bill found each other and got a second chance at love.
The reception was held at Banchetta by Rizzo's in Amherst. It was beautifully decorated for Christmas.
Here are some Victorian carolers, singing their hearts out.
On Sunday, the Christmas pageant was presented at Saint Martin in the Fields church. It was a super Christmas, featuring the Holy family, a few shepherds, a donkey, and a large collection of superheroes.
I think that I could go for being surrounded by superheroes!
Everyone is waiting for the new superhero, including Joseph, Mary, and their donkey, who have to wait at a stable because there is no room at the inn.
The shepherd is not sure that any new superhero is coming. She is also very bored with her job because it doesn't come with free coffee. She becomes less bored when a voice out of nowhere announces the arrival of a savior.
Superman meets the Holy Family.
Superheroes and others sing carols.
And, speaking of singing, there was plenty of opportunity to sing at Riverside-Salem Environmental Cottage. Nan Hoffman presented "Music in the Woods." We sang a variety of Christmas carols, ranging from traditional to very contemporary.
Today, I painted a few more snowhumans. That's probably about as much "snow" as I will see this Christmas. It has been raining all day. It is OK. Eventually, it will snow and, then, I will post snow pictures here on this blog.
Here are some faceless snow humans in the process of becoming.
Here are five completed snow humans. They say to all, "Merry Christmas! Happy Solstice!"

next week: images of Christmas