Week 42 of the photography project started with Father Earle baptizing little Cecily, one of the calmest babies that I've ever seen anywhere. She was very relaxed and seemed completely at ease. Father Earle has a special gift with babies. Even the crabbiest, most frustrated baby becomes calm and easy going with Father Earle. This baby was just happy. Her family was happy and there were many of them.
Later in the day, I went with a group of women from St. Martin's to see "Young Frankenstein." It was a musical adaptation of Mel Brook's movie. It was hilarious. There was lots of singing and dancing, and it even included a tap dance number. The show was produced at the Niagara Regional Theatre Guild, on Ellicott Creek Road, in Tonawanda.
Here are some of our group, happily anticipating the entertainment. Afterwards, we went out for dinner at the Grapevine. If I were to review the restaurant, I would give it a rating somewhere in the middle. The food wasn't awful and it wasn't awesome. We started with a salad, which was mostly iceberg lettuce, which I admit that I don't like. I wasn't hungry enough to finish that. The bread, however, was nice and warm, and I always appreciate the heel.

We had four choices for a main choice, which we had requested in advance. Our choices were broccoli chicken, chicken cordon bleu, four-cheese pasta, and haddock. I had the haddock. The fish was served with mashed potatoes. I was disappointed to see no vegetable with the main course. The plate seemed oddly incomplete without a vegetable. The fish was delicious. There was plenty of it and it was quite tender.

For dessert, we had vanilla ice cream with chocolate sauce and whipped cream. It was delightfully decadent.

The service was excellent. We were brought a myriad of beverages from wonderfully attentive servers. The noise level was very high, and it was difficult to hear anyone. Being unable to hear anyone is a rather isolating feeling. People were carrying on animated conversations, and I watched their mouths move and I heard a loud cacophony of sound. Such is the social life of people with auditory processing disorder, sensory processing disorder, and hyperacusis.

Sigh.

All in all, however, it was a fun outing, and it was nice to be with friends.
This week, I was fortunate enough to spend a good deal of time outside, working in various gardens.
It is work that I love. There is nothing like getting your hands in the soil. I am fortunate to be surrounded by so much color.
So many different shapes…
… so much texture…
At last! The lilacs are blooming! My favorite flower! I love their aroma and their variety of colors!
Sweet little buttercup…
This is part of the all-schools art show at Grand Island High School. I love these cups. They are awesomely creative and delightfully colorful.
Rite of spring: planting your own garden.
Vividly colored marigold.
Tis the season of flowering trees. They come in white…
… and in pink…
For a short time, the trees are radiant.
Here are some vividly white lilacs.
Many of them come in this light lavender shade.
This bunch seems almost pinkish.
Baby cones growing on the blue spruce.
Thursday, May 19th, was the second to last (penultimate) painting class at Stella Niagara. This time, we were painting flowers that were in the process of being watered. Someone got a little carried away in filling the watering can, and, here, the water is coming out in a great gush!
Still at Stella Niagara.After painting class, I find this busily industrious bee fertilizing an apple blossom.
I'm at a very lively garden on Friday. I weeded the garden boxes in the back yard (where the vegetables will be planted), swept the leaves off the back porch, and pruned the shrubbery in front.
On Friday afternoon, my friend Mary Stewart and I went to take pictures at Buckhorn Island State Park. It was alive with wild flowers. Here is one with a little bug sitting on top.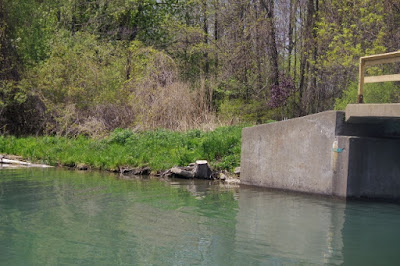 View of the foot bridge.
This is the marsh in springtime.
Delicate little wild flower.
It is a weed but it is so photogenic.
On Saturday, I went to Beaver Island State Park to take pictures of trees being planted by people in memory of loved ones.
White oak tree. Once there were many white oaks in Grand Island, but, in the 19th century, the overwhelming of white oaks was clear cut and sold to ship builders for mastheads on ships.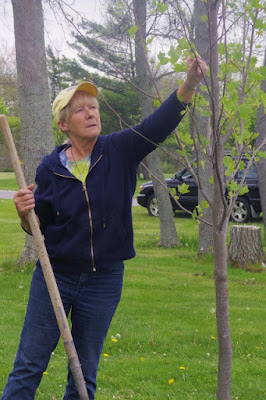 This one is a tulip tree.
Next week: Author Brian Castner visits the library book club, more flowers, my garden is complete, and more!