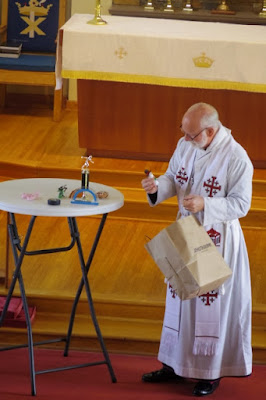 I think that Father Earle King is the longest-serving clergy person in Grand Island. He came to Saint Martin in the Fields in the mid-1980s. Younger members of the church have known him all of their lives. Father Earle encourages and supports the youth of the church. On Sunday, he gave the youth an opportunity to help him create a sermon.
Father Earle announced that he had no prepared sermon. His sermon would be centered around a paper bag that contained random objects. Father Earle is a good enough public speaker that he was able to carry off creating a sermon in which he mentioned all of the items. At the same time, he was still able to offer a message about faith (with humor).

I have used random objects as the basis of creative writing exercises but extemporaneous speech… well, that's quite a bit more challenging! Needless to say, there was quite a bit of laughter. It was an entertaining ad libbed sermon.
I discovered that the camera on my cell phone takes good close up pictures.
Ground cover.
My little garden is planted. I hope that visitors are delighted by what they see.
L
Late last summer, Adele Upton taught a workshop on painting rocks. All of the rocks had been painted black in advance of the workshop. The technique that she taught was called "one-stroke painting." It is a technique that requires a minimum of brush strokes to create an image. It employs both ends of the paintbrush, so the white dots and the center of the flowers were made by the other end (the one with out the brush) being dipped on paint and then dotted on the rock.

One stroke painting can be used on a variety of surfaces, including rocks, wine glasses, plate glass, and more. It is a fun painting technique for beginners.
Tree at the library.
On Monday, May 24th, Brian Castner came to the Grand Island Memorial Library to talk about his books and to answer any questions that the book club had. Brian is an Iraq War veteran. He worked in Unexploded Ordnance Disposal. In other words, he disarmed bombs. Brian talked about life in the military and about war and about returning home and having difficulty adjusting to life with his family and normal activities in general. He talked about having witnessed death and about being Crazy. He talked about how his first book, The Long Walk, was created while he ran along the roads of Grand Island.

I will share more of Brian's story in an upcoming blog post. Stay tuned!
Spring is my favorite season. The colors of spring can be very subtle…
Or very dramatic and vivid…
Color abounds everywhere…
On Tuesday evening, just before tap dance rehearsal, I got this hanging basket full of vivid purpleness.
I planted this basil in a pot, which sits on the porch. Later in the season, I'll turn it into pesto (yum).
I had a little bit of kitchen fun… guacamole!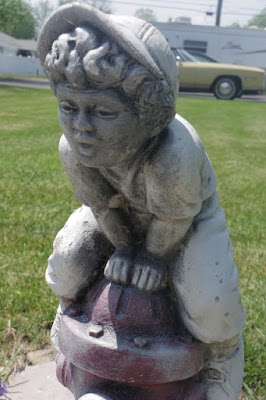 I had a busy week, going from garden to garden, so that I could rehabilitate them.
Lilacs are my favorite flower, pretty and fragrant.
Lawn decoration.
From the back yard of one of my gardening customers, I could see the river and the docks.
On the other side of the river is Cayuga Island. It is part of Niagara Falls, New York, and is a small island in the Niagara River.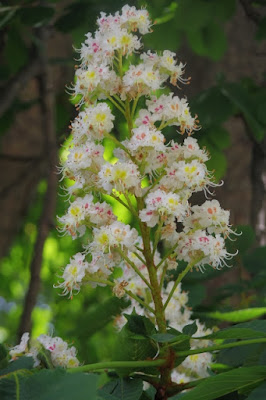 Here is another flowering tree.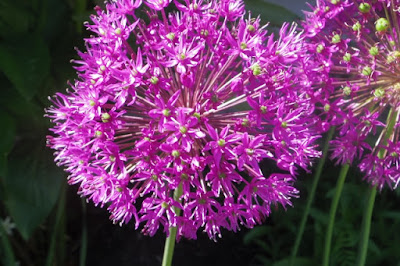 This is allium, a globe-shaped flower. It grows nicely in gardens and adds its unique shape and color to any garden setting.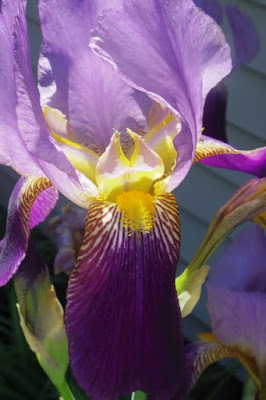 Nothing says that yellow and purple are complementary colors better than this iris.
Day lilies. If you have these, don't let your cats anywhere near the plants. They are poisonous to cats. It's not an issue with my cat because she is determined to live life as an indoor cat. She sees the front door opening and she runs in the other direction.
Next week: More gardens, dance recital, Grand Island Historical Society Installation dinner, and more!