The promise of springtime is reflected in the trees that blossom. The blossoms are delicate and don't last long. I am grateful for the photography project, in giving me a way to keep these short-lived blossoms in front of my eyes and in my heart.
The new leaves, too, are delicate. They are a pale green and are as soft as flowers. At this time of year, they are flowers. The tree is full of flowers, both green and white.
The flowers add color and joy, very welcome after months of little color.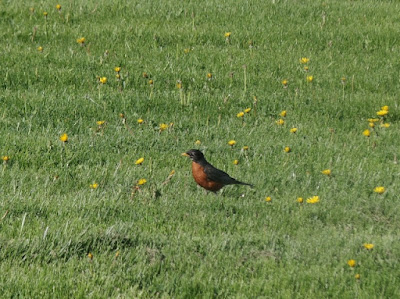 Amidst the grass and dandelions, a robin waits.
Last Sunday was a beautiful day. I walked to church. Here, under the bridge over Woods Creek, you can see the reflection of a tree trunk.
It's time for a garage sale!
Tree bathed in pink.
The whiteness of an apple tree in its springtime glory.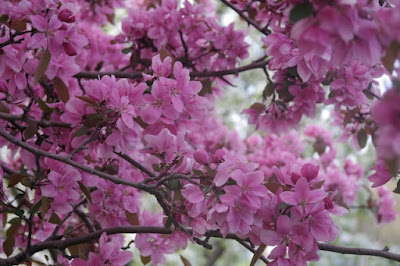 Here is an up close view of the vivid pink tree.
These branches are covered with white blossoms.
At church, the Boron family provides all of the music. From left, they are Andrew, Eric, Caroline, Allison, and Beth. They are the Boron family singers. Andrew is the only one who has made music into a full-time career. He teaches music at Grand Island Middle School.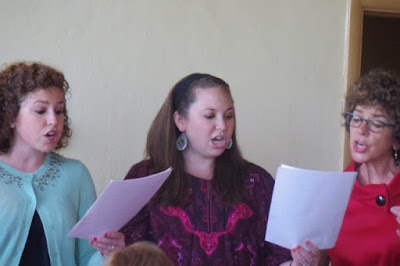 There is a saying that, when you sing at church, you pray twice.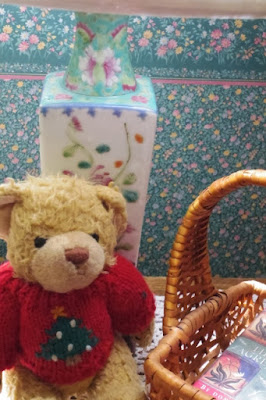 Mothers Day dinner at my sister Vivian's house.
A soft seat for a little bear.
Flower arrangement seen at Vivian's house.
Asparagus, brown rice, and shrimp creole on a lovely square plate.
This is the banana bread that Vivian made.
Plant in Vivian's kitchen.
Here are a few more views of the flower arrangement. All in all, it was a good Mother's Day. The weather was warm and pleasant and it was nice to see the flowering trees and all of the delightful signs of spring, my favorite season.
On Monday, it was delightfully warm so I decided to head to the river for a walk. I am fascinated by people who work outside so I like to photograph them. The pictures may eventually become a series, titled "work as a spectator sport."
There is a small area that readily floods and looks like a little river. You can see the reflection of the tree trunks in the water.
pale purple iris.
Slowly life returns to the river after a long period of dormancy.
More for the work as spectator sport series. Men building an addition to a house.
closeup view of bright red tulips.
This is Carmen. She is an energetic young German Shepherd. She loves to meet humans, but her own human, Kathy, has to make sure that Carmen doesn't give in to urge to jump on people.
A wild, wild world, so very green.
I went to a house on the river to weed the garden on Tuesday. From the back yard, you can see the bridge and the city of Niagara Falls.
The boats are going back into the river.
Tuesday evening rehearsal for our dance recital. The dance that we are preparing combines people from both the beginning and the advanced tap dance classes. The advanced students have red boas, and the beginning students have black boas. We are dressed as flappers, and we are dancing to "It Don't Mean a Thing if it Ain't Got that Swing" (lyrics by Irving Mills, music by Duke Ellington).
On Wednesday, I was busy in another garden, where I spotted two toads, one large and one small. This is the larger one.
The inside of a tulip is a colorful delight.
Here is the itty bitty toad, sitting on my hand.
I was at the church rectory on Thursday, weeding the garden. This is one of the trees near the rectory.
This is a view of a bouquet that was given to Jennifer, who has been president of the Huth Road Elementary School PTA for the past two years. The PTA just elected a new president to serve a two-year term.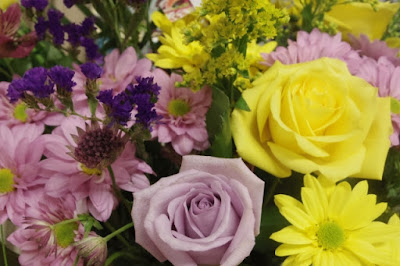 Purple and yellow are complementary colors and these roses next to each other are quite attractive.
On Thursday evening, I went to the annual meeting of the Friends of the Grand Island Memorial Library. I became a lifetime member of the Friends. It wasn't expensive and it is a nice way to support the library, which funds a number of programs that the county does not. They offer prizes for kids involved in the "Battle of the Books," among other things. The Friends of the Grand Island Memorial Library holds book sales twice a year, and they also have various places where they sell books. The books that they sell are donated to them.
Every year, an enthusiastic volunteer is chosen to win the Volunteer of the Year award. This year, it is Carole Joseph.
This is Sandra Block. She is a writer and a neurologist. She was the featured speaker at the meeting of the Friends of the Grand Island Memorial Library. Here she is, reading from her book, Little Black Lies. She has written a sequel, called The Girl Without a Name. A third book will be published next year. In each book, the main character is a psychiatric resident named Zoe Goldman. Zoe is an interesting and very human character. She has ADHD and she was adopted under somewhat mysterious circumstances. It was the mystery of her adoption and Zoe's curiosity about her birth mother that led her to search for the truth, the premise of Little Black Lies. I now have copies of both books, and they were autographed!!!!
Yummy dessert at the meeting. I go to too many meetings. It's time to lose ten pounds! Too bad that I can't lose weight as quickly as I can lose pieces of paper. I'm good at losing that sort of stuff. Weight… well, that doesn't go away without a fight…
On Friday, I went to Huth Road School to take pictures for the PTA. An art therapist, who is part of Young Audiences of Western New York, was there to do an art enrichment program for the fifth graders.
The art therapist is Kris Crosson. In her regular job, she works with children who have chronic conditions. "It helps make them feel like a kid."
Kris taught the kids how to paint a mandala. Mandala is a Sanskrit word that means circle. It represents wholeness and it represents everything, including the sun, moon, and stars. A number of cultures create designs on mandalas to represent the things that are important to them. The tradition, among Buddhist monks in Tibet, is to create the design with colored sand. Eventually, the design disappears because the sand blows away. This represents the impermanence of life and the need to become detached from material things. Navajos in the southwest, also, create their mandalas with sand, and their designs also represent impermanence.

That concept of impermanence reminds me of the blossoms on the trees, that are there for a very brief time of great beauty.

There are many mandalas that are meant to last longer than the sand mandalas. One of them is a labyrinth, which is much larger. It is a large circle, and people can walk on it in a meditative walk.

The circular nature of the mandala indicates that there is no beginning and no ending. It is not linear. It is simply a state of being.
For some of the students, a rainbow image is the choice. Kris reminded the students that making a mandala is a natural project. "There is no right way or wrong way to paint your mandala. It is you expressing you," Kris said.
The students were given the choice of leaving the original drawing, done with both chalk and oil pastels, alone, or of printing a layer on top of the drawing. If the students wanted to print a layer, they went over to two pieces of plexiglass sitting on a table. On each piece of plexiglass, there was a layer of black paint. The students drew a circle and a design on the paint with an eraser. They then put their picture on top of the black paint, and a print appeared on their paper.
Notice the pizza and the watermelon. The artist who created these was ready for lunch.
Saturday morning. Pretty dish towel makes me hungry!
At the Grand Island Dance Center, the mirrors are being covered.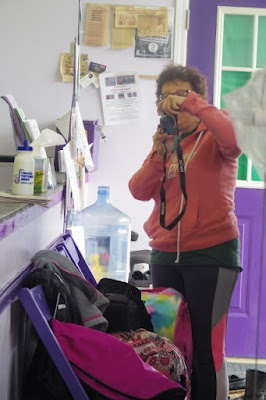 Alas. I love mirrors. I take a selfie of me taking a selfie of me.
The finishing touches of the mirror covering project. I can no longer watch my own feet in the mirror. I have to tap independently now. In a few weeks, we will be on stage, where there is no mirror, so it is time to get adjusted to tap dancing without a mirror!

Next week: The adventure continues. There will be a tree planting on Saturday at Beaver Island State Park.