What do you photograph when you don't really go anywhere? When you don't have big photogenic adventures? When you're not exploring all sorts of different places?
Well, what about you as a photography subject? You could photograph yourself! The technology today makes that easy. And that's what I chose to do. Photograph myself in a wide variety of ways. Push the boundaries of the self portrait to get some interesting and unusual images that have a story to tell. And that is exactly what I did.
Here are some of the pictures from the week.
Here I am, wondering how I got stuck in a mirror and a phone.

I'm ready to cheer on the Buffalo Bills! Because the Bills are making it happen now!
I would take a picture of both of my hands, but that would require me to possess a third hand. So I took a picture of my right hand.
I get a real kick out of this.
wintertime selfie. I kind of have eyeballs underneath that getup. Or maybe not.
Here we go! Two eyes, previously hidden.
Uh oh. Danger, danger. I'm about to be trapped in a computer.
And now… don't I look so happy? It's almost as if I wasn't aware that I was trapped in a box.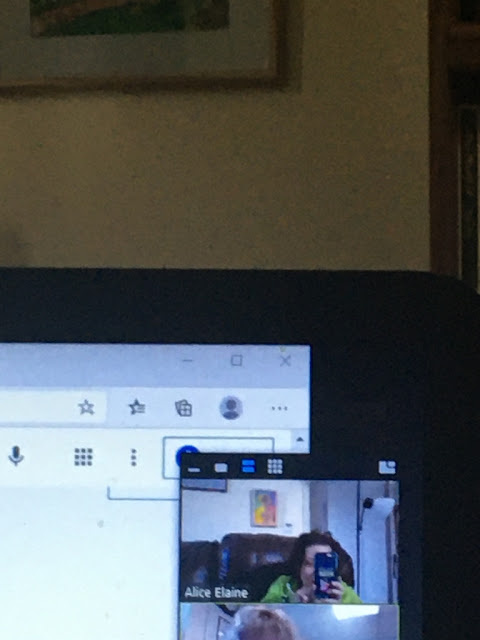 How can I continue to take selfies and self portraits when I am just a speck in a tiny box on a computer screen? Could I be… fictitious?
My box grows bigger and, once again, happiness has returned.
There is an escape from the box. Or maybe, there's an escape from the madness of the last four years. My world slowly opens…
And I am back to the world of mirrors and phones. Here I am, repeated in mirror after mirror, as far as the eye can see. Maybe it's not stuck in the mirror, as much as it is glimpses into alternative realities. Images of me as I was, as I am, as I will be, and as I could have been if I could only touch that person in the mirror, repeated over and over again, as far as the eye can see.