Note: Today's blog post is about one of the joys of autumn. Pumpkins symbolize autumn, so I thought that I would share pictures and poems about pumpkins. The pumpkin is a type of winter squash, and its origins are in North America. Pumpkins can be grown in every continent but Antarctica but that's OK because penguins aren't really pumpkin fans. Humans, however, are pumpkin fans. People like to turn pumpkins into jack o'lanterns and all sorts of interesting decorations. Pumpkins can be made into soup or pumpkin bread or pumpkin pie. They are high in vitamin A and in beta carotene.
Pumpkin seeds can be toasted and eaten as well.
Pumpkins come in a variety of sizes from very small pie pumpkins to enormous pumpkins that weigh more than one ton (2,000 pounds).
Pumpkins on a lawn
a vast array of orange
autumn is now here
Colorful pumpkins
Some green and others orange
October delight.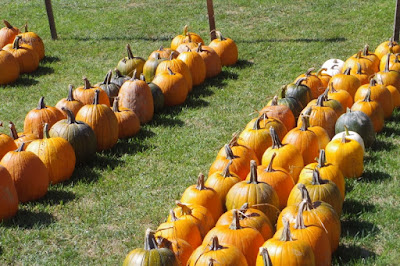 Lined up in long rows
the pumpkins are on display
ready for purchase.
Pumpkins, grand and small,
decorations for a porch
fashionable fall.
They don't look alike
pumpkins may be smooth or rough
great variety
Pumpkins on display
ready to go to new homes
autumn tradition.