Yesterday, I went to a presentation on the emerald ash borer. The presentation was divided into two parts. The first part was the "hands-on" part, which took place outside, near the Grand Island Town Hall parking lot. There were several people who served as group leaders, and the participants chose which group they wanted to join.

The leader in my group was Mark Whitmore, an entomologist from the department of natural resources, which is part of the College of Agriculture and Life Sciences at Cornell University. He specializes in the study of insects that feed on trees.

He said, about Grand Island. "It is really sad. All of the ash trees are infested. They will die without treatment. Only a few can be saved."

He said that we should focus on "saving magnificent individuals." He advocates using insecticides to save the trees. He suggested treating the trees in the spring and said that the best chemical has the brand name "
TREE-äge."
The chemical is injected directly into the tree and it must be applied by a certified arborist. It is injected directly into the tree's vascular system and it protects the tree from the emerald ash borer in its larval state.
In this picture, Mark starts cutting the bark of an ash tree, which has shown signs of infestation. In the picture on top of the page, you can see the dead branches above a small patch of leaves. One of the symptoms of infestation is canopy decline. The top of the tree looks bare and dead, even in the middle of the summer. That is because the emerald ash borer feeds on the tree's phloem, which cuts off the supply of food to the tree. The top of the tree is the first to show signs of starvation.
Mark finds the signs of infestation in the tree.
This is a classic sign of infestation. You can see exactly where the emerald ash borer has eaten away at the tree's underbark.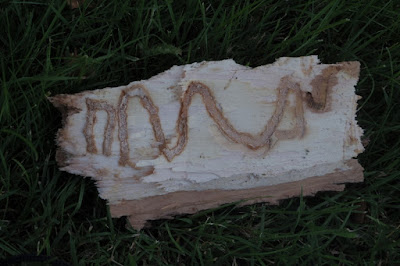 The markings on this piece of wood were made by the emerald ash borer. This particular tree is beyond saving and will have to be removed

Next time: About the cost of removing dead trees, the necessity to save magnificent big trees, the history of the emerald ash borer infestations, and more.