This is the last day of the Ultimate Blog Challenge, and I am happy to report that I have met the challenge. I have managed to post to my blog every day for the entire month. I am glad that I did it. It was a great experience for me to share pieces of my story, as well as some bits of creative writing, some journalism, etc.
October is truly a golden month, caught between summer and winter. At the start, the leaves are still green and the sunflowers are still in bloom. Then everything becomes bright and beautiful, with reds and greens and browns and yellows. All warm colors. And now, at the end of October, some of the trees are now close to naked, well on their way to dormancy. Below is my photo essay for October.
Tea time at River Lea. October meeting of the Grand Island Historical Society, where Jackie Albarella told us, through story and pictures, all about the restoration of Louise Bethune's downtown architectural masterpiece, The Hotel Lafayette.
The apple tree in front of my house was loaded with apples this year. I enjoyed collecting apples and have been making applesauce and apple pear sauce. Apparently, not only humans enjoy apples.
Opening wings, looking radiant.
Eveline at the World on Your Plate event at Daemen College. It's all about sustainable living and good stuff like that.
Lots of color at World on Your Plate. This stuff came from El Buen Amigo in Buffalo.
It's not Ming Dynasty but it is a beautiful vase, displayed at a table at World on Your Plate.
So much color.
I found this leaf… colorful and a wee bit torn…
I saw this in mid-October. Halloween is only one day but it's fun to have the decorations up for several weeks. Fun holiday.
Decorated lighthouse.
Someone is looking very bright. It gives real meaning to that light bulb moment in cartoons, where there is this light bulb displayed over someone's head.
Woods Creek in autumn…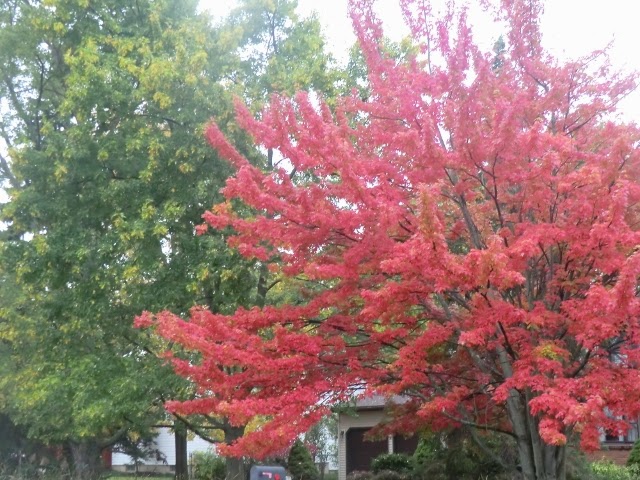 Trees at different stages…
Sweet Suzie Bear, our "guest blogger," enjoys resting in the pumpkin patch.
I found this rose near the pumpkin patch.
I went out to search for raspberries. First I found a few, and then I hit the jackpot! The raspberry bushes are still producing. I went back to pick more raspberries and found that there are still quite a few unripe ones.
Sweet Suzie Bear and the raspberry collection.
Sweet Suzie Bear enjoys visiting a farmers' market at a nearby community garden. The people running this stand said that they would continue to sell produce "until the snow flies."
The sharpening stone that was donated to the Grand Island Historical Society.
The original gates at River Lea.
Another view of the gates at River Lea.
Ricky Hoover arranged the donation of the stone to River Lea. He planned and carried through the unearthing of the stone. He also built a base for the stone. He did all of this as his Eagle Scout project.
Sweet Suzie Bear and sleepy friends at River Lea.
Curt Nestark, president of the Grand Island Historical Society, talks about the stone and about local history.
Ricky Hoover and his troop leader Scott Swagler and the sharpening stone.
Sweet Suzie Bear is ready for a party. "Mmm, punch," she says.
Sweet Suzie Bear with autumnal cookies at the book club meeting at the Grand Island Memorial Library.
Some apples from the very productive tree.
Colorful ghost is ready for Halloween.
Pumpkin and late season flowers.
This is my dancing girls painting…
I had fun painting the not very scary scarecrow.
Author Greg Swiatek came to a book club meeting to talk about his book, The Weed Killer. It's about the homeless problem in Toronto and it featured a serial killer who was determined to get rid of the "weeds" (homeless people) by killing them.
Father Earle gets ready to carve a pumpkin during his sermon!
Busily cleaning out the inside of the pumpkin.
It has a face and a light that shines from within.
Father Earle's pumpkin.
I made my Halloween jewelry from a combination of new and old materials.
Cannon at a town memorial.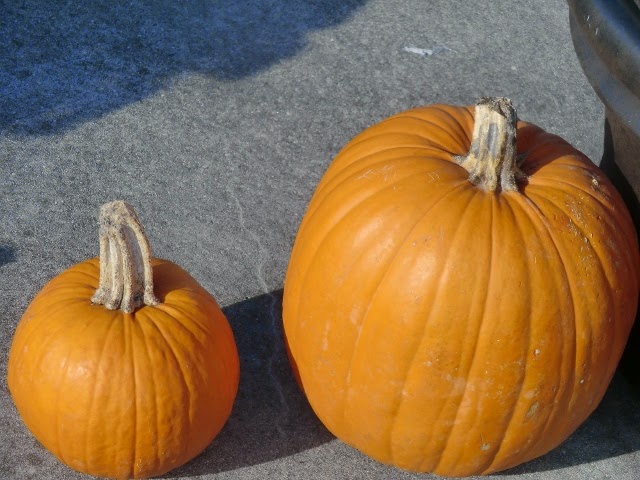 A closer view of the pumpkins near the cannon.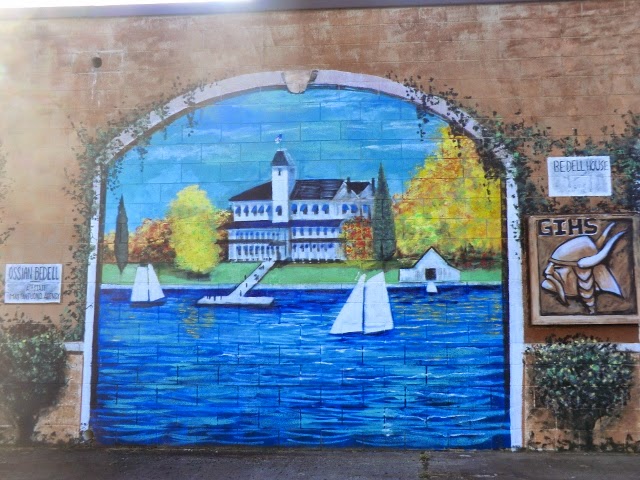 Two years ago, I helped to paint this mural. I painted the sailboats and part of the water and the lawn.
Here we are at the pumpkin patch and at the end of October. It has been a fun experience to document the unfolding of October from beginning to end in this blog.
This yellow beauty may very well be the last rose of summer.
Alice and companion in costume at the Grand Island Dance Center after zumba class.