Today, the Grand Island Memorial Library celebrated its 25th anniversary at its current location. The anniversary was celebrated with a performance by Charlie of Charlie and Checkers and with cake and apple cider. It was a fun time on a cold, damp day. The audience, which was comprised mostly of children under the age of ten, was few in number, probably because of the unappealing weather and the fact that today was the day after Halloween. For what the audience lacked in numbers, they made up for in enthusiasm and energy.


Charlie is one of two brothers who perform at a variety of functions. Charlie seems to be his "stage name." He is actually Danny, a senior at SUNY at Buffalo and a volunteer firefighter and certified emergency medical technician. His brother Joey could not come to this performance so we had Charlie without Checkers. Joey is a high school senior and a member of the fire department in their community.


They call their performances a "comedy magic act."
Charlie was energetic and he exuded enthusiasm. Below are pictures of Charlie in action.



It's time for some fun!
I'd like to introduce you to my rabbit (which was not pulled from a hat).
What could be in this envelope? Something? Nothing?
Abby is ready with her magic wand as Charlie looks for something to come out of the bag…
But, alas, the bag is empty…
The audience is captivated by Charlie's antics.
Wow, what is that?
A crew of assistants is ready to help Charlie with his next magical act.
Whatever could this be?
Looking for things in a bag…
What could possibly be in this bag?
Oooh, a colorful flag! But what more colors could we add to it?
Maybe pink and purple and turquoise and…
OK, enough already! Too many colors!
Here is my magic coloring book… but the pages are blank and there are no colors! I need help to get the colors back on the pages! Abracadabra! And, lo and behold, with everyone's help, the color pictures came back to the page.
Summer accepts the special basketball challenge.
After a trivia game, Brianna becomes Charlie's assistant. Her job is to hold the magic wand.
The magic wand magically grew bigger.
The wand magic continues.
Something is wrong here.
The wands get bigger and bigger…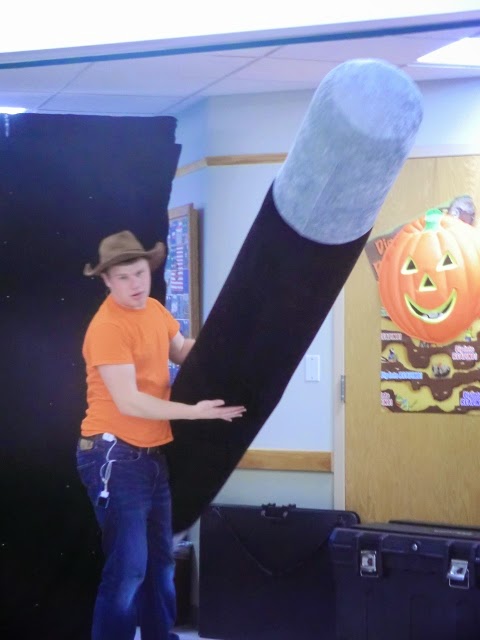 Enormous mega wand…
The wand bears an odd resemblance to an eraser…
Charlie is afraid of bees so he has a giant bee swatter to get the multitude of bees that seem to follow him everywhere!
After putting down the wand and getting away from the bees, it was time for some juggling… but Charlie couldn't help but dance and juggle at the same time! And… he discovered that he was dancing with a bee! Charlie has another wand that gets spots. He tried blowing on it but that didn't work. He tried rubbing it with his mother's favorite silk but that didn't work. The silk got spots on it, too. Everyone had to blow on the wand and, before long, there were no more spots.

After the 45 minute show was over, Charlie told the audience that they were fantastic and did a great job. And, because the performance was at the library, he reminded the audience that there is a really great children's section at the Grand Island Memorial Library and that everyone should visit that section, where treasures can be found any time the library is open.