Yesterday morning, I got on a bus and traveled to downtown Buffalo. The man behind me was singing loudly and was very much out of tune. He was truly making a joyful noise. "This is going to be a good day," I thought. I was fascinated, not by the man's awful singing voice, but by his happiness. The bad singing made me happy because it reminded me of my dad. When my dad was in school, a teacher told him that he couldn't sing. He believed the teacher, and he stopped singing. I remember him announcing regularly that he was going to "sing," but he made noises so odd that they could never be described as "singing." Later, my mom told me that, one night, my dad sang in his sleep. Unaware of what he was doing, he had a lovely, though untrained tenor voice.
WHAT?????????????? THAT TEACHER RUINED A PERFECTLY GOOD TENOR???
Well, yes, that's exactly what happened. I wondered if the man on the bus had had a similar experience. He soon switched from singing to talking about life in Los Angeles and Las Vegas, and another man engaged him in conversation about Las Vegas. He stayed in a hotel there, which cost $39 a night. And the odd thing about the hotel was that there was a slot machine in the bathroom.
I remembered my unplanned visit to the Las Vegas airport when I was traveling to San Diego. I also remember my amusement at seeing so many slot machines in the airport. That was quite a sight and, for sure, something I never imagined seeing. And no, I didn't actually use the slot machines that I thought were so hilarious. But today… my adventure involved no slot machines. I was on my way to downtown Buffalo. The sun was shining, and it was comfortably hot, but not scorching hot like in Las Vegas.
Why do people build a city in the desert?
I don't have a clue. Water is life, and there is very little in the desert. Unlike Buffalo, which was built along a Great Lake (Lakie Erie) and near a strait that people call a river. The Niagara River probably sounds better than the Niagara Strait. I guess it sounds better because that's what I'm used to saying. It's a strait because it connects two lakes, namely Lake Erie and Lake Ontario. People are fascinated by the rapids and the monstrously big waterfalls, so they don't think about the strait part. Anyway, I digress.
At the farmers market, I bought a pie sized pumpkin, two acorn squashes, and a bunch of Bartlett pears. I'm going to make pumpkin bread tomorrow!!!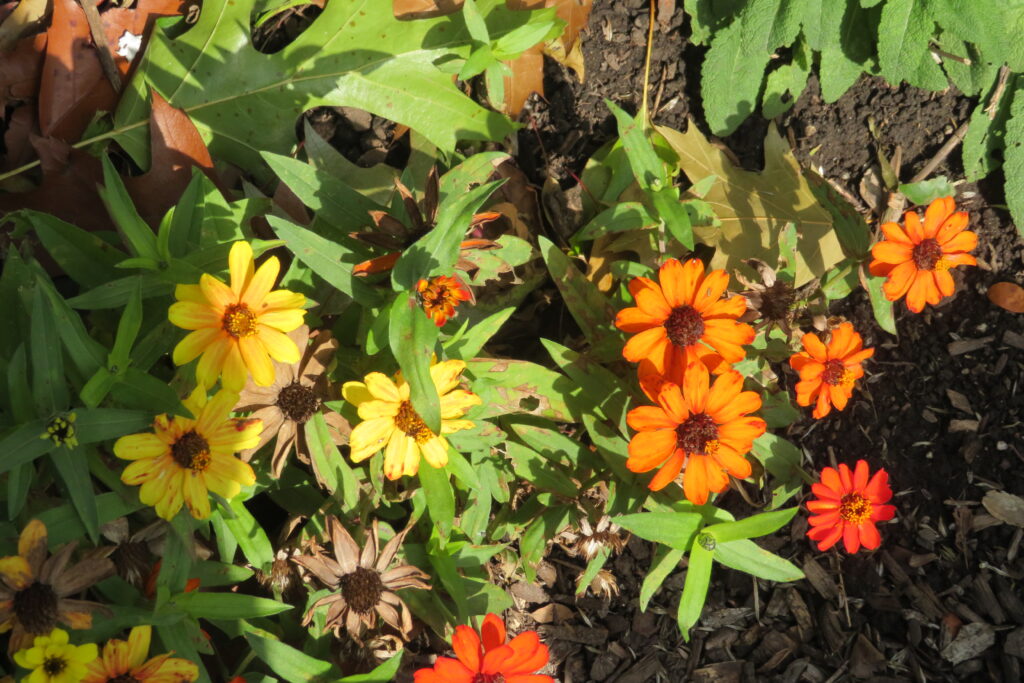 After my farmers market experience, I still had time in Buffalo before my return bus showed up so I went to Niagara Square to see the food trucks. The gardens are showing their age, but they are still busy with bees.
And the food trucks! Lots of choices. I might go back to Buffalo next Thursday for the last downtown farmers market and to get something yummy at a food truck.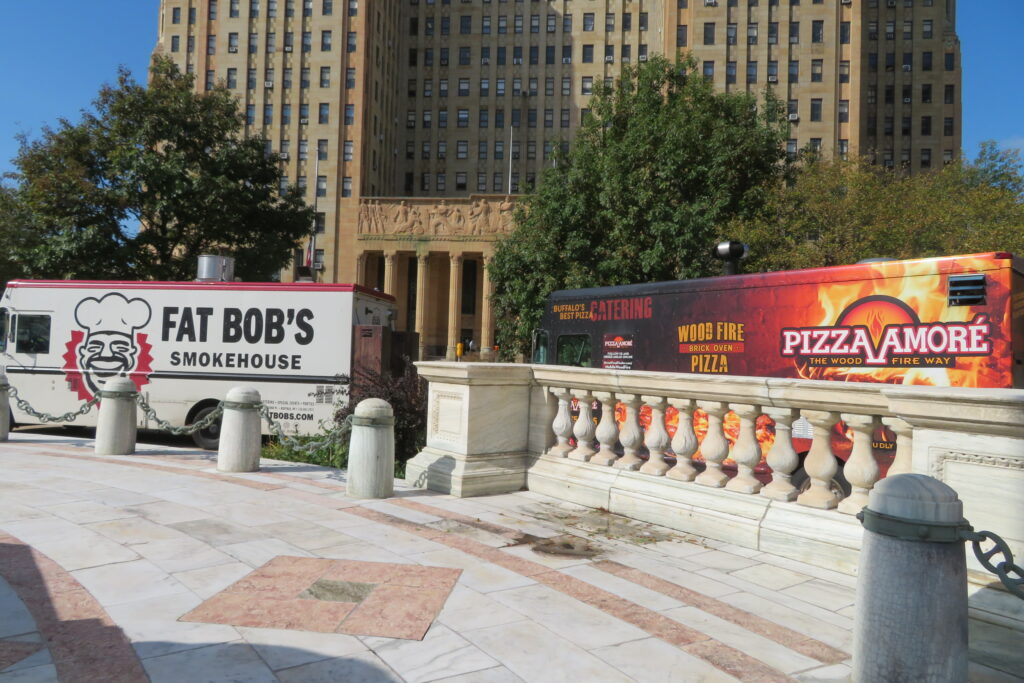 Pizza Amore is a Grand Island business. And speaking of Grand Island, I was soon back on the bus, headed home.
In a few hours, it was time for part two of the adventure. Away from the city and in Buckhorn Island State Park, I got to participate in a foraging hike. We were looking for mushrooms. They are everywhere in the park.
As I was walking down the bike path to the park, I saw this guy next to a man made pond.
And then, the mushrooms. They come in all shapes and sizes. There was this one…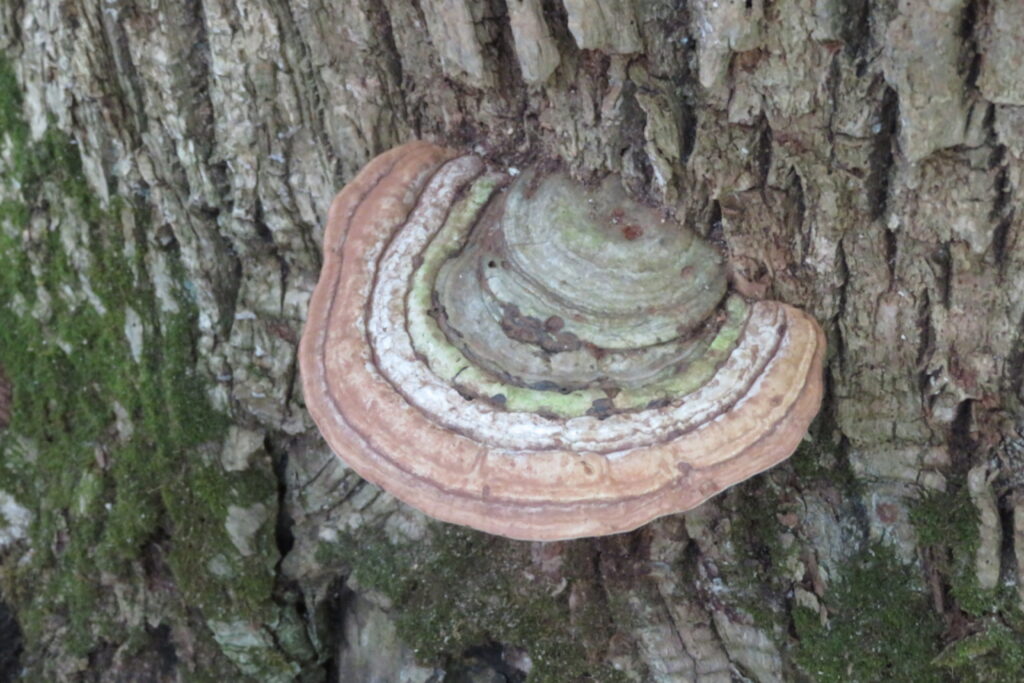 and this. It grows straight from the tree like a shelf. Mushrooms can grow from the ground and on trees or even dead wood.
Look at this plethora of mushrooms! This is a turkey tail mushroom because it looks like the backside of a turkey. I have a recipe for tea made from this mushroom. According to the information sheet I got, which contains the recipe, the health benefits of turkey tail is that boosts your immune system, it fights colds and the flu, it supports cancer treatement, it promotes digestion, and it improves chronic fatigue syndrome. This is not a mushroom that you would want to eat. It's better as a tea.
This is Ellen Owens. She guided the group through areas of Buckhorn Island State Park that I have never seen. They are definitely off the trail and not easily found. She is an expert in mushrooms, and she shared her enthusiasm with the group.