I really miss my parents at pretty much every time of the day. I think about what they would be doing and what they would be saying. On Thursday nights, they played Scrabble. Every week, without fail, the Scrabble board and a collection of dictionaries would come out, and my parents would be prepared to do Wordly Battle. They were very serious about the game, sitting at the table and contemplating the board. Sometimes, one or the other would say is (random bunch of letters) a word? The other parent looked it up and either said yes or no. My mom was the queen of coming up with random bunches of letters and turning them into actual words. I don't know how she did it. For me, they never advanced beyond the point of being random bunches of letter.
My dad loved putting out high scoring words, but he wasn't very strategic. My mom, on the other hand, took advantage of every opening, to my dad's consternation.
"S… H…*…T," he yelped… every time it happened (which meant that he said the S word a lot).
After the game was over, my mom made a milkshake for my dad and me. She never drank any of it, and my dad drank most of it in a big glass. I drank a small amount, very slowly, in a little glass. That's all my tummy would accept, and one must be good to one's fussy tummy.
My dad loved the milkshakes. He also loved everything that my mom cooked. He often declared, "You are the best cook in the world!!" He said it with great gusto as frequently as possible. At one point, my mom had a huge repertoire of dishes that she prepared. She made all sort of main dishes and soups and desserts. She took great care with her cooking. I don't know if she was the greatest cook in the world, but she was pretty darned good, and she kept my dad, my three sisters, and me well fed and happy.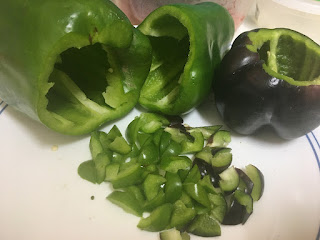 Today, when I was thinking about what to do with a few green peppers, I remembered that my mom had made yummy stuffed peppers. So I decided why not make stuffed peppers? I looked online for a recipe and found this one from one of my favorite online cookbooks, "Allrecipes.com": stuffed green peppers. I had most of the ingredients. The one that I was missing was worchestershire sauce. That led me to checking for a substitute online. I found that I could replace the worchestershire sauce with equal parts hoisin sauce, soy sauce, and apple cider vinegar. My mother, on the other hand, always had worchestershire sauce on hand! She also had ketchup and mustard and other things that I wouldn't touch with a ten-foot pole (in the case of mustard, make that a twenty-foot pole because food aversion, lol).

I prepared the stuffed peppers, mostly following directions. That too was a trait that I got from my mother. She read recipes and then made changes, some of them major, so that she could prepare the dish according to her specifications.

I am really grateful that my mom taught me how to cook. Every time I cook, I try to honor her memory with the food. Thank you, Mom. I love you.