Today's blogging prompt is to write about your favorite number. I thought that would make for a very brief blog post. "My favorite number is 27 because I was born on the 27th of the month. If there were no number 27, I could have never been born because my birth date would have magically vanished, and I would have vanished, too, and that's it. The end."

Sooooo…. how about a bunch of numbers?? And I could tie this whole bunch of numbers into two of my favorite things, art and nature? First, I have to say that, when I was in school, my least favorite subject was math. I know that a lot of people say that. So, for years, I thought that I was BAD AT MATH. I didn't realize that I was actually doing math every single day, mainly because I equated math with tedious worksheets.
I didn't equate math with measuring ingredients in a baking project or with figuring out the perspective when drawing or painting. I didn't even think that I was doing math when I figured out how much money I needed at the store to pay for some purchase. That is how conditioned I was to the concept of math as tedium.
I slowly began to realize that math and numbers were anything but tedium when I read about how sunflowers are the perfect example of mathematics in nature.

They are perfect because they follow the fibonacci sequencing of numbers in how their seeds are sequenced.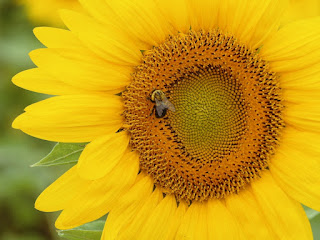 The fibonacci sequence of numbers goes like this 0, 1, 1, 2, 3, 5, 8, 13, 21, 34, 55, 89, 144, 233, 377, 610…and on and on it goes.
As you can see, started with the second one, each digit is the sum of the previous two digits. It is very conceivable that the fibonacci series has no end. One could keep calculating these digits forever. Anyway, I probably can't describe exactly how it is that sunflower seeds follow fibonacci sequencing. For more information about that, here is a link to an interesting article: "Nature blows my mind!!!"
Do you have a favorite number? Is it good luck for you? If so, please mention it in the comments section below!