A week ago, a new worship leader arrived at Saint Martin-in-the-Fields Episcopal Church. Because our transition priest, Father Chris O'Connor, was called to another ministry after being with us for sixteen months, we needed to have a second transition priest. The new priest, Father Tom Hawkins, whose title is worship leader, is now settling in to life at Saint Martin's.


Life continues to change at Saint Martin's and, for sure, change is an important part of life. Change is dynamic. If you never change, you become stagnant and you lose your spontaneity and your creativity. Um. I don't want to lose that spontaneity. I can barely spell it. Wait. I can't spell it. I had to look it up online. But I digress. I'm talking about change at Saint Martin's. Yes, we've been going through this whole transition process since the beginning of October 2018. That is when Father Earle King officially retired.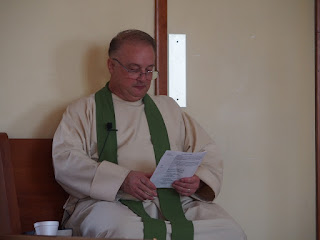 Father Tom is originally from Kansas City. I'm not sure whether that's Kansas or Missouri. It doesn't specify in the bio. He said that he got the call to priesthood when he was a sophomore in college. After earning his undergraduate degree, he attended a Catholic seminary, where he earned a master's degree in divinity. After graduation, he decided to become an Episcopal priest. He has served in various ministries and he came to Buffalo just a few years ago.


Father Tom, his wife Sianee
(pronounced CNA), and their
son George, age eight.
So, back to the whole concept of change, which Father Tom talked about last week. He said, "Lent is a perfect time for us to open a spot in our busy lives and let God guide us.
It took a while to catch
Father Tom's brother! But
here he is!
This is a great time to have a vision. Lent gives us a space for that, to do compassionate work because God is a God of love."


He and his family were welcomed last week with cake and coffee. And speaking about cake, it was good. But that was my last cake. I am now on a sugar detox that will continue until election day! I'll be talking more about that in future blog posts!