Today's blogging prompt is "ceramics and pottery."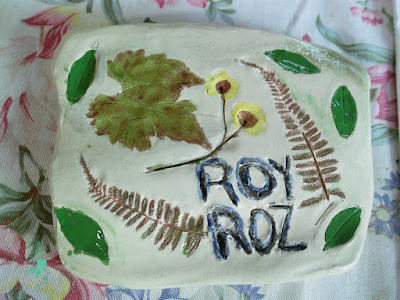 I really love ceramics and pottery. For a tactile learner, such as me, ceramics and pottery are awesome. It's all about touching stuff and molding stuff. That is super fun and very exciting. I never tire of working with clay, even though it isn't my go-to art form, just because the only way to do it is to have a studio. It's not an at-home activity because it can tend to get a bit… muddy.


When I was a kid, I had opportunities to try pottery. My efforts were interesting and definitely unique.
Only one piece survives from my childhood. It had been a gift for my father, and he kept it for all of those years. I think that is truly amazing. In fact, he put it on the mantelpiece in the family room. He must have treasured that unusual piece that I created when I was about eight years old.


Today, my ceramics and pottery are not quite as wildly abstract as the creation from the eight-year-old Alice, who was experimenting with shape and color.
There is a certain freedom that small children have in art that appears to get lost as we grow up. All of the time! Once we start wanting our creations to actually look like something, we lose a bit of that spark that we have as kids.


Nevertheless, it is possible to reclaim at least some of that spark and joy. For us, as adults, it has to be a conscious effort because it no longer happens naturally.
For me, it occurs in my joy for color and shapes. I hope that, in feeling that joy, I am able to release that eight-year-old Alice back into the wild, to let her touch the clay and to enjoy playing with the paintbrushes.