Today, Shalzmojo is my guest blogger. She is a truly incredible blogger whom I met through Write Tribe, which is a group of bloggers who #writebravely. I asked her to write about food and to share a recipe. Here is this wonderful recipe from Shalzmojo. I, for one, am looking forward to trying it out. Enjoy!!!



I was diagnosed with thyroid this summer and was in
a frenzy to start eating healthy to eliminate all the processed flours/sugars
from my food. In a bid to purge out my shelves, I threw out the store bought
items like crackers, biscuits, cookies, savoury mixtures, etc. I began to trawl
the net for healthy substitutes for the same and was amazed at the research of
such recipes, which were super easy to make. Best part is that you make fresh
batches every week and keep up the healthy eating motto.
Sharing with you all a healthy baked cracker recipe
that I experimented with in various combinations, till I got the one I liked!
1 cup Jau / barley flour (optional)
1 cup oats flour (optional)
1 tbsp olive oil ( you can use refined oil /
ghee of your choice too)
Salt to taste ( I use an herb/chilli flakes salt
or rock salt store bought; you can use common salt or sea salt or whatver you
use for salt)
1 tbspoon of ajwain / Caraway seeds
1 tbsp of kasuri methi / dried fenugreek herb
(optional)
1 tsp of kashmiri red chilli powder for color (optional)
* Instead of fenugreek, caraway,
etc; you can add oregano / basil / thyme / rosemary – any herb seasoning
to make it another flavour. One can experiment with the flavour with using
different kinds of herb mixes.
** Optional flours can be used in
combinations- I make these crackers with 4 types of flours; you could use 2 /3
/ all four – it's up to your palate.
Dry rub in the entire mix and then add oil and
crumb rub the mix. Add plenty of water to make slightly tough consistency
dough.
Roll out into a 2mm thick circle of 12″
diameter and cut to shape with a knife or cookie cutter. While rolling, place a
silicon mat or a sheet of butter paper; this will make lifting up the cut
pieces easy.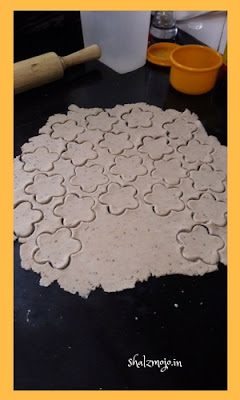 Place on an oven proof plate/tray and bake at
200 deg C in a preheated oven (200 deg c) for 20 mts; then flip and bake
another 20 mts.
Time variation can be 15-20 mts depending on how hot your oven gets. I bake mine in a LG microwave at the convection setting!
Thinner the flour rolled out, crisper the crackers
will be.
An interior designer by profession, writing is a
passion which coupled with travel love blossomed into this blog where I love to
just "do my thing"! Be it recipes, food events, travel jaunts, fiction dreaming
or even meditative musings; all of it's taken up quite passionately on my blog.
I am a serious wine guzzler and love to chase butterflies in my free time.
This post is written for the December bloghop
#mymojo with
Shalzmojo
Linking up for #wordsante with
Namysaysso
for every post deserves some love