Today, I am sharing images of the season, a trip to a magical place of fun and imaginations. The images include snowpeople and Santa Clauses and winter scenes and elves and gingerbread houses and reindeer and snow. It is delightful and magical and fun to see these little Christmas worlds without having to travel very far. All of the pictures were taken in Grand Island, New York.
Kelly's Country Store becomes a Magic Christmas store immediately after Thanksgiving. There are two rooms that are dedicated to Christmas. One is full of ornaments and decorations. The other one, where Santa Claus takes requests from children, large and small, is bright and glittery. Until I saw it on 29th of November, I had no idea that that room even existed. I saw an open door and I walked through it to a darkened room that was illuminated by many Christmas lights.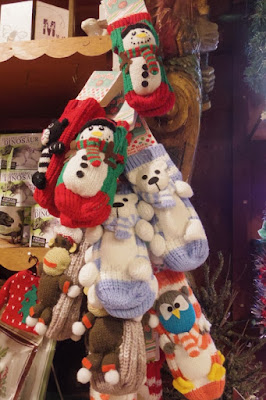 Critter mittens. A fine way to decorate your hands and keep them warm at the same time.
Happy little fellow.
This snow angel carries candles and delight.
This is Santa's world… a world of little houses and tiny trees and of beacons lighting the way when he is ready to make his big trip on Christmas Eve.
Enjoying the snow in a glittery place.
Happy snowhuman.
Santa's workshop is incomplete without these lovely elves. Everyone was waiting for Santa, who had yet to arrive.
Over at the farmers' market, just around the corner from Kelly's Country Store, there were evergreen branches and pine cones. Everything smelled of trees and of outdoor magic.
In the midst of brightness and glitter, Santa waits.
One of the specialties of Kelly's Country Store is chocolate and this was a lovely big bar of milk chocolate to bring joy to the heart of any grandpa.
At Huth Road Elementary School, there was magic in a display case in the form of gingerbread houses, decorated with nonpareils, candy canes, jelly beans, and mints.
River Lea, at Beaver Island State Park, is also decorated for Christmas. The fashion statement on this mannequin makes you feel as if you had traveled back in time to celebrate Christmas at the headquarters of the Grand Island Historical Society.
Window treatment of the past, before they used the term "window treatment."
The Grand Island recreation department and the Grand Island Chamber of Commerce hold a holiday lights display contest. There are two categories: classic (lights and traditional decorations) and contemporary (any types of decorations, including props, inflatables, music, etc.). Judging will be done on December 9th and 10th from 8 p.m. until 11 p.m. All displays that are being judged must be lit both days.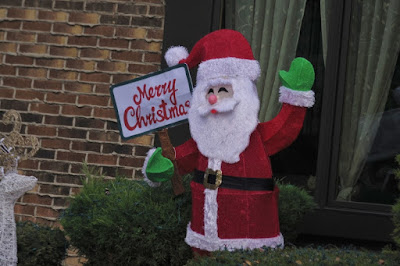 Santa Claus on a teeter totter.
Here is a Christmas carousel.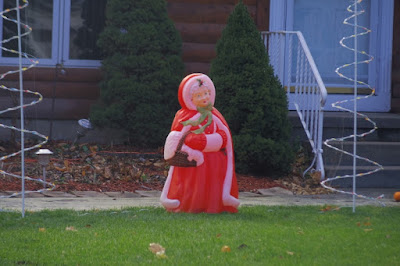 This is one of the small trees that was decorated at Dick and Jenny's, where I went to eat today with my Zumba class. Below are more of the decorations at Dick and Jenny's.
Look for more pictures of holiday decorations, including some dramatic light shows, in a few weeks.