When I was living in the federal prison camp in Danbury, Connecticut, I was fortunate enough to receive lots of correspondence. It is one of the benefits of being a "prisoner of conscience." Receiving all of those letters and postcard was a high point of my day, even though there were times when the multitude of mail seemed almost embarrassing. One of the people who sent me postcards was a man named Philip from Bend, Oregon.
After I got turned loose, I continued to correspond with some of the people who wrote to me when I was in the clink. That included Philip. I sent them newsletters and Christmas cards and was happy to hear from them. Even though I had not met any of my penpals, it was nice to keep up with them, to know what they were up to and to share my adventures with them.
When I went to Oregon to visit Betsy (who got to have the Danbury experience with me) and Ann, I was thrilled to be able to meet Philip Randall. He works at their peace center and he has traveled to the middle east. He is also a member of Veterans for Peace. He was in the military during the Vietnam War and said that he was happy that he was sent to Germany, instead of Vietnam.
Philip and Betsy and I went to explore the canyons of central Oregon. That was quite an experience. The ecosystem is called "high desert." The most common tree type in the high desert of central Oregon is the juniper, and the most common plant is the sagebrush. There are lots of canyons and rock formations. It is a geologist's dream. The soil can be described as sandy. We didn't see a lot of animals, but we did get the opportunity to see and to photograph prong horned antelope.
A canyon to be explored, seen from a distance.
The rust coloring on the rock wall is lichen.
Philip explained that, when the lichen turns white, it has passed away.
Philip and Betsy examine the lichen and the shape of the rock formations.
Here I am, amidst the rocks and the small caves. It looks like a good place for a game of hide and go seek.
Here is a backbone that we found while hiking. Animal bones are a fairly common sight. It made me think of Georgia O'Keefe because she often used animal bones in her paintings of the desert southwest.
Unfortunately, there is also lots of rubbish to be found.
This is a desert lily that does not bloom too often.
We were regaled by bird songs.
On our way to the canyons, we stopped to take photographs at a yak farm. This was the first time that I'd ever seen yaks. They are very common in Mongolia. In fact, in Bat-Ulzii Soum, Mongolia, there is an annual yak festival. Bat-Ulzii Soum can boast of the world's highest concentration of yaks. The yak festival includes yak racing (odd because yaks are notoriously slow animals), yak lassoing, and yak polo. Hee hee. Someday, when I go to Mongolia, I will photograph the yak festival!!

Bat-Ulzii Soum
Prong horned antelope.
It was awesome. It was like walking onto the set of "Bonanza" or "Have Gun, Will Travel." It was truly the wild west, and I was in it. I got to touch the canyons, which were covered with multi colored lichen. I got to crawl around underneath the huge rock formations. The mountains in the distance were covered with snow, even though it was the end of April.
Alice the explorer.
It almost looks like the letter "R."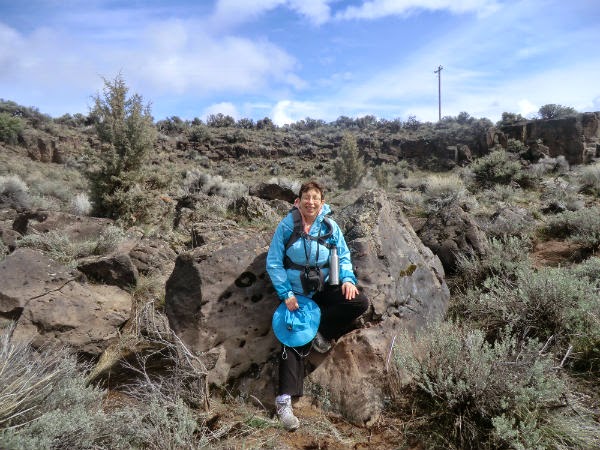 No gun, will travel!
Philip finds something interesting to photograph.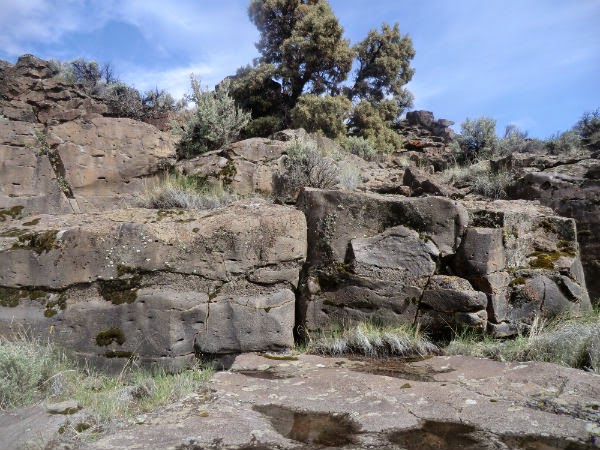 The lichen can take root anywhere, even in rock.
After our hike, we went out for lunch. We went to the Brothers Stage Shop. This was the wild west at its finest. The recommendation on the menu was to order hamburgers or cheeseburgers because this is cattle country, and the beef is supposed to be excellent in cattle country. I had a hamburger and french fries. Each meal is made individually, according to a sign in the store. This is not fast food. Since I don't like condiments, I asked for them to be left off of my hamburger. I topped my hamburger with tomato slices, onion slices, and lettuce. Well. I rarely eat beef. But the beef was excellent in cattle country. The ladies who served our meal were very kind and attentive. They told us that, if we wanted to send out any of the postcards that we purchased, they would go to the little post office next door so that our stamps would have a Brothers, Oregon, cancellation. That, I thought, was pretty cool. I wrote up a postcard, to be sent home, and, later, when I returned home, I saw that the postcard had arrived with the "Brothers, Oregon" cancellation.
The TV was on during lunch, and the show being televised was "Bonanza"! We also signed a guest book.
Everything is here! A true wild west experience.
Lots of stuff to see. Lots of stuff to collect. Lots of stuff to dust!
Oh boy! It's like traveling back in time.
Kids, the saloon is not for you!
Quite the collection of memorabilia.
After lunch, we went outside and discovered that it was snowing! I discovered that the weather was very changeable in Oregon. But snow? That was a bit much. I started laughing. The sky was foreboding. It made for some fascinating photography.
The landscape under the dark sky looks desolate.
This must be the Road Less Traveled.
A building, dwarfed by the mountains and the snow sky.