Tumalo Falls is located just ten miles outside of Bend. It is quite an impressive sight: a waterfalls with an 89 feet plunge. Betsy and I hiked around Tumalo Falls but the walk ended rather abruptly because I started slipping and sliding on all of that snow! I did not think to bring along footwear to deal with old slippery snow. But still, while we were there, the sight was fabulous. Nature is truly amazing.
Really tall, narrow waterfalls.
The higher you climb, the more you see.
A closer view of the road and the creek.
The water just keeps flowing on and on…
Side view of Tumalo Falls.
Creek, close up.
Close up of the bridge over the creek.
We had also hiked up Pilot Butte, which is located within Bend. It is this huge mound that, I guess, could be called a hill. It looked like a mound but it was produced naturally. It wasn't man made, like a lot of mounds. Apparently, it is an extinct volcano. Or inactive. Extinct sounds quite extreme. We climbed up the shorter and steeper trail. By the time that you're halfway up, you get a good view of the city. At the top of the hill/mound/extinct volcano (your choice of names), you can see the Cascade Mountains, Mount Bachelor, and the Three Sisters Mountains. You also get a faraway glimpse of Smith Rock.
One view of Bend.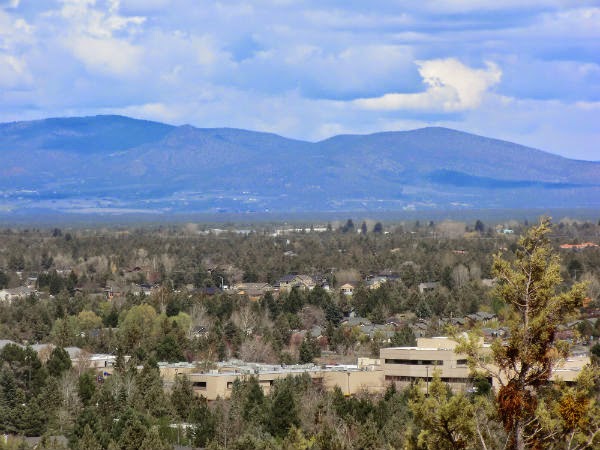 The city and the mountains.
Betsy Lamb enjoys the walk and the view.
High up, you can see the road and all of those trees and the houses and the cars (which look almost like matchbox cars when you're really far away).
I am always ready for a new adventure.
We hiked up Pilot Butte on Friday and Tumalo Falls on Saturday. Also, on Saturday, we went to Mount Bachelor. Mount Bachelor was covered with snow. I mean, really measurable snow. I saw a whole bunch of chair lifts but they weren't moving. I did see people hopping out of cars and lugging skis. They were ready to go for it. I got out of the car to take some pictures. After three pictures, I got back into the car. It was cold and windy.
Ponderosa pines, covered with snow.
Who could ever guess that this picture was taken toward the end of April?
That's a lot of snow!!!
Well, after all of that spring snow, I'll leave you with this lovely picture of a cute duck that lives in Bend.
Humans really are quacked!!!