The Island Ship Center is a great place to go if you want to ship things, large or small. Two years ago, I went there to send a framed acrylic painting to Florida. It's also a great place to go for really beautiful color copies. That's where I get all of my greeting cards reproduced. Also, you can also buy some really cool stuff there.

The Island Ship Center is a great business, not only because of the services and products offered but because of the people. The owners of the Island Ship Center are Fahim and Seema Mojawalla. They started the business ten years ago with a vision. They built the business by making it feel like a home. They remember their customers' names after one meeting. Fahim and Seema's business has really made a difference in the community. Recently, Fahim, who has also done a lot of volunteer work in the schools and other places, was honored by being named "Citizen of the Year."

One day, I went to the Island Ship Center to send a small package. Fahim, who is always ebullient and effervescent (two great words that begin with the letter "e") greeted me by saying, "What can I do to make your day totally awesome?"

"You made my day totally awesome just by saying that," I said.

Yesterday, Fahim and Seema celebrated the success of their business with a grand reopening. Their business outgrew the building where it is located. They have had a large addition built to the structure. The addition will be used for private mailboxes, with 24-hour access. It is currently still a work in progress. It was a cold day but a good day for a party.
There was a ribbon cutting, with Fahim's fellow members of the Chamber of Commerce and town government officials. Then Father Earle King told the story of the origins of the building. Back in 1950 or 1951, the structure that now houses the Island Ship Center was the original Saint Martin in the Fields Episcopal Church. A few years after the church was built, the parishioners realized that it was too small. They sold the building but not the land on which it was built. The building was moved from Baseline Road to Whitehaven Road. Another church was built, and, in 1955, that became the home of Saint Martin in the Fields. Several years later, the parishioners realized that they had outgrown that building so they had an addition (that building would have been too large to move). Last Christmas, St. Martin in the Fields celebrated its 60th anniversary in the "new" building.
Fahim, too, gave a very emotional speech, thanking the Town of Grand Island and the Chamber of Commerce and his customers for their support for the past ten years.
Then the party began. There were all sorts of good things to eat, including cheese and raw vegetables and pineapple upside down cake and brownies. Pictured above are samosas. A samosa is a fried Indian dumpling with a hard shell. It is filled with potatoes, peas, spices, and, sometimes, meat.
Here is Fahim, with Town Board member Beverly Kinney on the left and Town Supervisor Nate McMurray on the right.
There is lovely merchandise in the store, such as these brightly colored purses and other colorful and inviting things, as seen below…
This is a rainbow of scarves.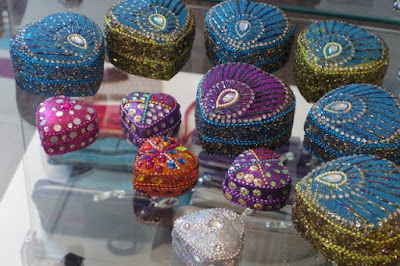 I'm automatically attracted to this because… something shiny!
This is just a collection of fascinating stuff.
These positive messages are what Fahim and Seema's business is all about. They exude such a positive energy. They call their business the "spa of shipping."
We didn't leave the grand reopening empty handed. Seema makes soap and she gave every guest a bar of her soap, wrapped to look like a package.
On the back was a thank you note.
Isn't that a beautiful bar of soap? It smells exquisite. It is a pleasure to have this soap. What a wonderful way to bring the spa home!