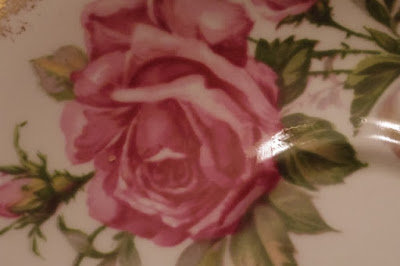 Today, I am posting pictures of teacups and teapots. It's quite pleasant to drink tea on a cold day. It's warm and comforting and inviting.

I especially like bone china teacups. They are small, delicate, and they often are decorated with floral designs. I have a few that I bought at garage sales.
It's fun to drink tea out of such a lovely cup.
This is another teacup. It's made from a different material, and the floral design is more artsy and less realistic than the bone china teacup.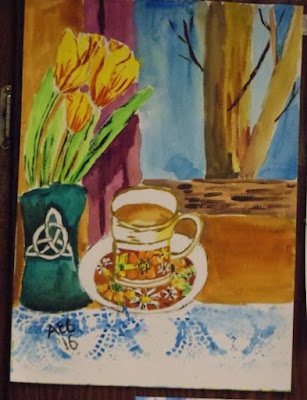 On Saint Patrick's Day, I used that teacup and the saucer for a painting. A few years ago, I did a "teacup project." For an entire month, I drew or painted the same teacup in a variety of settings. It was very challenging to come up with something original every day, but it was a good experience for me. Maybe that will help delay the onset of dementia… for about ten minutes???
Here are a bunch of teapots. They are pretty cool, and I'm thinking that I'd like to make a teapot painting, especially of one this pretty.
This a cute, rather modern design.
This is a more traditional design. The pattern is quite ornate.
What could be better? A cat? Think that Zoe would like some tea? Should I offer tea to my cat? Let's hope that she doesn't raise her tail high in the air and walk off in a feline huff.