Charles Jones of the Grand Island Fire
Company discusses fire safety
In the United States, there are 1,000 house fires every day. Most people don't know how to use fire extinguishers when they are faced by an active fire. Problems include inability to open the extinguisher, standing too far from the flames to be effective, and getting distracted from the fire by something or someone else.


The correct way to operate a fire extinguisher involves the word "PASS."
Pull out the pin safely.
Aim the nozzle at the bass of the fire.
Squeeze the nozzle.
Sweep the fire, making sure to get it all.


And there's more. I learned quite a bit about fire safety when I went to visit Huth Road Elementary School yesterday to take pictures for the PTA. Charles Jones of the Grand Island Fire Company spent the week visiting local schools. Yesterday, I saw him at Huth Road Elementary School during his presentation for fourth and fifth graders. Today, I saw him again at the Grand Island Fire Company's annual open house.


So… where do fires start? When I was a kid, I was terrified of fire. I truly didn't understand that fires actually had a cause. I believed that all fires were the result of spontaneous combustion. In my mind, a fire could start anywhere at any time. It wasn't a very reassuring thought.


The idea that fires actually have causes and, therefore, can be prevented is much more reassuring. One of the most common places for a fire to start is in a kitchen. Kitchens are actually fairly hazardous places because of the presence of oils, chemicals, and electricity.
Other places that fires start readily are in industrial buildings. The chemicals are extremely volatile and everything burned, despite the presence of fire safety doors and sprinklers.


How should you keep safe?
This is a simulation of a living
room. It was set on fire as a demonstration
of fire fighting techniques during
the Grand Island Fire Company
Open House.
firefighters dressed in their gear. Most
firefighters in the United States
are members of volunteer units.
Make sure that you have at least two ways out of each room in the house. Those two ways would involve a door and a window.
the fire has been started and smoke is
beginning to form. First the smoke
is white, but, later, it turns black. Today, the
winds caused the smoke to blow mostly
to the north.
Families should have an escape plan in case of fire and they should practice the escape plan. Practice is necessary. Firefighters practice their skills all of the time.
Don't play with matches or fire.
Be careful with electricity.
Be safe in the kitchen.


It's a conflagration!

If you see smoke, get low to the floor and crawl. Before opening doors, touch doors to make sure that they don't feel too hot.
Fighting the fire. "Put the wet stuff on the hot
stuff." Pouring water is not appropriate
for all fires, however. On an electrical
fire, water will conduct electricity.
Fire is also ineffective in fighting
a chemical fire. There are fire extinguishers
that can deal with electrical and chemical
fires.
If the doors are hot, that might be an indication that there is fire on the other side of the door. If your clothes catch on fire, stop, drop, and roll. Don't run in burning clothes. Fires like oxygen, and, when you run, you are feeding the flames. Don't hide. Fires are frightening and, usually, we like to hide from danger, but hiding in a burning building is a very dangerous idea. Scared or not, you get out of the burning building. Don't go back inside for any reason whatsoever! Once you're out, stay out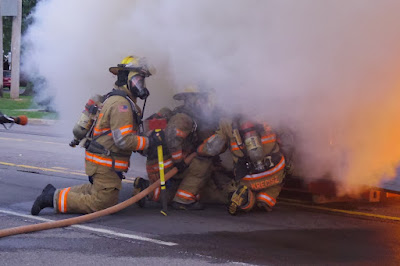 Success
In case of a fire, call 9-1-1. When you are on the phone, be calm and give lots of information to the trained dispatch officer. Speak clearly. This will help get the fire company to you quicker.
The fire is out. It still needs to be
inspected and investigated. Although there
are no more flames, this room
is still considered to be a fire hazard.
When firefighters arrive, with sirens blaring and lights flashing, they will wear heavy suits and masks and the oxygen from the mask may sound like Darth Vader. It could be frightening.


"We are your friends," Charles Jones said, explaining that firefighters may sound ferocious. "We have to yell so you can hear us."


Remember! Always have a planned escape route and two ways out of every room!