Today, I went out in search of autumnal images. What looks like autumn? What tastes like autumn? What does autumn feel like? Here are some of the images of autumn, as they are celebrated at Tom Thompson's farmers' market and at the second annual fall festival at Kelly's Country Store.


To me, autumn feels like the last days of warmth before winter arrives with snows and winds and monochromatic iciness.
Autumn is the vivid color of falling leaves before they become old and crunchy and brittle. Autumnal colors are warm.
They are reds and oranges and yellows and the few remaining greens. Autumn is the season that glows brightly before the trees go dormant. Autumn is fragile beauty.


Autumn tastes like the apples that fall from the tree. It tastes like cider and winter squash and roasted squash seeds.
Autumn tastes like apple pie and pumpkin bread. It tastes like spaghetti squash covered with pesto.


So autumn is celebrated. It is celebrated for the harvest and it is celebrated as
the last gift of color that nature makes until spring pokes fragile greenery through the snow-covered ground.






Kelly's Country Store, Grand Island, New York
autumn squashes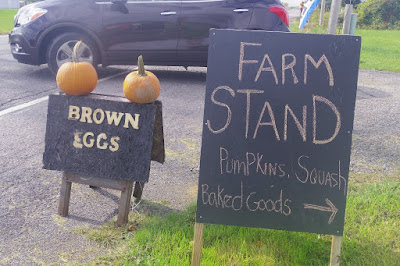 farmers' market, at Thompson & Son farm in Grand Island.