Today is day fourteen of the Ultimate Blogging Challenge. I decided that I would document the events of my day and share them in my blog post.


The decision to document the events of the day came this morning. I was thinking, hmmm, what should I write about in my blog, and I decided, on the spur of the moment, to just document my day with photography and share the story. It was supposed to be a pleasant, easy-going day but sometimes life gets in the way of plans.


For breakfast, I made oatmeal in goat milk, with a little ground flaxseed, some raisins, a sprinkle of cinnamon, and a teaspoon of maple syrup. For a beverage, I had the rest of my smoothie, which I had made with strawberries, raspberries, melon, apple cider, and plain Greek yogurt. The goat milk really does make the oatmeal creamier.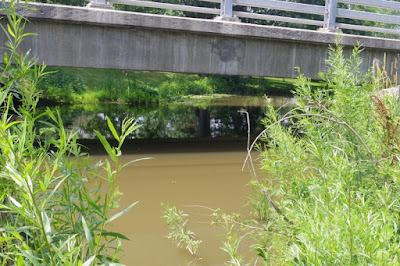 Woods Creek
After breakfast, I was set for my adventure. Even a shopping trip is an adventure when your main source of transportation is called "left" and "right."
Surveyor near the post office
It was a warm and somewhat humid day. I noticed the trees and the flowers and I watched the road because I always watch the road. I just hope that the drivers are watching for pedestrians.
Mural at the Grand Island Town Plaza
that I helped to paint in 2012.
At Woods Creek, I walked down the the creek to get some photographs. The water seemed very cloudy, maybe because of the large quantities of rain that have fallen lately.


Town Hall garden


I then continued walking until I got to Town Hall, where I decided to pay a surprise visit to Town Supervisor Nate McMurray.
Nate McMurray and family
Before long, Nate's family also decided to visit him. They are delightful. Nate's son told me that he is part of a swim team for the summer and that his favorite stroke is the butterfly.


At Soma Cura (yoga
studio and juice bar)
I thought that I would have fun using
the silhouette setting on my camera.
After a little while, I needed to leave town hall to go shopping. I was unaware that I had set my purse on the floor after removing it from my wheelie cart, and I left without it. I walked over to the supermarket and found everything that I needed. When I went to pay for my purchases, I discovered that my purse was missing! Uh oh! How could that happen? It was not a good moment. I asked at customer service but no one had turned in a purse. I then decided to retrace my steps back to Town Hall. I tried to figure out if it had been possible for my purse to have been stolen from my wheelie cart but came to the conclusion that the thief would have had to have been extremely fast and efficient because I was never separated from that cart.


Was this a long shot? What could have happened to my… and there it was, sitting on the floor where I left it. Nate gave me a ride back to the store, where I redid my shopping trip. It took me less time, since I knew where everything was. I guess that the first time was just for practice. In the dairy aisle, I saw a friend. She told me that her daughter's friend passed away. He was twenty years old. The opioid epidemic claimed another young life. We wondered at how many more would be lost to this terrible epidemic. How could it be ended?


The vegetables are chopped and ready
for the soup.
At home, I continued to wonder about it as I cooked my dinner. I have the Naloxone (Narcan) kit on the table. It is called the "overdose rescue kit."
Bean soup with kale
The kits were distributed during the training that I took at the Grand Island Memorial Library a few months ago. The hope is that, with more people being trained, there is more potential to save lives.


Tilapia and fresh corn from the
Grand Island Farmers Market.
And so, I write this post at the end of a day that had its ups and its downs. It's had moments of beauty and its moments of heartbreak. It was a day that reminded me that life is a beautiful gift but so fragile.


Thank you for reading my story today. If you have the opportunity to be trained to administer Narcan, please do so. You could save a life.