Today I'll take you through the steps of a painting that, at this point, is still a work in progress. This is how the painting came to be. I have a friend, Amy, who wants me to make a painting to go with the words, "Friends become our chosen family." I puzzled for a while about what sort of image would go with those words.

Recently, Amy was looking at one of my watercolor sketchbooks when she saw the above painting of two bears at the Japanese gardens in Buffalo's Delaware Park. The garden was created in 1974 as a gift from Buffalo's sister city, Kanazawa, Japan.

Amy said that she liked the picture but that she wanted three bears in it, as opposed to the bear pair in the original watercolor. Also, we agreed that I would make the new painting larger and that it would be acrylic paints on canvas board.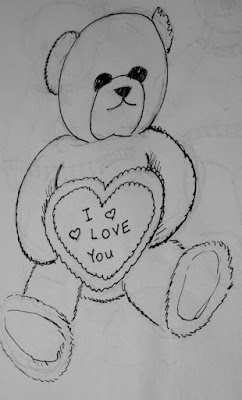 I start by drawing individual bears in a sketchbook.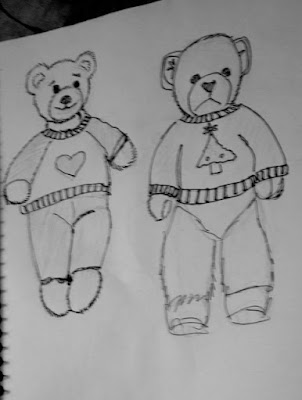 I draw bears with sweaters and different expressions on their faces.
So now, I have the initial sketches done. I have drawn four bears, but I want three for the painting. After photocopying the bear drawings, I notice that two of them are too large for the painting. I go back to the photocopier and shrink down the bears.
Here, I've started arranging the bears in a group.
I like the placement of these two bears.
I settle on using this arrangement of the bears. I like the hearts because that gives the message of love and friendship and chosen families.
The bears now have a background. This is the sketch on the canvas board.
I have tweaked the picture by making the sculpture and the rocks a bit larger. Also, I added a tree after looking at the photograph that the painting was based on. There was a kind of twisty-trunk tree in the photograph. The last thing that I did was to add the words. My next step will be to do an underpainting, and my last step will be to complete the painting.

Look for a follow-up post with the finished painting!