Blogging challenges! Today is the first day of the A to Z challenge and the Ultimate blogging challenge. Today's letter is A. I chose A is for Afghan because I am working on one right now. It's for a friend who had been diagnosed with cancer.

The project
Above are a few squares that I made. The pattern for the squares came from Jean Leinhauser's book, 101 Crochet Squares. I used scrap yarn for this project. The yarn was either given to me from the remains of other people's projects or it was leftovers from my own previous projects. The only yarn that I purchased for this project was the white yarn for the border of each square and of the entire afghan.
I crocheted twenty-four squares in six different color schemes for this afghan. When I put together the afghan, I discovered that I really needed only twenty of the square. The other four can be the start of another project.
Because I used scrap yarn, the size of the squares varied. The stitches that I used in the border around each square helped to make the squares more uniform in size and, thus, easier to piece together.
Here, I have started to crochet squares together. I like the seam facing up because it creates a border with texture, while the white creates a border with color.
I make a strip of four squares and then border the strip with blue yarn.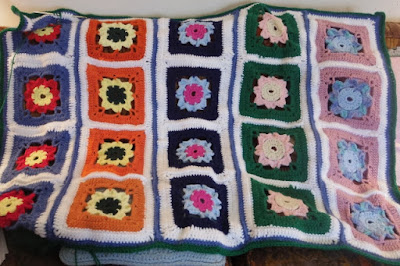 This is what the afghan looks like now. I still have to finish the border. I enjoyed combining the colors and arranging them into rows.

What awesome projects are you working on? Let me know in the comments.