Every day, when I go outside, I see a little bit more color. I am so gleeful about the start of spring. Some tiny close-to-the-ground, hard-to-photograph clearly plant pops up. Here's one of those itty bitty plants that always seems to come out fuzzy and unclear. I tried anyway, and it's fuzzy and unclear.
This little plant came out looking much more clear.
Here is a daffodil getting ready to open.
The New York presidential primary is on April 19th so people are starting to plant their campaign signs.
This plant is coming back after being dormant all winter.
This is the afghan that I've been working on for several weeks. It is close to being finished.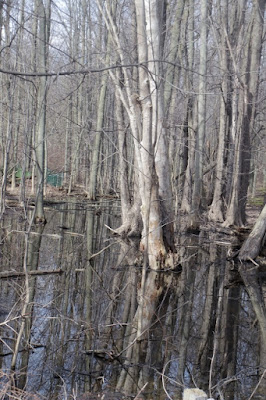 On Wednesday, I went out for a short walk. It's been raining, and the ground is saturated.
Trees and their reflections.
Even the ditches are filled with water.
Wishing well.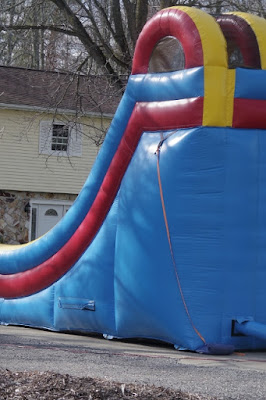 As I was walking to the river, I saw this really giant bounce house.
These miniature daffodils are open.
Here are a few more little plants, all in Gilbert and Gretchen's garden.
Miniature daffodils in Gilbert and Gretchen's garden.
The weather on Wednesday was mild, and people went outside to enjoy the day.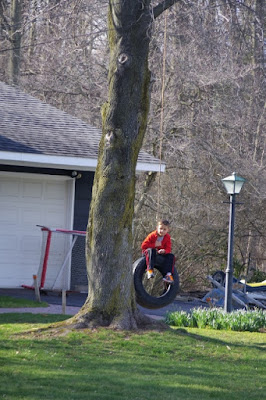 The tire swing is a good way to reuse an old tire.
People being walked by a very large and friendly dog.
Early spring on the Niagara River.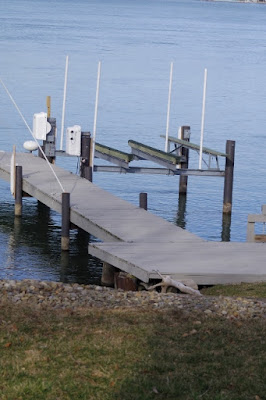 Another view of the river.
I'm not sure of what this is but it looks interesting…
… from various angles…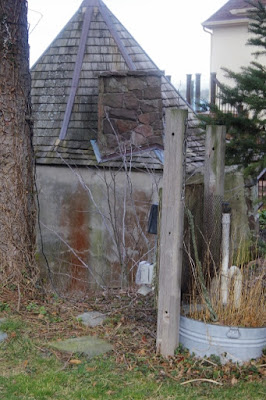 From this angle, it looks haunted.
More green stuff poking its face out.
Here's an addition being made to a house.
On Thursday, I started drawing pictures of bears.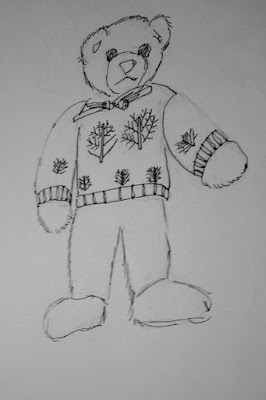 The goal is to make a painting. There will be three bears in the painting. The background is the Japanese garden in Delaware Park in Buffalo.
Here are the bears. I arranged them in various ways and finally chose this arrangement.
Here is the sketch on canvas board.
I made a few adjustments in the drawing and added a tree and the words "Friends become our chosen family." Next week, I plan on starting with the underpainting.
The parsley is growing again! I use it in my salad dressing.
Saturday morning still life with bear.
On Saturday evening, I went to the Sandy Beach Yacht Club for a spaghetti dinner, sponsored by the youth group at St. Martin in the Fields Church.
I had a great seat with a good view of the river.
Everything looks nice and green.
It was a delicious dinner. Tom DeAngelo made the super-awesome spaghetti sauce. The young servers were very attentive to our every need.
And then, just like that… early spring turned into late winter! All of that glee that I had for spring… poof! Gone! The snow was flying wildly, and it stuck on the ground. It had snowed briefly early in the day. It even hailed while Amy and I were on our way to our tap dance class.
Everything is coated by a layer of snow.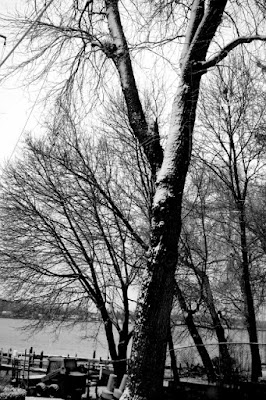 Snow covers the trees…
… and the docks. It's starting to look more like Christmas than Easter.
The transition to spring will not be smooth…

Next week: Who knows? The adventure continues.