On Saturday, my search for beauty in likely and unlikely places took me to the public library. While the library is a useful place to visit, is it a place where I am likely to find beauty? Of course, the library is full of books and books will take me to places and times that I can't possibly visit in real life, due to the fact that I am unlikely to do any time traveling. So, I would say that a place that is dedicated to usefulness stimulates your imagination with books and DVDs.



How do you find beauty in the library? Well, the library holds programs for kids and adults. On Friday, I went to take pictures at a program for kids at the library. It featured Checkers, who is dressed in checkered pants. He's a magician. He got the kids enthusiastic about his magic tricks.
His most amazing trick was the balloon trick. He had his magic machine blow up the balloon until it got bigger and bigger and bigger

… and it…
…swallowed him up…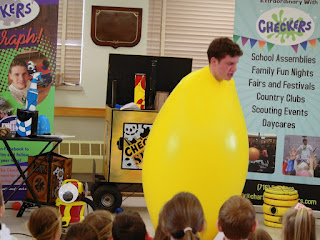 …Checkers became a Giant Yellow Balloon!
It was amazing to see.
And amazing is awesome.
Checkers was an amazingly awesome and beautiful Human Giant Yellow Balloon!


Come back here tomorrow for beauty in the form of the letter C.