Yesterday, my friend Amy and I went to explore Allegany State Park, located in Salamanca, in New York State's southern tier. The 65,000 acre park is described as Western New York's "natural playground," It includes acres of mature old growth forest.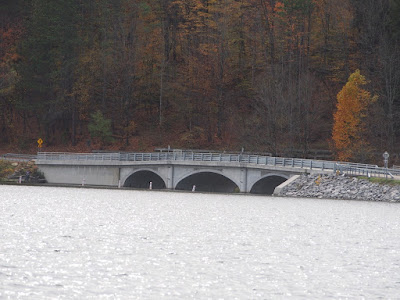 There is a lake, which is great for kayaking and swimming. There are also fishing piers at the lake. The two main areas of the park are the Red House Area and the Quaker area.
Both areas feature hiking trails that can be enjoyed in all seasons.
There are cabins for camping, as well as pavilions and spaces for tent camping and hookups for campers. People can enjoy camping at this park in all seasons.

Numerous species of birds can be seen at Allegany State Park, making it a great place to visit for both experienced and novice birders. Birds that have been spotted there include various types of hawks, bald eagles, ospreys, and great blue herons.
During my visit, I really didn't see very many birds, and I suspect that many of the migratory birds have already started their journey south.

Other wildlife living at Allegany State Park includes bears, coyotes, deer, bobcats, and porcupines. During warmer weather, you'll see butterflies flutter by, as well as other insects, such as dragonflies and damselflies.

In the autumn, you are treated to an incredible display of color in the mature old growth forest. If you get an opportunity to visit Allegany State Park, you're not going to want to miss it. It is a great adventure.