Note: Today's post represents a visual journal of my week. Life is a great adventure, which is why I named my blog "Alice's Grand Adventures." I would challenge you to do the same. Take a few pictures each day and, at the end of the week, post your pictures where ever you feel comfortable sharing. I prefer using a camera but many people like taking pictures with their smart phones. At the end of the week, you may be very surprised by the variety of images that you have.


Sunday, August 20th
On Sunday, August 20th, my sister Diane and I went to watch the Buffalo Bisons play against the Gwinnett Braves, from the Atlanta, Georgia, area.
The weather was very warm and very sunny. The game was entertaining to watch. Unfortunately, the Bisons were up against a formidable foe.
The Braves were not only brave; they were also extremely powerful. Hence, the Bisons lost by the score of 7-1. Nevertheless, it was a very fun activity, and I truly love going to baseball games.
Monday, August 21st
Here in Western New York, we had a partial eclipse. My neighbor across the street had made a bunch of viewers so we could watch the eclipse in progress. It never got very dark, as it would in areas where the climpse was total. Everything looks normal, until you look at the sun through the viewer. It appeared as if the moon were flirting with the sun but, since she didn't overshadow him, he was not interested.
Tuesday, August 22nd
On Tuesday, I went to Fisherman's Landing to hear Governor Andrew Cuomo make a Big Announcement about replacing the toll booths at the bridge with Cashless Tolling. This picture of him just shows some of the bridge supports but photographers with more powerful cameras that I have got pictures of him with both bridges behind him.
Having a governor in Grand Island is not an every day event; hence, it was a Media Magnet sort of day. There were reporters and photographers and camera people. It was quite exciting to watch.
These are the bridges that link Grand Island to Tonawanda. You would travel in this direction to get to Buffalo. These are the south bridges. The north bridges would take you to Niagara Falls.
Wednesday, August 23rd
On Wednesday, my friend Dan and I went to Fantasy Island, an amusement Park in Grand Island. Even though it's close by, I hardly ever go, probably because I can't do most of the rides (motion sickness, yuck).
Me and my shadow… and Dan's actual feet!
Watching the boats
Having mad fun driving bumper cars, where you can drive like a maniac and purposely collide with the other vehicles without causing damage (they have strong rubber bumpers!!).
Train ride! I don't think that the tunnel is used…
My mom's favorite tree (the weeping willow).
Thursday, August 24th
The camera took a rest. No pictures for this day.
Friday, August 25th
Very comfortable restroom at Lucarelli's Banquet Center in Lackawanna
More pictures of the Buffalo Jazz & Swing Band, the featured performers at the 2017 Lackawanna Gala
Saturday, August 26th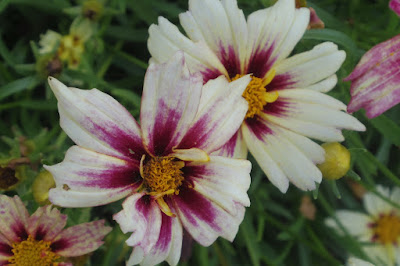 I walked to the "pop up" farmers market and, on my way there, saw these lovely flowers…
… and my friend, the bee, pollinating the purple flower…
Sunday, August 27th
Tomorrow is the fifth anniversary of my dad's death. I miss him so much. He was very talented with numbers and he was smart and funny. I went with my sister Diane and my nephew James to visit him at the cemetery.
Later in the afternoon, I went to Riverside Salem Environmental Chapel, where we made remembrance pieces in clay. I made two if them. One has my parents' names, the ones that they always called each other. Sometimes, they just called each other "Y" and "Z." We pushed the leaves and the flowers into the clay. They will be left on when they are fired, when they will burn away and will leave some color.
This is the second piece of pottery that I did, with the word "love" because love is what makes life sweet.
I hope that you've had a good week and think about documenting your week with photography. The results may well surprise you.