The challenge for week five of the 52 week photography project is called "ten shots: technical." Take ten shots of the same subject from different angles, distances, and focal lengths. After taking the ten pictures of the same subject, I am supposed to choose my favorite to share.
I've decided to change it up a bit. Instead of me choosing my favorite to share, I would like you to vote on your favorite of the below ten shots.
The subject that I chose is Buffalo's City Hall. Here is a little information about the building that dominates downtown Buffalo. This 32-story building is one of the tallest buildings in Western New York. It is also one of the largest and tallest municipal buildings in the United States. This art deco building was completed in 1931 by Dietel, Wade, and Jones. John Wade was the chief architect, who designed the building, and George Dietel assisted him.
The building features an observation deck on the top floor. Tours of Buffalo's City Hall are offered at noon on Monday through Friday.
Below are the numbered photographs. In the comments section, please vote for your favorite. Feel free to suggest a caption to go with the photograph. Next Tuesday, I will post the winning photograph, as well as a caption. Be creative with caption writing and have fun!
One
Two
Three
Four
Five
Six
Seven
Eight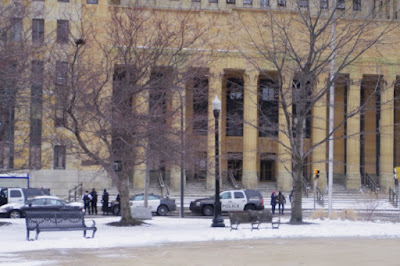 Nine
Ten