On January 1st, I started a new photography project. My goal is to take at least one photograph a day for the entire year, following a program called the 52-week photography challenge for 2017. It is being organized by Dogwood Photography, located in Wilmington, North Carolina. Dogwood Photography operates a photography school in Wilmington and it runs online photography challenges. There are weekly assignments in three categories: story telling, technical, and artistic impression.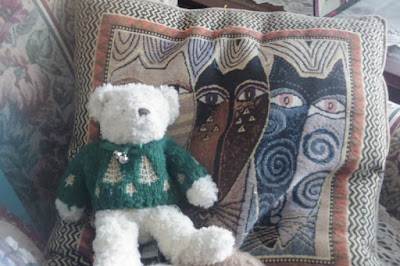 Week one: The rule of threes (storytelling)
AnneZ:
Too cute! This Bear will have quite a year ahead! Good luck!

Me: Thank you, AnneZ. The bear will not be featured in every week's photo session. The bear will pop up at random times! Keep looking around for the bear!

Martha: I
love how the bear is taking an adventure.

Me: The bears' adventures will continue, at some point in the future.

Alana:
It's been a while since we've seen your bear in action. He or she will have a busy year ahead illustrating your new photography skills.
Me: The bear is definitely back! I have some fun plans in store, some of which may involve paintings! Stay tuned!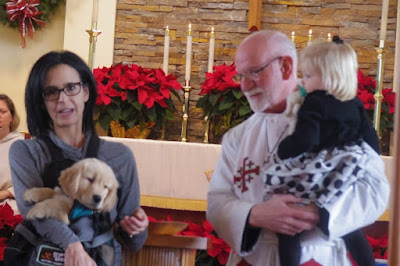 Week two: "straight out of the camera" (technical) Take a compelling image and post it without edits.
This challenge literally required only a single photograph for the whole week. I titled this photograph the "vibrant life photograph."
AMummy'sLife NZ:
It's a lovely photo.
Me: Thank you so much.

Martha DeMeo:
What a beautiful photo and so much love in it.
Me: Thank you so much. It was truly a beautiful moment and I'm glad that I was up in the choir loft with my camera to get that sweet image.
Nita Beshear:
Beautiful picture and perfect title. You have inspired me to take a picture a day. I didn't know about the challenge, or weekly prompts so I'm just taking pictures. Didn't start on Jan. 1, but I figure a year is a year whenever it starts.
Me: Absolutely. You can start any day that you want and it doesn't have to be January 1st. I started my previous photography project on the first of August in 2015, and concluded it a year later (I added a day because I got sick and missed a day, due to having vertigo). I started and concluded in the same place on the same day (August 1st), a year apart. For that one, I didn't do challenges or prompts. I just took pictures. It is
a great way to document the world, as you experience it.
Alana:
Beautiful photograph and beautiful concept – autism support dog. Looking forward to your future challenge photographs.
Me: Thank you. The puppy continues to be brought to church as part of his socialization process. The Sunday that I took that photograph was the puppy's first time at church. He is very soft to the touch and he's an energetic and delightful puppy.
peppylady (Dora):
I've enjoyed taking my camera when I take a walk.
Coffee is on.
Me: You never know what you will see when you take a walk! I'd recommend bringing a camera… just in case. One day, I was out for a walk and I saw the below image. You just never know what or who you're going to see!
Week three: land (artistic)
"Your inspiration this week is land. This could be a landscape, or an image inspired by the land in some way."

There weren't any comments on this post, in which I tried to depict the relationship between humans and the land.
Week four: mirrors (storytelling): "tell a story, using a mirror."
I used a bunch of mirrors to tell stories. This was a fun challenge.
Alana: When we moved into the house we bought almost 30 years ago, it had a large mirror in the living room. The mirror came down years ago, when we had a second floor put on our house, and we had it made into two smaller framed mirrors – one is in our bedroom and one is in what was our son's room. The two mirrors are still there, but I won't be taking selfies using them. In my ethnic tradition, incidentally, if a close relative (parent, spouse, child) dies, all mirrors in your house are covered during the first week after the death. I am told the reason for that is that evil demons are attracted to such a house and if you look in the mirror, you might see one of them. So reflections aren't always good, at least in some cultures.


Me: Wow. I would have never known that mirrors could have that much power. I really appreciate your telling me this. It gives me better insight as to why people might be hesitant to use a mirror to take a selfie.


mahathi ramya A: The post hair cut selfie is great. The mirror in the first photos is really a good decorating piece.


Me: I'm glad that you like the selfie. It was fun to take. I was having trouble not making silly faces, however. Here is the mirror that is good decorating piece. This picture was taken at Gleam & Glimmer, a stained glass studio in North Tonawanda, N.Y.






Kandas Nesbitt-Rodarte: Love your hand mirror selfies. Your smile is so contagious!






Me: Thank you, Kandas. Those pictures were really fun to take. Taking a closeup of my grin made me feel like the Cheshire cat. I was highly amused by my own activity, and, apparently, it showed in the photographs.


LadyinRead: love the theme you picked for this week of photos.. and agree with Kandas, you have a contagious smile.. especially loved the comment about going through the looking glass…


Me: Thank you very much! It was a fun theme. I'm glad that you and Kandas see my smile as contagious, and I hope that more people will catch a smile! I'm back from the other side of the looking glass! It was a great adventure… but the food is better on this side!!


Rose Mont: Haha a selfie is better when you are not covering up your face. What a fun photo challenge. Mirrors this week could have been the puddles from all the rain, gym mirrors, reflections in the glass at storefronts, rear view mirror in my car that I can see my kids being silly in when I drive. I look forward to hearing about your next challenge!


Me: My first selfie attempts were pretty funny. They were cameras with hair sticking out of the top. No, I didn't share that. Other mirrors for me would have included creeks. I love seeing the reflections of the trees in the creeks. I don't have a car so I can't include rear view mirrors. It's always fun to see kids being silly, in a mirror or otherwise.


I will post the images from this week's challenge on Saturday!


LadyNightwaveBrendaMarie Writer: It looks like you had a lot of fun doing this one. It's not easy doing a selfie.


Me: This was far more fun than I anticipated. I spent the week looking for mirrors. After that, I practiced pointing the camera so that I could take a picture of me taking a picture of me, without covering up my face. I had a great time. Each week's challenge has given me the opportunity to explore using the camera and observing the world. It's been fun and fun is what it's all about. My next update will be posted on Saturday.


Thank you to everyone who visits my blog and who takes a look at the weekly updates of the 52 week photography project. You are very much appreciated.