What a fun challenge this has been! I've spent the month looking for beauty in likely and unlikely places. So I end the A through Z challenge, finding beauty in wackiness. Zanyism means the behavior or quality of being zany or clownish. It's also defined as engaging in horseplay or tomfoolery.



The most hilarious bit of zanyism that I've seen recently was at yesterday's rodeo. It involved a hot dog vender who pushed his cart right up to the middle of the arena.
He said that he was going to make and sell hot dogs. He found an audience member and took an order for a footlong hotdog with mustard.

He then did something with the machine and he opened up the oven and out came the hot dog!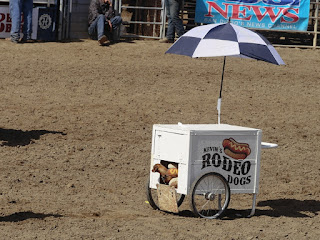 A little dog, wearing a hot dog costume! I was laughing so hard that I didn't get the picture of the man walking his hot dog. Afterwards, the man discovered that he had cooked two hot dogs. A second little dog poppped out of the oven!



Also, at the rodeo, there was a clown that sat in a barrel in the middle of the field. All sorts of activity occurred around him.
He did silly stuff in the midst of all of that action. The zanyism was impressive. To be able to be that wacky while surrounded by galloping horses takes nerves of steel! #sillyheroes