Yesterday, it snowed all day. It was a lovely powdery sn0w, the type that glistens under the full moon, if there had been a full moon. I love to look at that sort of snow. It makes the world look as if it had gone to sleep.
So yesterday, I decided to take a walk to the river, to photograph the snow and the water and the docks. Normally, the walk that I took would be a very easy walk. Yesterday, because of the snow and because of the wind that occasionally kicked up, this walk became much more challenging. Nevertheless, I started walking. It was interesting to watch the snowplows at work, clearing out driveways.
This was one of the vehicles that I saw plowing the snow.
I also saw people shoveling their driveways. Needless to say, the snow continued to fall on top of them as they shoveled. But they were getting aerobic exercise, as I was, just by walking. As I walked, the snow swirled around me as the wind picked up and lessened. Sometimes, there was very little visibility.
Snow swirling around makes headlights almost the only thing you can see.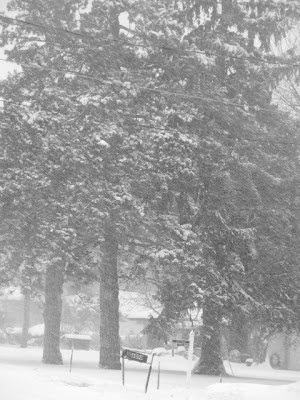 In the falling snow, the trees look a little mysterious.
A truck parked on the side of the road. All is white and peaceful.
As I was walking, a man in a truck offered me a ride. He was driving a snowplow. His name is Sean and snowplow driving is a little part time business that he operates. When he doesn't do that, he works in a factory. He says that he plows driveways for a little bit of extra money and for enjoyment. He drove me to the river and dropped me off. He said that it wasn't really a good day for a walk. That was true, but I pointed out that it was a good day for photography.
I walked along the Niagara River, looking for photo ops, which I found to me great glee. Getting to the spots where I could get the best shots turned out to be challenging so it was good that I wore my rain pants. I had to wade through some very deep snow! It was adventurous. Here are some of the pictures that I took along the river.
Here is one of the docks along the river.
A close up view of a snow covered dock.
Snow filled planters.
Another view along the Niagara River.
It looks like a long line of small Christmas trees.
It's definitely off season in the boating world.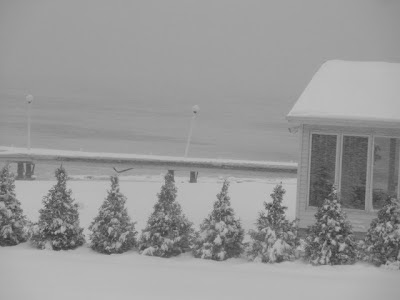 Here is another view of those Christmas trees, looking very much like Christmas has just arrived.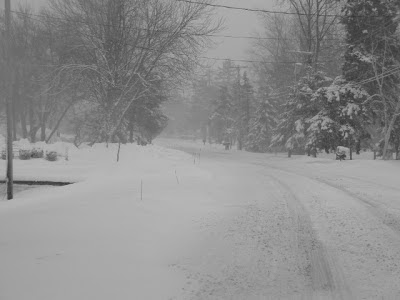 A winter wonderland near the river.
Snow covered decorations and vegetation in front of a house.
Trees in wintertime are very interesting. You can see the shapes of all of the branches when the trees have no leaves. Notice how the branches curl around and the tree seems to tilt just a little bit.
I guess that yesterday wasn't the day for a picnic.
I had fun taking pictures and then decided to head home. I walked back to my street, taking pictures as I went. When I walked by my friend Carmen's house, I noticed a car stuck in the snow and people trying to shovel the car out of its spot. The car soon was freed and I saw Carmen in the car. She said, "Get in the car." So I did and I went for a little ride with Carmen and her two children, Jack (age 14) and Katie (age 4). We dropped Jack off at a church. He was going on an overnight adventure with other young people from the church.
Carmen drove me home, and that was the end of my adventure.
Here are a few more pictures: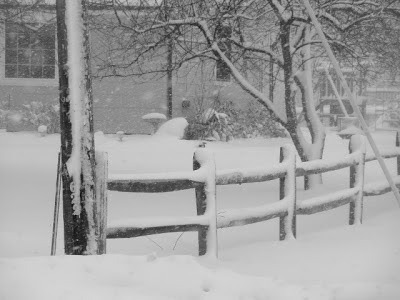 I love the appearance of a snow covered wooden fence.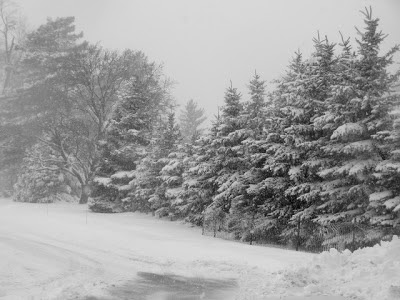 Another view of evergreens.
This is part of a small wetland area.
Here is another view of that same wetland.
Deep, deep snow.