My friend Amy gave me a driving lesson. I drove to Beaver Island State Park, and she had me go into the parking lot to practice driving on snow. Unfortunately, the parking lot had been plowed. But we still found some good snowy patches so that I could practice applying the anti-lock brakes. Then I got to have a little fun. I did donuts in the snow. Oh, a car is a very expensive toy but it sure is a fun one!
We then left the parking lot and I drove to River Lea, where I parked the car. River Lea was a good spot for picture taking as you will see below:
Along the road to River Lea.
Another view of the Niagara River. The water level is low and pieces of snow are floating in the water.
Slightly broken decoration at River Lea.
More garden decorations at River Lea. Notice the plants growing through the snow.
An old fashioned bench at River Lea. Only comfortable to sit on with a cushion.
This was the original gate at River Lea. Years ago, it was sold, but, in 2005, was donated to the Grand Island Historical Society and was returned to River Lea.
Here is the front of River Lea, still decorated for Christmas.
There are many old trees in Beaver Island State Park.
This path used to be a road on which there were the mansions and clubs of the well to do. In the 19th century, Grand Island was a vacation spot for the wealthy of Buffalo.
Determined snowbells don't let a little snow deter them as they start to grow.
Another view of the snowbells, growing around the base of the River Lea gate.
Another tree in Beaver Island State Park.
Three swans in the Niagara River.
Dock at River Lea.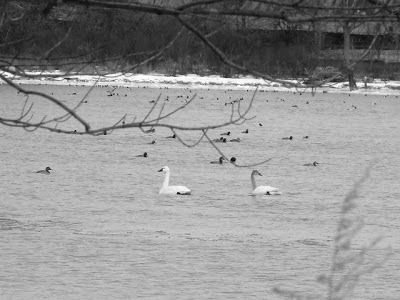 Swans and ducks enjoy a winter day in the river.
Another view of the Niagara River.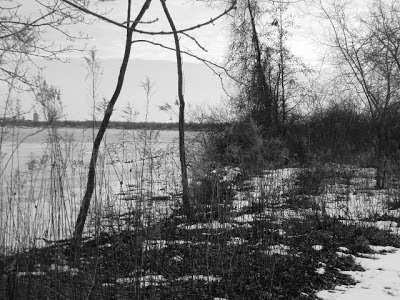 The vegetation of winter along the shores of the Niagara River.
Beaver Island State Park in winter.
Walking on water???