On Friday, it rained. Yesterday, it snowed. I didn't take a picture of it. It didn't stick on the ground so there was nothing to photograph. I know… picture or nothing happened. But it did happen, and it was windy. Fortunately, the tree planting went on as scheduled.


So… snow at the end of April, along with daffodils and hyacinths and tulips. It seems a bit upside down, doesn't it? Snow is supposed to come with Santa Claus, not Easter bunnies. Well, the bunnies are probably happily chomping on tulip petals, along with their dear deer friends. The moles… well, my sister Viv let me know that they just taste test everything, even if other critters think that their food selections are unpleasant (those previously mentioned bad-tasting daffodils). Yep, those greedy little moles gobbled up the daffodils.


Today, after church, I walked down the bike path . It was a pleasant walk because… um… what's that round yellow thing in the sky?
Could it be a UFO? Uh oh. Alien alert. Isn't there some sort of notice on the linear bike path with a phone number to call if you spot an… ALIEN?!! It had better be NASA… but… then I realized. That big round yellow thingie in the sky was a visitor who hadn't been around in a while. Could it be… the SUN???


Hey, it is the sun!!! Casting light and delight on everything that it beholds. It was certainly a welcome sight. I continued my walk with a feeling of lightness in my heart. I have also seen buds and the start of flowers on trees.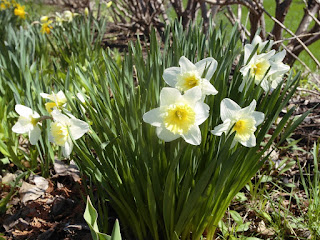 Spring is unfolding. It is that magical time of year when bright shiny UFOs appear in the sky and, abruptly, plants start showing their bright colors.




What do you like best about spring? Feel free to let me know in the comments section below.