These days, I don't travel very far. I go to work and I come home. Sometimes, I go to the farmers market. On Sunday, I went to church. The first time since March 8th. It was nice to be back, and it was different. The church service was held outside, under a tent. No singing. We wore our masks and we socially distanced.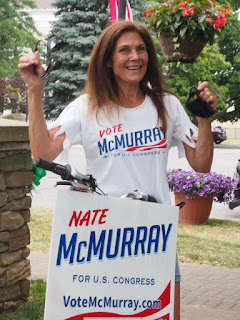 My world has grown bigger since the shutdown began in mid-March. It is not the great big world that I used to know.
My adventures are smaller, but they are still adventures. I am still fascinated by everything that I see and touch. Today, it was the insects that landed on me as I worked on weeding a very overgrown garden in a playground.
A few weeks ago, I had a bigger adventure, as I got the opportunity to take a tour of Niagara County with Nate McMurray and his Congressional campaign. Most of Niagara County is in the 27th Congressional district of New York State.
It is a rural county, except for Niagara Falls and Lockport. The northern part of the county is along Lake Ontario.
If you travel farther south, you will find the barge canal, also known as the Erie Canal. Before the Welland Canal was built in 1932, the Erie Canal was a major east-west shipping channel.
Many of the towns along the canal have names ending in -port, such as Lockport, Gasport, and Brockport.
During our tour, we visited towns that included Lewiston, Youngstown, Wilson, Newfane, Hartland, and Lockport.
We would have had a closing rally (with social distancing) in Wheatfield
but, just as we left Lockport, rain started falling copiously, with accompanying thunder and lightning.
And so, the adventure came to a sudden and electrifying halt.