Writing about summertime in a blog would not be complete without a post about the garage sale. These outdoor sales, usually done on Fridays and Saturday, are ways for people to get rid of stuff that is still good but that they no longer need or want. It fits in well with the concept of "recycle, reuse, reduce, reinvent." I set out from the house on Saturday morning, carrying a purse, my camera, and a crocheted bag for potential goodies.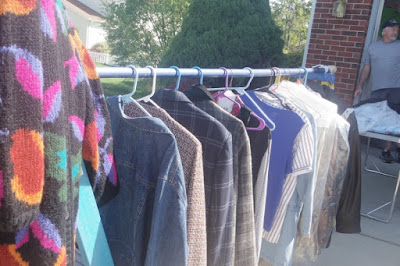 At the first house that I visited, the people were having a moving sale. They had sold the house and were getting ready to move away. They definitely were looking to "reduce" the amount of stuff that they had. They wanted as much stuff to go as possible.
One of the customers had something to sell to the folks running the garage sale: a house and about 50 acres of land in the area of Franklinville, New York. Franklinville is a village in Cattauragus County, with a population of 1,740, as of the 2010 census. It is a scenic village near Olean in the southern tier of New York State. Its central core is on the National Register of Historic Places. It's located in the foothills of the Allegany Mountains and is close to a variety of ski resorts. In the winter, there is plenty of snow, making it an ideal location for skiiers.

The folks running the garage sale had already purchased a house and were not interested in buying a second one.
I visited another garage sale on the same street as the first one. Becky, who was running this garage sale, said that she was selling stuff that she didn't sell at her first garage sale, held earlier this summer. She told me about Mary Dunbar-Daluisio, the former co-chair of Relay for Life. I've interviewed Mary a few times for articles that were published in the Island Dispatch. In 2005, Mary was diagnosed with carcinoid tumors. It is a cancer that never goes away and people who have it never go into remission. Right now, Mary's condition is stable but she has suffered complications that have left her unable to work.

Because Mary, who was co-chair of Relay for Life for ten years, cannot work, a fundraiser is being held to show her love and support. It will be held on September 17th. For more information, check out the Isle de Grande website. Everyone is welcome to attend.
Becky, who also serves as a co-chair of Relay for Life, enjoys the garage sale.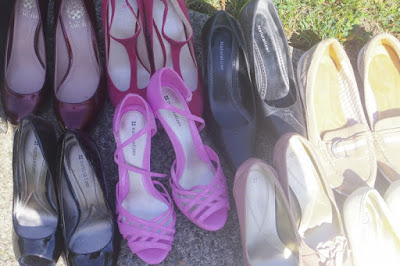 The third garage sale that I visited featured a wide variety of shoes.
Also dance costumes. The lady running the garage sale said that her daughter, now 18, took a wide variety of dance classes, including ballet, modern, hip hop, jazz, and Irish step dancing. Apparently, she enjoyed all dance forms. She has, however, decided to stick with just one dance form: Irish step dancing. She loves to do Irish step dancing. On Grand Island, there is a school that specializes in Irish dance called the McCarthy School of Irish Dance. Students perform at various events in the community, such as Relay for Life, and they dance at competitions, called "Feiseanna."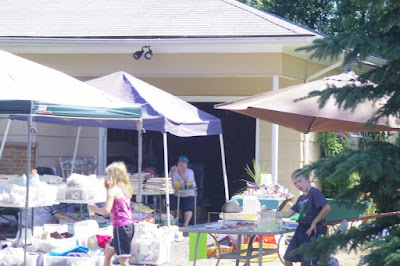 At this garage sale, there were beads, button, sewing patterns, lace, quilting books, and other stuff that came from a recently closed craft supply store in Belfast, N.Y. The lady running the garage sale was selling the merchandise on behalf of the owner of the store.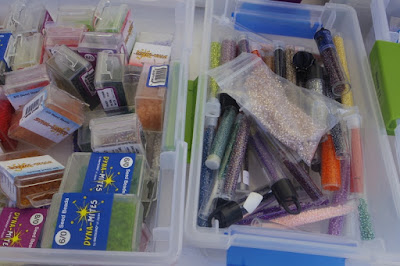 I bought beads and buttons in a variety of colors to decorate a pair of tennis shoes and a white hat. I plan on drawing a matching pattern on the hat and the shoes and then decorating them with embroidery, fabric paint, beads, and button. When I do this project, I will share a step-by-step guide in my art blog.
There were some other things at this garage sale, too.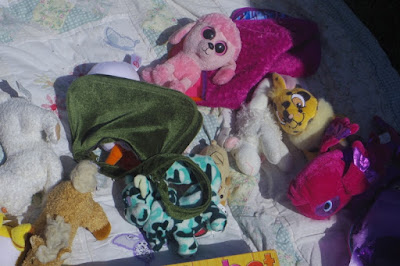 The last garage sale that I visited was run by a kid who was selling a collection of toys of all varieties.

It was a fun day to visit the community and to explore the wonderful world of garage sales.

Have you ever run a garage sale?
Do you enjoy going to garage sales?