On Monday, August 29th, I went to visit the Grand Island farmers' market, located on the grounds of Tom Thompson's farm, 2487 Long Road. It is quite a delightful place to have a farmers' market. Every now and then, a chicken will walk up to you, ready to make a new friend. Tom's chickens are not shy. They seem to be fascinated by all of that human activity that occurs every Monday, from 4 p.m. to 7 p.m.
The farmers' market has been in operation for only a few weeks but, already, it seems as if it is quite the Grand Island social event. People get together with friends. They buy fresh produce, eggs, honey, meat, and baked goods. Everything is produced in Grand Island. There is a truck with sausages and other foods for people who want a quick meal. You can buy corn that, just a few minutes earlier, was still out in the field.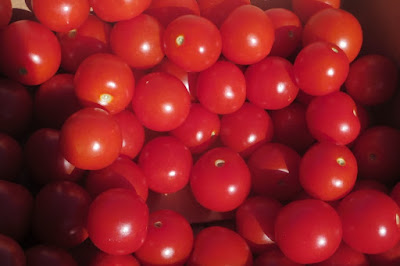 Mmmm, plump cherry tomatoes, ready to go into a salad!
There were also some handmade items that were sold at the market. In the basket are holders for those small purse-sized containers of tissues.
People could also buy baked goods and jams and jellies made in Grand Island.
Mmmm… apple sauce.
Steve and Trish Birtz have a farm on Grand Island, where they grow all sorts of produce, including several varieties of garlic. Before the farmers' market started, they sold their produce at a roadside stand in front of their home. Now they have the opportunity to have more customers than just the people who happened to see the roadside stand as they drove by the farm. When they are not taking care of their garden, Steve and Trish also enjoy hunting for interesting gems and rocks. Above is a piece of pyrite that they brought for display.
Bryce and Robin Shipman also sold a variety of produce and honey, as well as some hand crafted items. Bryce is a wood worker who made this cabinet that serves as a nice way to display small jars of honey, as well as a few other items.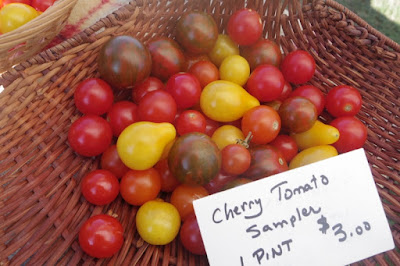 Here is a pretty collection of cherry tomatoes, which I purchased. It was too pretty to pass up. The tomatoes have also proven to be too tasty to pass up.
This was one of the more unusual offerings at the market. There were taste tests at this booth and at many of the others. I have to say that I had doubt about this particular item but it actually tasted pretty good.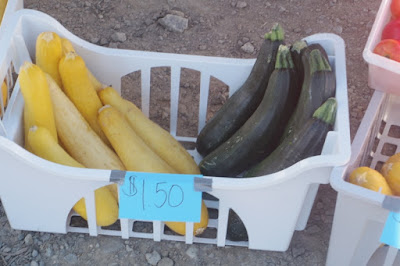 This is a staple of late August. Zucchini and yellow squashes of various sizes… some tiny and some resembling baseball bats.
Delicious raw honey, great with lemon for a cup of hot tea. Lately, however, it has been too warm for hot tea so I have been drinking sun tea. To make the sun tea, I fill a half gallon water container with water and then add four teabags. That steeps outside for a day or so. It then goes into the refrigerator. When I want to have a glass of sun tea, I put into the glass:
the juice of 1/2 lemon
a heaping teaspoon of brown sugar
sun tea
ice cubes
Ahhh, summertime in a glass!
Pickles!!!
You can get treats, too. Cookies, brownies, fudge… mmmmm.
Next week, the hours will be adjusted, due to the holiday. Also in the works are plans for the market to be open one Saturday a month.
Where ever you are, head over to local farmers' market and enjoy some of that fresh, locally grown produce!