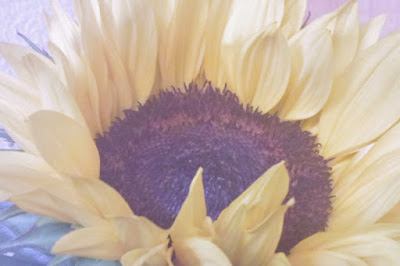 On Sunday, July 24th, I started the last week of my 366-day photography project. I felt very good about having had the opportunity to document my world in such a way. It has been a great experience for me. I would definitely recommend it to any of you who are thinking about it. One of the benefits of the project is that, while you are scanning your environment and looking for something to photograph, you can really see the world around you. You are looking at your world and wondering… is this an image that I'd like to keep and to share? I have found that posting weekly updates of the project kept the stories fresh in my mind.

This last post, however, is late. On July 30th, my internet service crashed and it was not restored until August 10th. It took two technicians and some in-office programmers and engineers to fix the problem that affected 58 households. Apparently, the hot, dry weather played havoc with the wires. They are maintained on the ground but the ground conditions resulted in broken wires. There were other problems with wiring in the office but I don't really understand electronics that well to explain all of the issues.
So here is the last week of the project. The flower above was in a vase at church. The vases are changed every week, and different flowers are brought in to replace the old ones.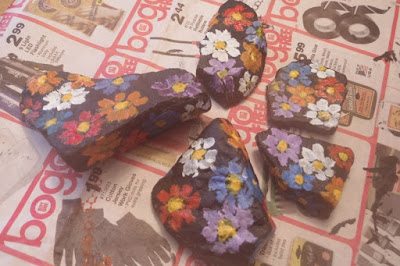 Monday, July 25th, was one of those rare rainy days. It actually poured for a while. I was thrilled with the rain but I couldn't take pictures outside. I stayed inside and painted rocks. It was a fun project, and here is the result of the rock painting.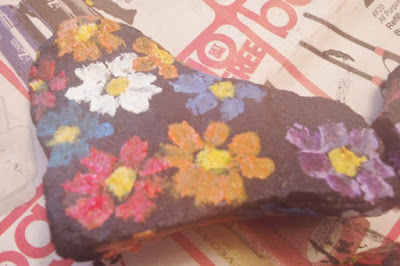 Here is a close-up view of the design that I created.
On Tuesday, I went to the country market in downtown Buffalo. I was interested in exploring the urban farmers' market. I always enjoy going into Buffalo. On that day, there was a musical group performing at M&T Plaza.
There was even a little miniature golf course at M&T Plaza.
The market is called a country market because a wide variety of products are sold, in addition to produce from farms.
Mmmm, dessert.
Delicious fruits and vegetables, fresh from the farms.
Flavored nuts.
The taste test bag.
For people who want a variety of fruits, there is this sampler. It almost looks too pretty to eat… almost…
Chef's restaurant sent this food truck. Chef's has been in business for years and is well known for delicious Italian comfort foods.
I bought some fresh produce and hopped on the bus back to Grand Island. As I walked home, I spotted this guy in front of the farm of a friend.
Vividly colored lily seen on my way home.
Milkweed with a bee.
Woods Creek. Notice on the left that the grass has been mowed all of the way to the water. This is a bad idea. Grass has shallow roots and is not a plant that can properly protect the stream bank from soil erosion. It is better to maintain a zone of plants native to the region because those plants have deeper roots. Another benefit of having native plants, including milkweed, is that they will attract bees and butterflies.

Also, when the grass is mown to the stream bank, grass is likely to end up in the water, resulting in turpidity (cloudy water). Any residue of lawn chemicals can add noxious chemicals to the water, which is dangerous for sensitive aquatic life. Homeowners who own stream bank property are responsible for maintaining that land along the stream, known as the riparian zone. The benefit of owning property along a creek or other body of water is, of course, canoeing, kayaking, or other fun water sports.
On Wednesday, I went to work on a garden. After I finished, I was invited to visit the neighbor's garden. It was quite delightful.
Mmmm, purple tomatoes.
In the evening, I went to the Riverside-Salem Environmental Cottage to hear the drum and percussion group, Daughters of Creative Sound. It was a wonderful evening, as I had described in a previous blog post.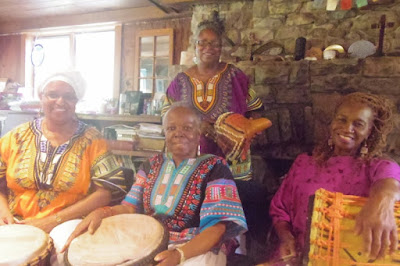 After the concert, the musician/storytellers radiate with the joy of music.
On Thursday, I was back at the garden along the river.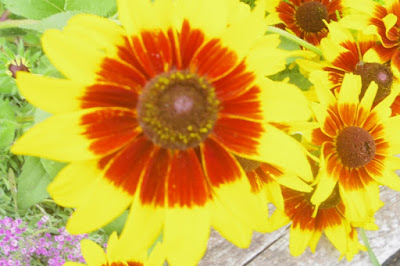 On Thursday, I went to a meeting of the the Conservation Advisory Board at Town Hall. Town Hall has beautiful gardens so I took a few pictures.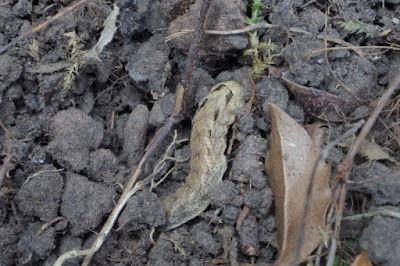 On Friday, I was at a different garden. Here is a caterpillar trying to hid in the soil, which, alas, is rather dry and sandlike in texture.
The dance of the snails.
Two snails on a collision course.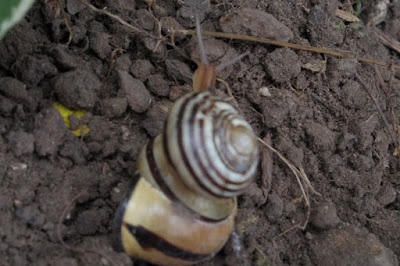 "Snail, dude! You're in the way!"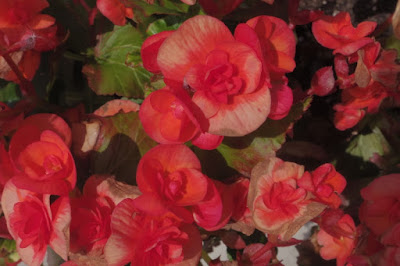 Colorful and bright.
On Saturday, July 30th, I went to Paddles Up! Niagara to cover it as a journalist for the Island Dispatch. It was a beautiful day, although it started out a bit chilly and rainy. I did a bunch of interviews and took a bunch of photographs. Then I got my own opportunity to try out a kayak.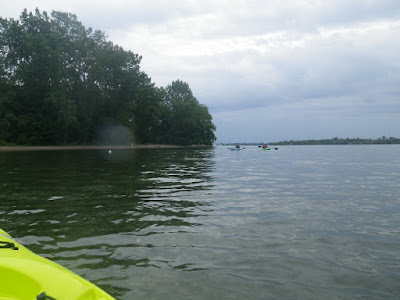 How could I not? The water was beautiful and inviting.
Everything looks different when you're in the water.
Here I am, enjoying the beautiful day, the water, and this delightful form of human-powered transportation.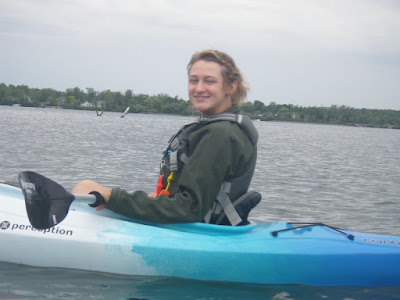 This is the instructor, Kelly.
Later, I took pictures of other kayakers and canoeists setting out on their adventures.
This is the staff of Grand Island's recreation department. They worked to help ensure a fun and successful event.
The local gem and mineral society set up an exhibit, displaying some of their lovely and interesting gems and minerals.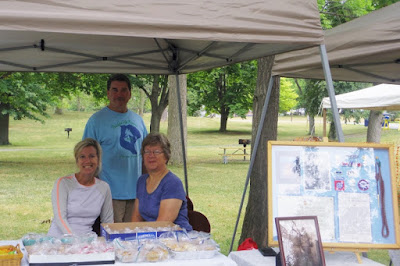 Grand Island Historical Society exhibit. In front is Robin Shipman and her mom, Jane Wynne. In back is Curt Nestark, president of the society. The historical society sold breakfast foods and they staffed the beer tent.
Here are boat stewards from New York State. They remind people not to inadvertently transport invasive species of plants or marine life on boats. They want people to empty their boats, dry them thoroughly, and clean the boats. That would get rid of any wicked invasive species that may be trying to hitch a ride on a boat.
This is the Scajacuada Canoe Club. They are training for a 90-mile canoe race.
This gentleman is dressed in a French Explorers outfit from the 1700s and 1800s. The explorers traveled from Quebec via the Great Lakes to western Canada. They carried supplies, which they exchanged with Native Americans in Canada for furs, which were then sent on to Europe to be made into coats and hats.
Paddles up ceremony prior to departure.
On Sunday, July 31st, I went to the Garden Walk in Buffalo. Within the next few days, I will post more of these pictures here in this blog so stay tuned!
It was a beautiful day for humans and bees to explore gardens.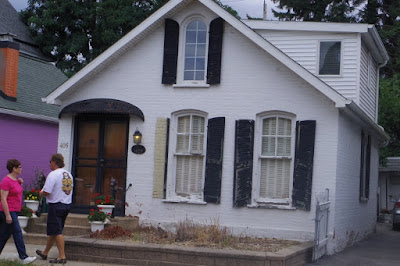 This building was constructed early in the 1800s. It is one of the oldest buildings in Buffalo. During the War of 1812, Buffalo was burned down by the British, who were mad because the Americans burned down Fort Erie, Ontario. So no buildings date before about 1820 or so. It was a pyromaniac war for sure.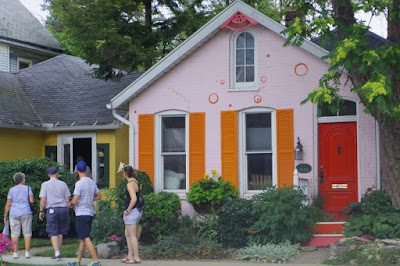 Here is an interesting and unusual house.
Street scene in Buffalo.
On Monday, August 1st, I completed my photography project where I started a year earlier, at Buckhorn Island State Park. It felt good to end where I began.
Look for a future blog post about my walk in Buckhorn Island State Park! Thank you for reading my blog, for following my photography project, and for your comments and your support. It is very much appreciated.