On Saturday, July 30th, the eleventh annual Paddles Up! event was held at Beaver Island State Park in Grand Island, New York. This event is the result of cooperation between the Town of Grand Island, the Niagara River Greenway, and the New York State Office of Parks, Recreation, and Historic Preservation. The day started off cool and rainy but the rain soon stopped and the air became warmer. I went to the event as a journalist, working on a photo essay for the Island Dispatch.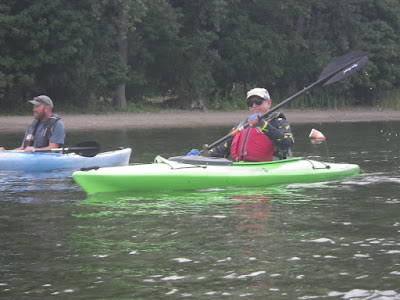 The day was full of activity and fun. Early in the morning, there were two opportunities for people to paddle in kayaks or canoes. One was an eco tour guided by Tim DePriest of the New York State Department of Environmental Conservation. That was a popular event, and all slots for it were filled quickly. The other early event was a "fun paddle." In both events, people took a look at the two islands that are currently being restored: Motorboat Island and Strawberry Island.

Former Town Supervisor Mary Cooke took the fun paddle and said that she enjoyed it. "I loved it. It was a beautiful day for the water. Strawberry Island is much larger than it looks from a map. I saw blue heron, cormorants (black birds), and a mom and baby ducks. They were absolutely adorable. Last year, I tried out a kayak (during the "try a kayak event"). I picked out a water lily and paddled to it.

"I got a lovely birthday gift in January."

Encouraged by Mary's ringing endorsement of the try out a kayak event, I decided to do the same. I saw two kayak instructors: Tina and Kelly. There was another person asking them about kayaking lessons. That person didn't want an immediate lesson. She said that she would come back. She removed the life jacket that she was wearing. I asked Tina if there was some time during the day that I could have a lesson. She said, "How about right now?" I agreed that having a lesson at once would be a good idea. She handed me the other person's life jacket but it was very large. Then she handed me a child-sized jacket. I somehow managed to get it on but it was cut-off-your-air-supply tight. I'm glad that I wasn't around in the nineteenth century because I'm sure that I would not like wearing a corset. I was relieved to remove that tiny jacket. The third jacket was… just right!

Goldilocks: This chair is too hard… this chair is too soft… this chair is just right!

Here I am in the kayak. My instructor was Kelly. She said that I never stopped smiling. That was probably true. Kayaking is loads of fun.
Canada! Um. No, I didn't try escaping from the United States! Can I say that I wasn't tempted? Not answering!!!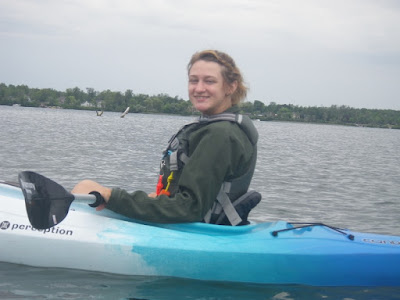 This is the instructor, Kelly. She said that she loves her job. I would call it quite a fun job.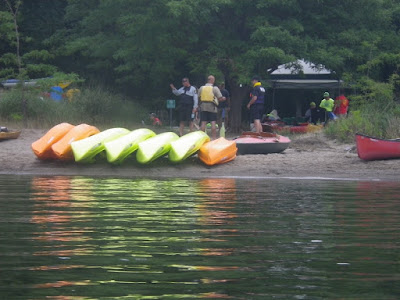 Here, I am returning to shore. For sure, I am looking forward to another kayaking adventure.
My article was about other people's adventures in kayaks and canoes, and, after returning to shore, I ran around taking photographs and interviewing people.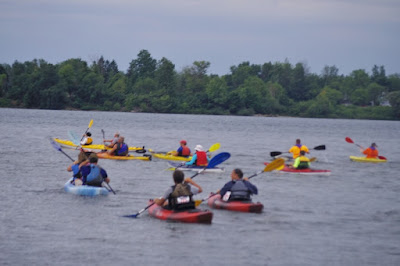 This is the staff of the Grand Island Recreation Department. The supervisor of that department, Joe Menter, has been the chairperson of the Paddles Up! event for the past two years. The founder and previous chairperson was Paul Leuchner, who worked for the US Army Corps of Engineers as a biologist until he retired.
This is Greg. He came to take pictures and videos. He said that he is looking to get underwater shots this year.
This is the event T-shirt for this year.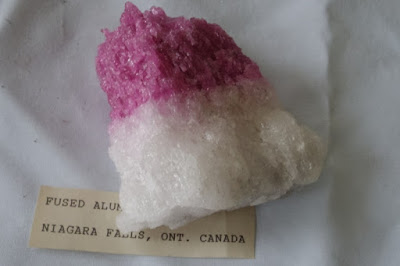 There were a variety of vendors at the event. One of them was the local gem and mineral society. They were represented by Steve and Trish Birtz. Above is one of the rocks that they placed in their display.
The Grand Island Historical Society sold breakfast items and they staffed the beer tent. In the past, the society catered a lunch. This year, there were food trucks in the park. Pictured are Robin Shipman and her mom, Jane Wynne. In back is Curt Nestark, president of the society. According to Curt, "We don't do lunch anymore. It met its time. It was fun, but it's now over. We wanted to stay involved in the Paddles Up! event. We decided, why not do breakfast?"

As for the beer tent, Curt said, "We got invited by organizer Joe Menter. He said that, if we are willing to staff it, whatever monies come in are ours. The beer is donated (by Flying Bison). Why not? If you don't try new things, you don't know if they are going to work."
Curt continued: "I like Paddles Up! as a way of showcasing the historical society and Beaver Island. It is a big event for the Historical Society. We do lots of planning. We have to make sure that the displays and artifacts are protected."

Some of the displays and artifacts include:
1927 aerial map of the river
a shadow box of memorabilia from the brief life of Charles DeGlopper. Charles DeGlopper was from Grand Island. He died in World War II at the shores of Normandy. He was issued many medals posthumously. He was considered to be a war hero. When he was killed, he was 24 years old.
Tomorrow: More stories and the late morning paddle in photographs