The Photography Project Update: Wow, it has been 40 weeks since I started my 366-day photography project. It is now springtime. Here is my update for the week. On Sunday, May 1st, Bishop William Franklin came to Saint Martin in the Fields to preside over confirmation.
Here is "Bishop Bill" with the Rite 13 "celebrities," Father Earle, and Christian education teachers, Dawn and Joe. Bishop Bill and Father Earle said that they are men and women, even though there was actually only one new woman there. They have achieved the status of men and women. Abruptly. I was feeling a tad envious. I have spent years working on my "mature woman" act… um… my excellent maturity. That, apparently, is a work in progress.
Here is a confirmation group that is very well experienced at being men and woman. They are doing a good job at demonstrating excellent, not to mention hilarious, maturity. I think that I am well equipped to follow this example of Mature Womanhood (or Humanhood).
Families were invited to pose with the bishop.
Father Earle poses with Allie and Dave, who are a famous engaged couple at St. Martin's.
Here is the bishop with Deacon Martha Farone.
What is a confirmation at St. Martin's without one of Chris Chipp's magnificent cakes? Her frosting is the best: creamy and not too sweet. Alas,the recipe is a secret so I cannot hope to replicate this. Fortunately, my mom has a good recipe for frosting that also is creamy and not too sweet. Different flavors, for sure.
Thanks to the wonders of the camera, I can eat my cake and still have it. Yummy! It makes my mouth water just to look at it.
This is the centerpiece at the reception following confirmation.
I chopped up some vegetables for a salad.
On Monday morning, I chopped up vegetables and grated cheese for an omelet. I call it my short order cook kitchen fun time.
This is a flowering shrub that I saw on a lawn. I am guessing that it is a dogwood.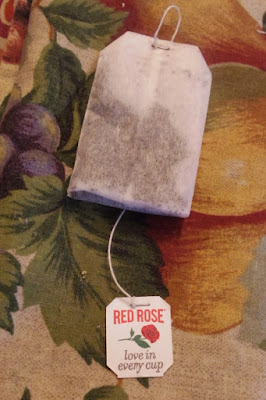 Tea time! Love in every cup sums it up (rhyme intended).
I got this spoon at a rummage sale, and I love it. I haven't quite figured out the pattern yet.
Spring is truly my favorite season. The little leaves on the trees are more like flowers than leaves at this time in their growth. They are soft and little and almost transparent.
This is ground cover. It is growing back from its winter dormancy.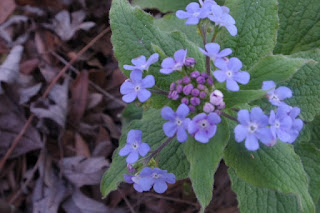 I found this in my garden. I think that it is a perennial.
On Wednesday, I went to a house on the west side of the island to tend to a garden. After a long winter, it was a pleasure to be outside, working in a garden. It was also a pleasure to look at the river from the garden. The water was beautiful and it was a clear spring day.
The pachysandra is a ground cover that grows in all sorts of soil. It will even grow in rocky soil. Here in Grand Island, we have mainly clay soil. The pachysandra has a very delicate flower.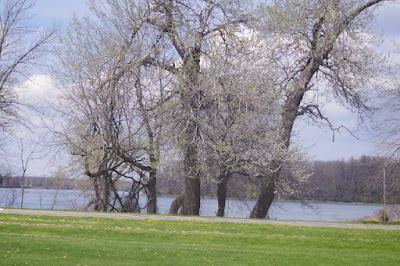 This is the lovely view that I get from my customer's garden.
Here is a tree that grows on the river bank. Canada is on the other side of the river bank. That means that I can run for president! I can see Canada from my kitchen window (well, if I could actually see clear through to the other side of the island), and that means that I know everything about foreign policy… or maybe not.
The peonies have started growing!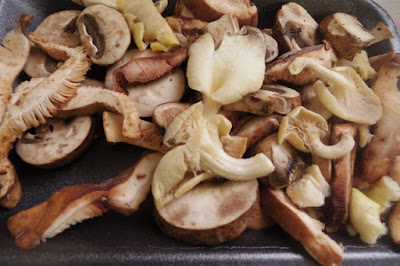 On Wednesday, I got to have some kitchen fun. Quality time in the kitchen. I was making a stir fry, to be served over rice. I had this lovely collection of crimini, shittake, and oyster mushrooms. I also added green onion, snow pea pods, small shrimps, snap peas, garlic, garlic salt, and a small amount of sweet and sour sauce.
I started off with fruit salad. My mom had just gone out for lunch so she wasn't hungry enough for the main course, but she had fruit salad with me.
Here is my stir fry. I am working on re-inventing myself as a foodie!
On Thursday morning, I went to the choral concert at Huth Road Elementary School. Carol Horrigan is the director. Just recently, she was honored with the title of Western New York's General Music Educator of the Year. She is an excellent teacher who brings music to her students and to the community. I was very fortunate last September to participate in her Grand Island Sings for Hope concert, to raise money for survivors of breast cancer. I was part of a community group that Carol put together for the concert, called the "Pink Chorus."
Carol is a breast cancer survivor who put the concert and a previous one (in 2011) together as a way to give back to the community. Congratulations, Carol!
After the concert, I walked home and saw that color is blooming.
Of course, spring is also about rain and swampy areas, especially when you live in an area where the soil is mostly clay.
Lovely flower arrangement available at a supermarket.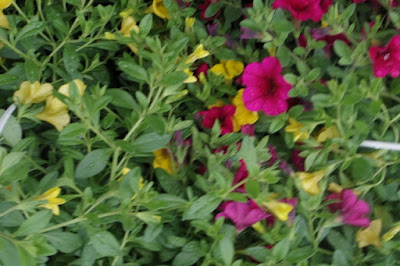 Colorful flower baskets to be hung outside.
I went to my watercolor painting class at Stella Niagara. This time, we painted on rectangular sheets of paper. We were to make boxes and other shapes on the paper and paint flowers in those boxes. One of the flowers that we painted had to be a dandelion, which we painted from real life. Since dandelions are considered to be weeds, they exist in vast quantities. I collected a bunch from my garden to bring to painting class. Every painting has one dandelion in it.
These are some of the paintings that were made at Stella Niagara. The class is made up of Franciscan sisters who live and work at Stella Niagara and a few folks who come from elsewhere to paint twice a month.
This is another group of paintings.
In the evening, I went to River Lea for the monthly meeting of the Grand Island Historical Society. River Lea was surrounded by daffodils in a variety of colors. Here are some all-white daffodils.
Mike Vogel, retired editorial page editor for The Buffalo News, now writes books about local history. He talked about the area in Buffalo that is now Canalside. It was the cobblestone district. There was a very busy red light district there. It is a famous area because both American Express and Wells Fargo got their start there. The area was quite infamous in the nineteenth century and was given such names as "the infected district" and "the very nostrils of hell." I will have more about the very nostrils of hell in a separate blog post.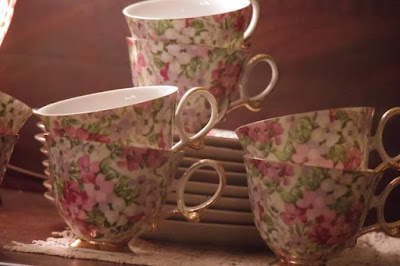 People donate pretty stuff to the Grand Island Historical Society.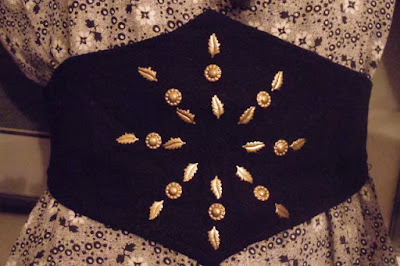 Nineteenth century outfit for a lady with a waist the size of a wasp's, which ladies tried to produce by wearing very tight corsets. They looked attractive but doctors warned against the practice, saying that the ladies were risking their health and even their lives for fashion.
On Friday, I made this smoothie for breakfast. The ingredients are: strawberries, raspberries, cantaloupe, plain Greek yogurt, and apple cider. I make it in a food processor.
My sister Laura and brother in law Michael sent a lovely gift to our mom for mother's day. It has goodies in boxes and, in the largest box, four very large pears.
On Friday, I baked pineapple brownies.
The recipe called for unsweetened chocolate squares but I didn't have any. I did have plenty of semi-sweet squares, so I substituted those for the unsweetened squares. The result was much better than I anticipated.
A mouse fell into a cup of old vinegar (used to trap fruit flies). I removed the mouse from the cup and from the house. I washed the mouse off and let it go.
So many pretty flower arrangements…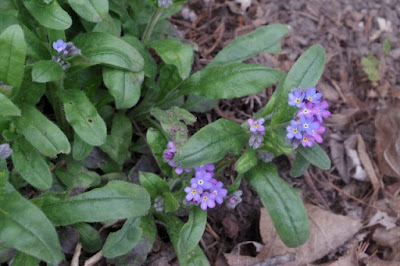 The perennials in my garden are coming back.
The parsley is growing with great abundance. It looks like it's time to make some tabooli.
The apple tree is ready to flower.
This is the pear tree, covered in flowers and looking like radiant spring.

Next week: Mother's Day, art day at Huth Road School, and a spring walk in Buckhorn Island State Park.