Sunday, June 5th. It was time to get ready to go for my Big Adventure, the De-incarceration walk with Voices for Creative Nonviolence in Illinois. I had to say good bye to my garden and to home. I had arranged to spend a week away, exploring different scenery and sharing a message about the foolishness of turning the United States into a Prison Nation. As of December 31st, 2013, more than 1.75 million persons were incarcerated in federal, state, and county jails in the United States.
The group was walking from Chicago to Thomson, Illinois, where the federal government had purchased a closed state prison. At some point this year, the prison will be opened as Administrative United States Penitentiary Thomson. The other term for that type of prison is "super max." As far as I can tell, most of the prisoners will be living indefinitely in conditions that can be called "solitary confinement." They will be in their cells for 23 hours a day. They will not work or have any educational programming.

As we walked, we spoke to people and discussed the cruelty of solitary confinement. It is considered to be a form of psychological torture. People are social creatures and need to have contact with other human beings. We are not meant to live in conditions of long term isolation. Abraham Maslow, in 1943, wrote about a hierarchy of needs that applies to all humans, from physiological needs to transcendence. Very few of us reach transcendence. Inmates in solitary confinement, however, are focused on the most basic of needs. They barely have their physiological needs met, let alone the others. The one need that is the most dramatically violated is the third, that of love and belonging. There is no community in a solitary cell. There is no way to connect with others. It is not a healthy way to live. Hence, it is a human rights violation to hold people in long-term solitary confinement.
On Sunday evening, my friend (and adopted brother) Curt took me to the bus terminal so that I could begin my journey to Illinois. I rode on three buses, arriving in a tiny bus station in Dixon, Illinois, on Monday morning.
I joined the walk that was already in progress. It was great to reconnect with friends. Above is Maya. She is my long-lost twin sister from England. Apparently, fraternal twins. We both love to strike the diva pose.
Oregon, Illinois, has a population of 3,625, as of 2013. It is located in the Rock River Valley. There are several state parks in the area.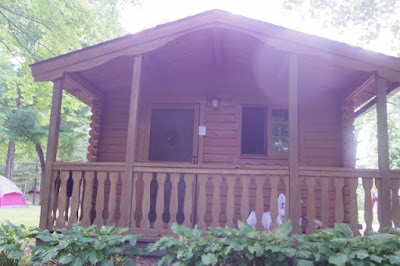 We spent several nights at Lowden State Park. It is known for a huge statue of Chief Black Hawk, which was made by Lorado Taft, and completed in 1911. It was being repaired when we were there and was completely covered.
Tuesday was a free day so we explored the Rock River.
My companions for the day's activities: Lucky (who was our tour guide), Maya, Buddy, and Sabia.
This is another view of the Rock River. The Rock River, a tributary of the Mississippi River, is 299 miles long. It is in Illinois and in Wisconsin. Its original name, given to it by the Fox and Sauk nations, is the Sinnissippi River, which means "rocky waters."
Fishing in the Rock River.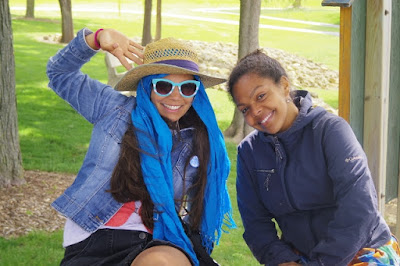 Maya and Sabia enjoy a fun day, exploring Oregon, Illinois.
Another group also enjoys the river.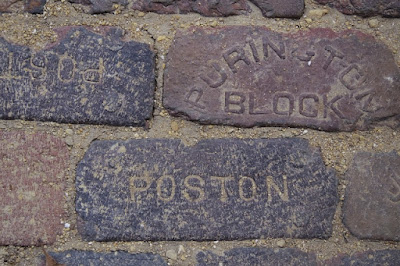 Lucky took us to see the Nachusa Grasslands, which is a restored prairie in Franklin Grove. We went to the visitor center to find out more information about the Grasslands, but the visitor center had not been opened yet.
We were pretty far from the bisons. I tried photographing them but needed a much stronger lens. Hence, they look like specks by the water.
After visiting the bisons, we visited a farm that had a variety of animals and rock sculptures and old cars and other assorted stuff.
This sculpture is called "Agriculture, Mother of all Civilization," and it was placed in front of the courthouse in Oregon. The sculptor is David Seagraves. Installation was in 2006.
Perennials in an Oregon garden.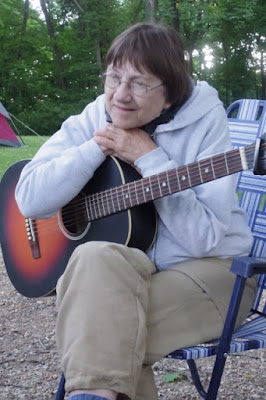 On Tuesday evening, Barbara and Jim came to join the walk. They brought with them a variety of instruments, as well as music. We spent several pleasurable evenings outside, singing a variety of songs.
Rezia, Kathy, and Sabia discover the joys of technology. When you can't remember all of the lyrics of the songs, you can find the words on the internet, thanks to the wonderful little computer called the smart phone.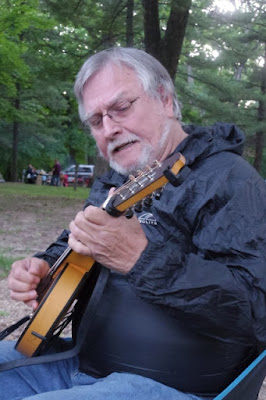 Jim shares a song from his repertoire.
On Wednesday morning, we gather in Oregon, ready to walk to Polo (population 2,292). It was a lovely day for walking. We posed with our signs before beginning our adventures for the day.
Something seen along the path.
Old town hall on the route, seemingly abandoned. That was the last picture that I took on Wednesday. Inconveniently, my camera battery died, and I forgot to bring the spare battery! (sometimes, technology is not a friend.)
After another delightful dinner provided by Lucky and her family and friends and a pleasurable evening of singing, the air grew cooler and it was time to sleep. Nighttime is peaceful in the woods. I am grateful for that sense of freedom and joy at being able to explore forests, countryside, and towns.

We start our walk outside of the library in Polo. The clouds were gathering above, but it seemed like a pleasant day.
Across the street is the Polo Islamic Center. The building is a former church. It is now an Islamic Center and mosque.
Abandoned? Or not? Who knows. Interesting structure. Needs work.
As we walked, the sky darkened dramatically. The wind sang its wind song, and, before long, rain fell. Joy brought a bunch of ponchos for us to wear. I am dressed in a large garbage bag with holes for arms, legs, and head. The sky darkens more and I hear the rumbly noises of thunder. I get into a support vehicle, to wait out the storm.
Kathy makes the acquaintance of Mesa, the daughter of Ash and Sarah, who provide us with meals for a few days of the adventure.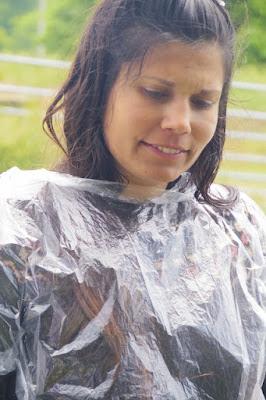 Garbage bags can be fashionable.
Sabia brought a colorful collection of scarves. She manages to shine, despite the clouds and rain.
This is Sarah, who arrived during a rain storm to provide food.
Finn, age 10, likes to draw and to tell stories.
The storm is starting to clear, and we begin walking again. We had lunch under a tree. A tarp was set up and we either stood or sat on various blankets and rugs to enjoy our food.
Wild flower along the route.
This is one of Irene's three daughters. Irene and her daughters came from Colorado to take pictures, do interviews, and document a part of our walk.
We pass creek, large and small.
Our destination on Thursday was Milledgeville, which first became a town in 1834. It is now a village with a population of 997.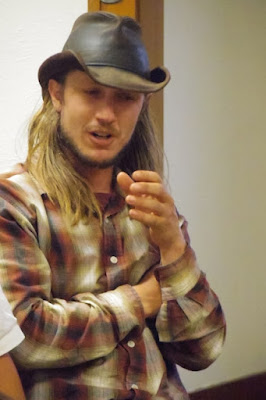 At the library in Milledgeville, we hold an event, which attracts a small audience. Ash talks about having been an Iraq war veteran. Veterans who suffer from post traumatic stress disorder often found themselves in prison. There are programs now to keep the veterans out of prison. One of these programs is called the veterans treatment court. The first veterans treatment court began in 2008 in Buffalo, New York. Robert Russell was the judge who originated the program for veterans. The goal is to keep veterans, who are arrested for nonviolent crimes, in the community, and to get them mental health care, job training, and other supports that they may need.
Brian talked about human rights violations that he witness personally when he was incarcerated in jails and prisons after various protests. He talked about a Las Vegas jail in which he was placed after a protest. He had not paid a fine and he found himself in a crowded holding cell for several days. He said that it was like being in debtor's prison. He said that one young man, who couldn't tolerate being in such a crowded cell, was thrown to the ground by guards, beaten, and placed in a restraint chair before being taken to solitary confinement.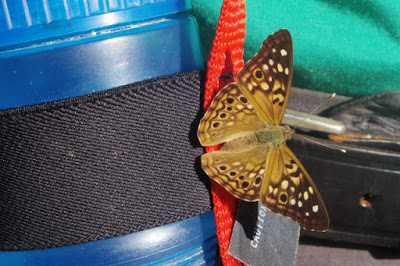 Friday morning. Our last morning in the state park.
We pass many corn fields. The corn being grown is used as feed for animals or as ethanol.
Six year old Leaf enjoys the adventure.
Ash, carrying the flag that was given to him after he was discharged from the U.S. Army, walks with Sabia.
A view of rural Illinois.
Horses!!!
The walkers come close to Thomson on a hot day. High temperature was 92 degrees.
Father and son walking down the road.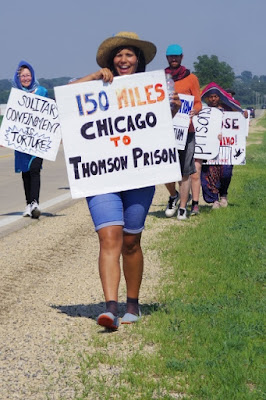 Maya leads the parade.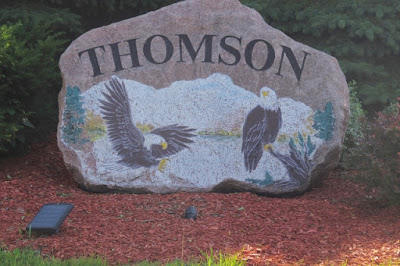 Thomson, Illinois, is a town with a population of 573 near the Mississippi River. It is known for a giant prison and for watermelons. When the prison is occupied, it will be far more populous than the town. The capacity of the supermax is 1,900. There is also an adjacent minimum security prison camp, where there are currently 115 inmates. They will be the work force for the facility. They will cook the food and they will take care of the grounds. Currently, they are working on getting the big prison ready to be occupied.
On Friday evening, some of us had the opportunity to stay with the Sisters of Saint Francis in Clinton, Iowa. This is a new statue of Saint Clare.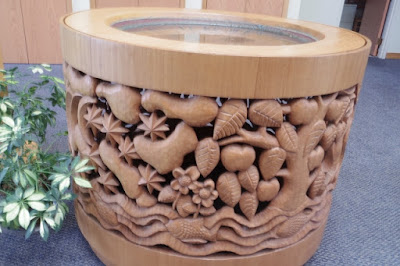 On Saturday morning, we get a tour of the beautiful facility that houses retired sisters, as well as guests.
The large gardens are blooming.
On this memory walk, sisters and friends are honored and remembered.
This is a quiet place of peaceful contemplation.
Well, maybe not everyone is focused on quiet contemplation!
When we arrive in Thomson to begin our walk to the prison, we see that most of the parking places are occupied by cop cars. There were so many police that I thought that they were holding a cop convention. Later, I found out that the cops, who actually outnumbered the walkers, were there in force because there were rumors that protesters from Chicago were there to start a riot. The cops watched us for a while and then departed, as we looked too tired from the heat to start a riot.
We hold a vigil across the street from the prison.
Buddy gives an inspiring talk about the issues that we have focused on during the walk: prisons and solitary confinement.
Here is our banner.
Young people who joined us for the last day of the walk.
When given a microphone, one of the girls expressed concerns that a thirteen year old was being sent to prison.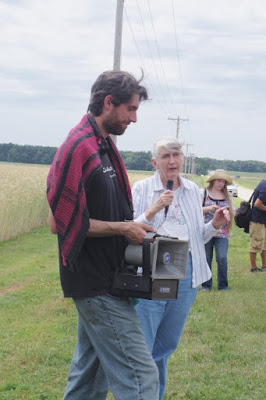 People take turns giving short reflections about prisons. I tell everyone about a woman named Alice Johnson, who has been in federal prison for 17 years. She was a minor player in drug deals. Although she never had possession of drugs, she was sentenced to life in prison as a first-time offender. She got involved in the drug business, mainly as someone who relayed messages via the telephone, because this single mother of five needed money for her family. She is a mentor to other inmates in the federal prison in Aliceville, Alabama. It is hoped that President Obama will give her clemency. It is time for Alice Johnson to come home.
This is where the supermax will be located, once it is opened. Is that what our society needs?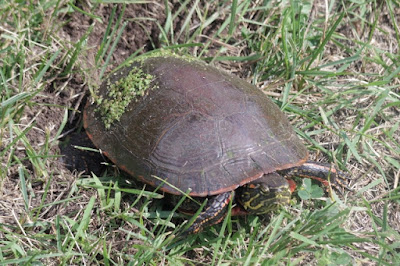 After our vigil across the street from the prison, we walk to the river.
On the shores of the Mississippi, we reflect on freedom, prisons, and what we can do next to say that solitary confinement is a human rights violation and, therefore, unacceptable.
Mural at the bus terminal in Chicago. It is time to come home again.

Next week: Back at home… gardens and the Niagara River.