On Thursday, May 3rd, I went to the San Diego
Zoo with my niece Chrisha, my two great nieces Claire and Addie, and my great
nephew Elliott.
We met my friend Diane and her grandson Kieren at the zoo. The
San Diego Zoo is famous because it's enormous.
It is 100 acres in size and it
is located within the even more massive Balboa Park.
It is such an amazing
place that you could probably spend weeks there and not see everything.
Today, I am sharing pictures from the Japanese garden, which includes plantings, statues, and a fish pond that features koi of various colors.
I am also sharing pictures from the pollinator garden, which includes a variety of plants that attract pollinators, as well as a natural bee house.
There is a little greenhouse on the premises of the pollinator garden, where those gorgeous plants (mostly perennials, I think) are propagated.
If I were to make a list of dream jobs, working in that little greenhouse in the pollinator garden at the San Diego Zoo
would definitely be high on that list.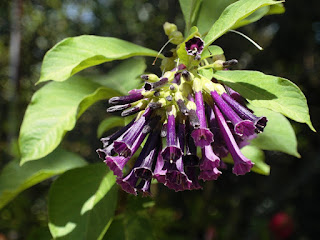 Both the Japanese garden and pollinator garden are beautiful places of calm and colorful reflection.
If you have the chance to visit the San Diego Zoo, I recommend strolling through these lovely gardens.
In the Japanese garden, you can make a coin-free wish. You are asked not to throw coins in the water because copper coins can make the koi ill.
Note: I hope that you've enjoyed your time in the San Diego Zoo's pollinator garden and Japanese garden. Please come back on Tuesday evening for a visit with the elephants!