August 28th was the third anniversary of my dad's death. It was a very sad time when he died. Time since then feels as if it stretches and contracts, much like a rubber band. Sometimes, it seems as if the three years was a long time. Other times, it seems as if my dad passed away yesterday. When my dad, whose name was Roy, died, it was challenging for me to believe that he was gone. Over time, the shock of losing dad has lessened but the pain of loss never goes away. A friend sent me a booklet about losing a loved one. One thing that it mentioned was that one of the most difficult aspects of death is that you can no longer make new memories with the person who is gone. For me, that is one of the most challenging aspect of losing my dad.
I decided to walk to the cemetery, where I was planning on meeting up with my mom, Roslyn, and my sister, Vivian. I wanted to take pictures of flowers because I love the colors and shapes and smells of flowers. Also, the flowers reminded me of my dad. During his last summer, he often said that he really loved the garden that I had planted. I am grateful that I was able to give him something beautiful to experience when he was so ill. He had cancer. At the time, no one realized how ill he was with cancer. Since then, I have always decorated a luminaria at Relay for Life in his memory, so that, for one night a year, his name would shine brightly, surrounded by so many others.
One of the other names that shines brightly at Relay for Life is Caralyn Reynolds. She is an eleven-year-old cancer survivor. I wrote about her and her sister, Emily, in an article that was published in the Island Dispatch two years ago. Emily had been honored as the honorary caregiver for her sister. Emily and Caralyn are sisters and best friends. Above is their father, Joe. He said that he is grateful that Caralyn was able to enjoy a fun summer this year. Her cancer is not in remission, but the tumor is not growing so her last chemotherapy session was two months ago. Caralyn will start middle school when school opens next week. I was very happy to hear that Caralyn is doing much better.

Caralyn and another young cancer survivor, Luke Gworek, started a campaign to collect kid-friendly band aids for young cancer patients. They were able to collect more than 450 band aids, which were donated for the children. Luke Gworek, who is eight years old, was honored as Relay for Life's Honorary Survivor at this year's event.
I had a distance to go, so I kept walking. Along the side of the road, I saw cattails. They like wet roots so they grow in swamps and in ditches.
I was on my way to visit the cemetery, which is all about monuments and the echo of distant memory. It was good to be surrounded by color and warmth as I walked.
My family has a special fondness for the Rose of Sharon bushes. We had one in our back yard, but, during the 2006 "October Surprise" storm, the bush was broken in half. It still blossomed but the bush looked terrible. Over the years, it deteriorated. It sagged to the ground. Thistles grew around the roots. It was hard to say goodbye to this bush because we had been so fond of it. In June, the bush was removed. I still love the Rose of Sharon bushes and their soft flowers that bloom later in the season.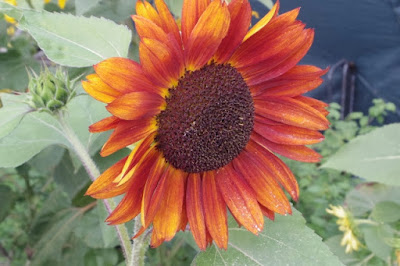 I realized that I was running late. No more photographs, I thought. Then I saw a patch of sunflowers, and I could not resist. This sunflower is a deep orange, almost a reddish-brown.
This is the sunflower that captivated me the most. It is purple. I have never seen a sunflower of that color. It was very striking.
There were a lot of purple plants with hints of yellow, which is very attractive, as purple and yellow are complementary colors (opposites on the color wheel).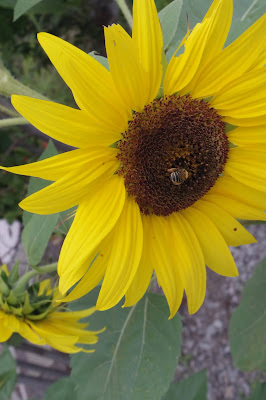 Yellow sunflower.
Very interesting and unusual looking flower.
This may be a whorled tickseed.
At the cemetery, a group was gathered for a funeral. A bagpiper was there. He played three songs, including "Amazing Grace." Having the bagpipe at the cemetery made the experience wonderful. We were all able to express feelings that had eluded us for three years.
He is not with us anymore, but as long as we keep telling the stories, there will be a part of him that lives. If I had been able to talk to the family at the funeral on August 28th, I would have told them to continue to tell the stories about the one that they loved. Keep the memory alive. Memory is everything.