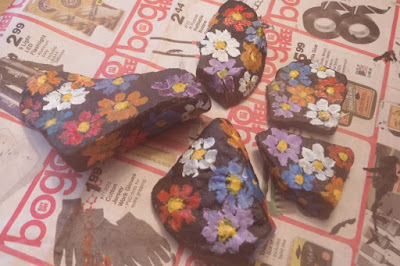 It poured all last night. The rain continued through most of the morning. It was very welcome. I wasn't able to do my gardening job, though. I tried to visualize myself digging weeds with one hand and holding up an umbrella with the other hand. I could only visualize my weeding and holding up an umbrella simultaneously if I had a third hand. Since I'm not about to grow another hand, I called my customer and we decided to postpone the weeding and pruning until Friday.

So, I needed an indoor activity that was creative and fun. I had collected a bunch of rocks, both large and small, and I decided that painting them would be a fun indoor activity. I also decided that they would be a set that could go into a single garden.

I started by painting them black. Then I added the flowers. I needed to add a few coats of the paint just to make it stand out. Within the next few days, I will spray the rocks. Then they will be ready to be placed in a garden as decoration.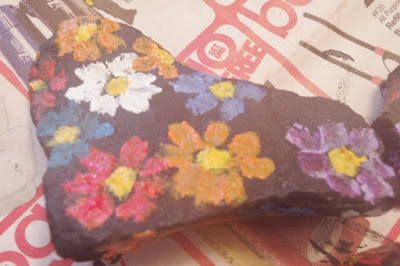 What do you enjoy doing on a rainy day?